Add this Tomato Basil Rotini Pasta Salad to your next BBQ and add lots of flavor with fresh basil, cherry tomatoes, mozzarella pearls and freshly shredded Parmesan. This is not your average pasta salad recipe by any means!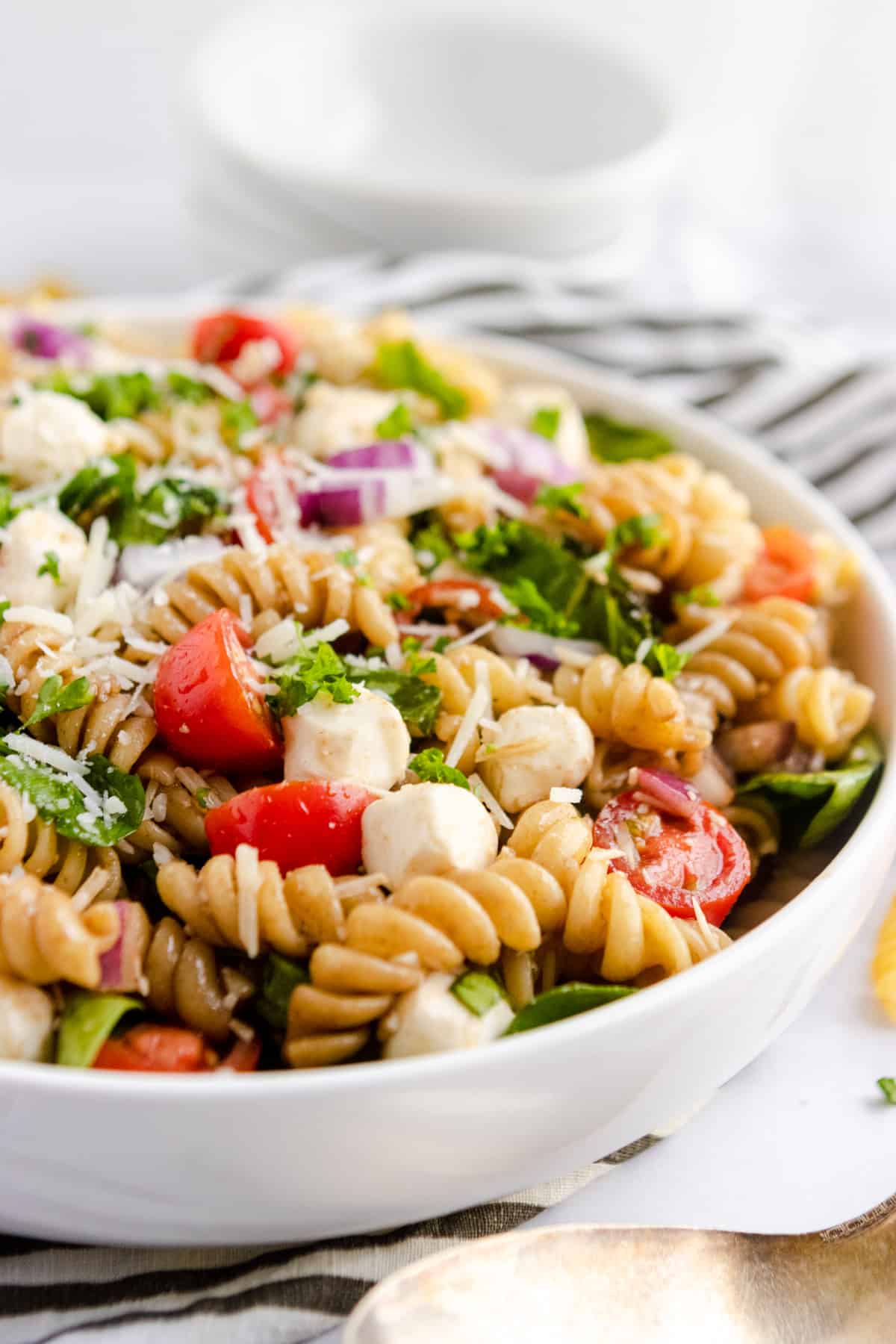 This recipe was originally published March 2015. The post was updated to include new copy and photos.
No more same old, same old pasta salad.
Pasta salad is so much more than pasta tossed in salad dressing. Don't settle for boring, super basic pasta salads when you can enjoy one bursting with fresh ingredients and vibrant flavor.
Between this rotini pasta salad and this Tortellini Caprese Pasta Salad, there is not much else you will ever need in the department of cold pasta recipes!
Why this pasta salad is the best:
It's great for meal prep. It is easy to make ahead for the week. Toss this rotini pasta salad recipe together and then eat off of it for several days.
Fresh summer ingredients. Fresh basil, tomatoes, and spinach-maybe even fresh from the garden? This salad is so great to enjoy when the produce is at its peak freshness.
So simple to prep. As easy as tossing everything into the bowl and mixing.
A perfect side that can easily double as a meal! This tomato basil pasta salad is a great side dish for the BBQ but it can easily make a full meal. You can even toss in some grilled chicken.
Ingredients and Substitutions:
The key ingredient is the fresh basil in this pasta salad. It is the one ingredient I would not substitute if at all possible. Check out these basil storage best practices so it doesn't go bad before you are ready to make this pasta salad!
If you can't find mozzarella pearls, feel free to cut regular mozzarella into small pieces-that will work well too!
I typically use cherry tomatoes, but grape tomatoes are great as well.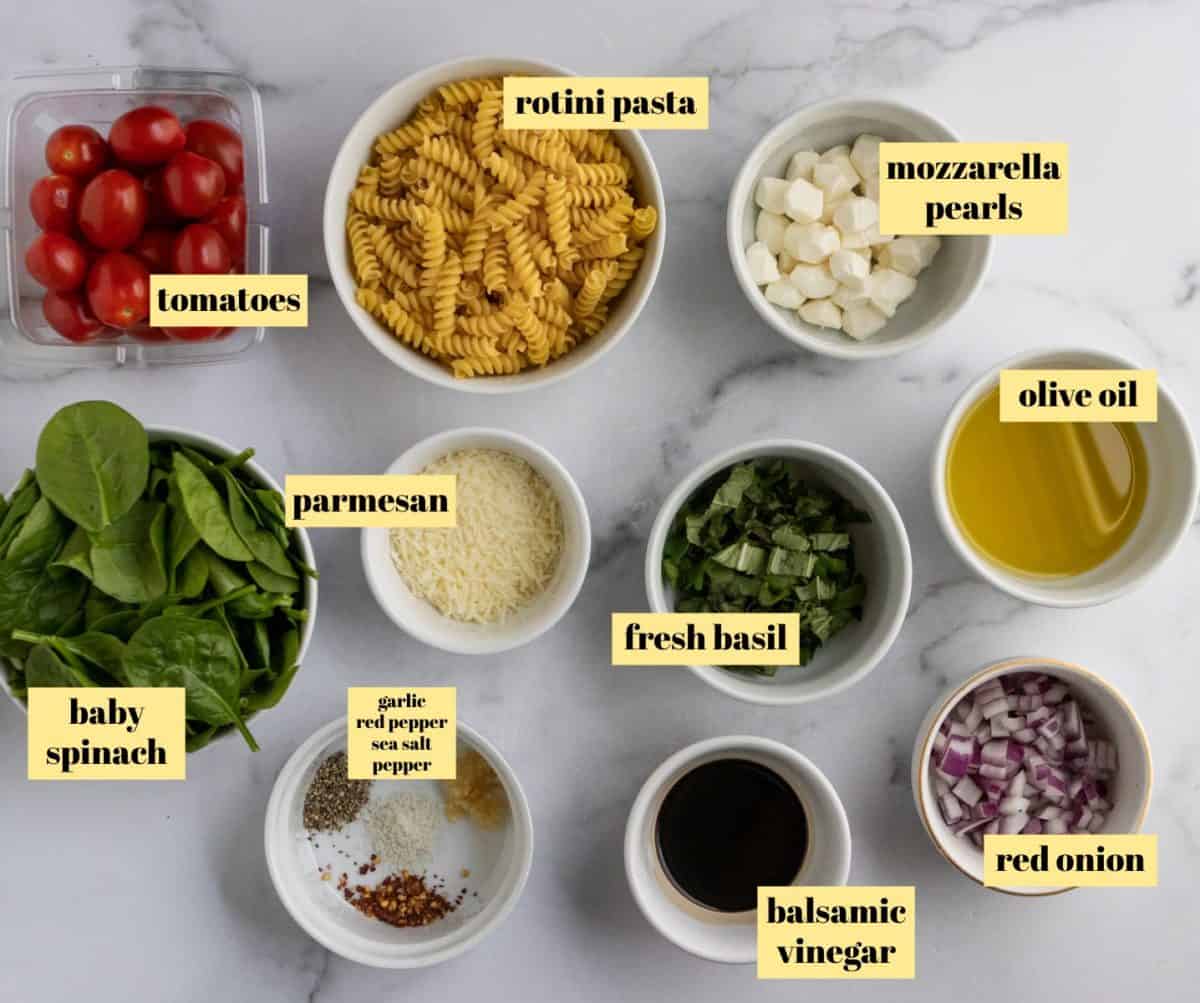 Step-by-Step Instructions:
Cook your pasta according to package instructions. Drain the pasta and then toss the spinach in to wilt it slightly. (steps 1 and 2)
Transfer to a mixing bowl and add the tomatoes, basil, and onion and toss to combine. (steps 3 and 4)
Whisk together olive oil, balsamic vinegar, garlic, salt, pepper and red pepper. (steps 5 and 6)
Pour the dressing over the pasta salad and toss to combine and coat ingredients evenly. (steps 7 and 8)
Add the mozzarella and parmesan and toss well. Chill for about 30 minutes if possible before serving to allow the flavors to really meld into the salad. You can even chill overnight. (steps 9 and 10)
Expert Tips:
You can make this Tomato Basil Rotini Pasta Salad the day before you intend to serve it. Toss it before serving with an extra drizzle or so of olive oil.
Feel free to use your favorite gluten free pasta for this pasta salad. Make sure to follow cooking instructions.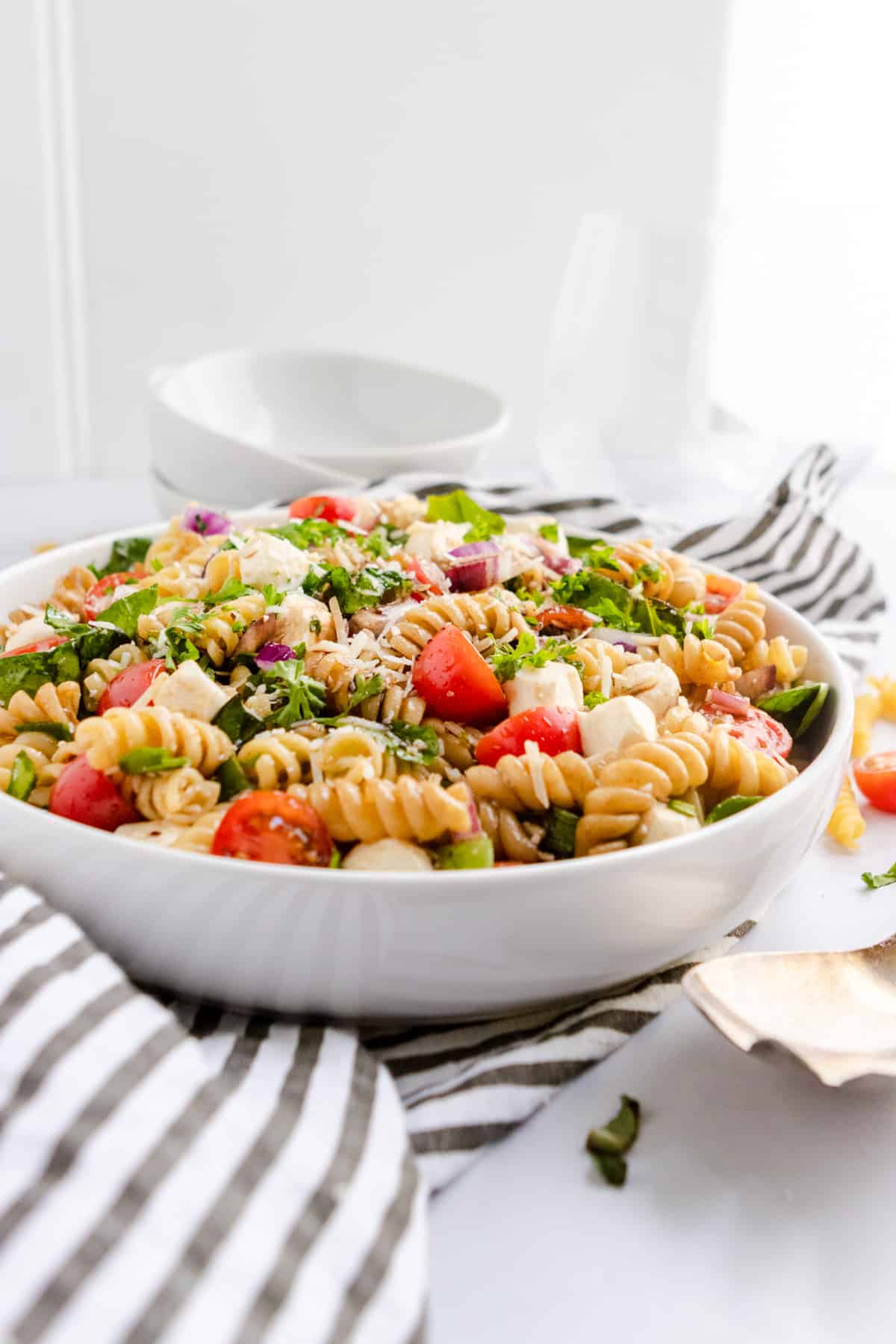 What to serve with this recipe:
By all means: burgers! I have an amazing Sun-Dried Tomato Turkey Burger that would pair well with this pasta salad. If you are looking for a vegetarian option, then go with these Black Bean Burgers instead.
A basic, simple grilled chicken, plain and simple right on top is amazing with this as well.
Mozzarella Stuffed Chicken-now that is what you pair with this Tomato Basil Pasta Salad!
Toss some steaks on the grill to round out this pasta salad, or even some grilled salmon!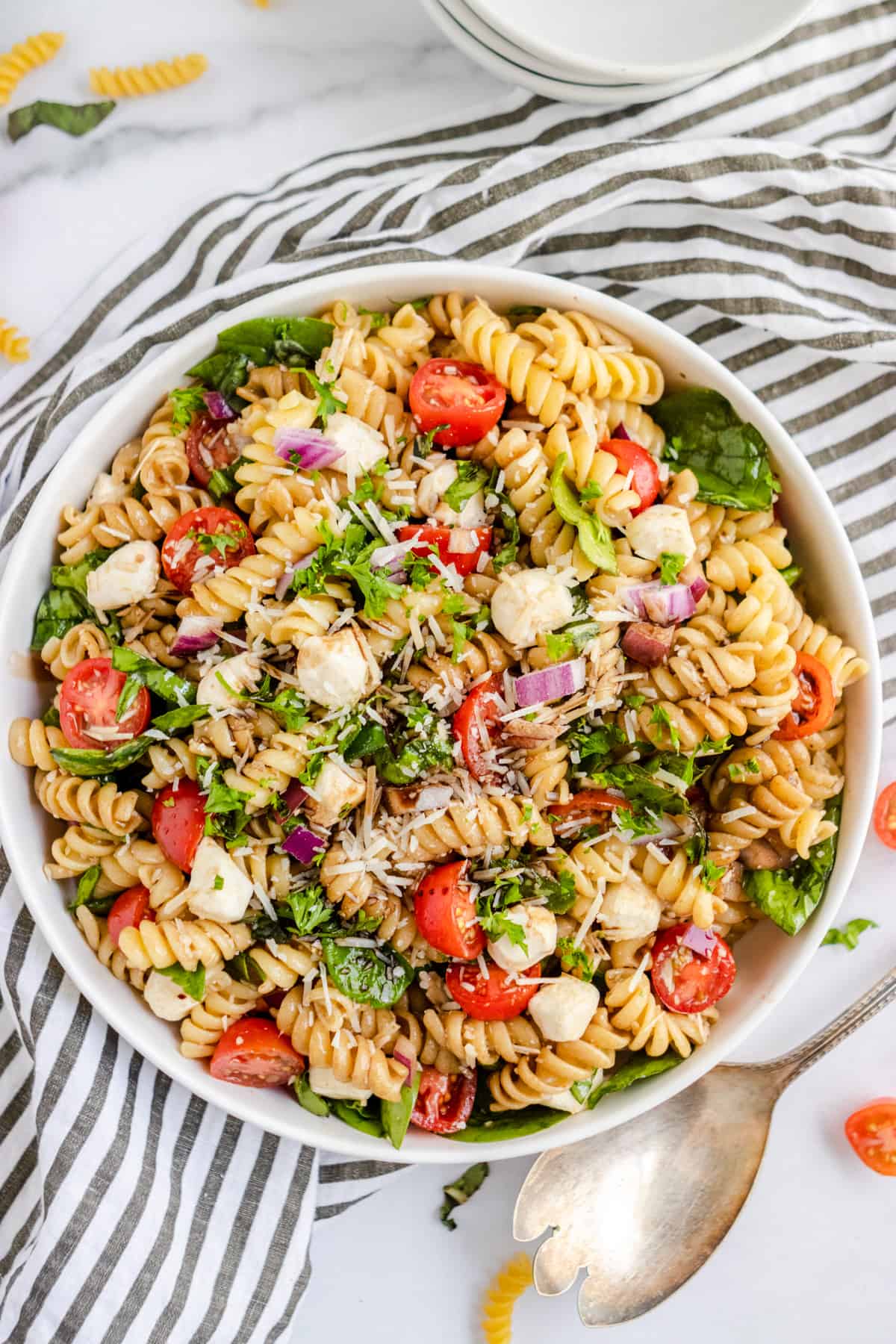 Related recipes:
Sun-Dried Tomato Spinach and Feta Turkey Burgers
Tortellini Caprese Pasta Salad
Tomato Mozzarella Basil Skewers
Street Corn with Garlic Feta Butter
Instant Pot Mac and Cheese
3 Bean Cowboy Caviar
Simple Pasta Salad with Grilled Lemon Garlic Zucchini
HUNGRY FOR MORE? Subscribe to my newsletter and follow me on Facebook, Instagram and Pinterest for all the latest!
Please see more list about Mozzarella basil tomato pasta salad
Detail: 🔗