Cruise lines are partnering with master chefs to offer guests magnificent gourmet cuisine – yet another reason to set sail in 2017.
1. CRYSTAL CRUISES
Celebrity chef: Nobuyuki Matsuhisa Restaurants: Silk Road and The Sushi Bar
Signature dishes: – Nobu-style lobster with truffle-yuzu sauce – Black cod with miso – Grilled Wagyu beef rib-eye
Offering tempting flavours from the East, Silk Road restaurant and The Sushi Bar on Crystal Symphony and Crystal Serenity feature the eclectic cuisine of master chef Nobuyuki "Nobu" Matsuhisa. Chef Nobu has redefined sushi with an innovative blend of classically styled Japanese foods with Peruvian and European influences. While The Sushi Bar offers an assortment of Nobu's sushi and sashimi, Silk Road presents more than two dozen of his signature appetisers, soups, salads, entrées and desserts.
2. OCEANIA CRUISES
Celebrity chef: Jacques Pépin Restaurants: Privée, Tuscan Steak, Toscana, Jacques, Red Ginger, Polo Grill
Signature dishes: – Miso-glazed seabass and hoba leaf (Red Ginger) – Duck foie gras terrine with quince jelly and toasted brioche (Jacques Pépin's French bistro)
Oceania Cruises offers some of the finest cuisine at sea – mainly due to the contribution of master chef Jacques Pépin. Marina and Riviera, two of the cruise line's six ships, have complimentary dining venues: Jacques (Jacques Pépin's French bistro) and the Asian restaurant Red Ginger. To explore epicurean delights in a private setting, there is La Reserve by Wine Spectator, where up to 24 guests can indulge in vintage wine and gourmet food pairings. Restaurants on other ships include Toscana and Polo Grill, while Sirena features the new speciality restaurant Tuscan Steak.
3. P&O CRUISES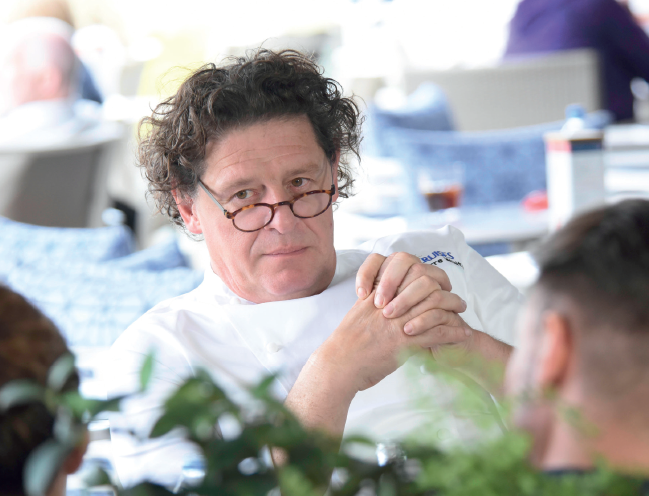 Celebrity chefs: Marco Pierre White, Atul Kochhar, James Martin, Eric Lanlard, Charles Turnbull
Restaurants: Epicurean, Sindhu by Atul Kochhar, The Glass House, Limelight Club (dinner and entertainment), Market Café, Cookery Club, main dining room
Signature dishes: – Poached Hampshire chalk-stream trout with caper mayonnaise served with fennel, cucumber, smoked halibut and brown shrimp salad – Crispy pork cheek with chorizo patatas bravas – Marco's classic beef Wellington with a wild mushroom and Madeira duxelles l Salt-marsh lamb loin with mint, garlic and chicken mousseline
P&O has made headlines in the past couple of years with the launch of its crew of Food Heroes. At the same time, The Cookery Club was created on flagship Britannia with the idea of bringing top-notch British cuisine to cruise guests. It's full steam ahead with the P&O Cruises cookery programme, as chef Marco Pierre White adds new dishes across the fleet to create a series of gala dinner menus using local and speciality ingredients. On the patisserie side, Eric Lanlard's mouth-watering Pavé Royal will be an addition to the cruise line's special Chef's Dinner, which takes place in the main dining room.
4. VIKING RIVER CRUISES
Restaurants: Viking River Cruises' The Restaurant
Signature dishes: – Martin Yan shrimp pan-fried noodle – Martin Yan firecracker chicken – Pancetta-wrapped pork tenderloin – Passionfruit crémeux
This award-winning ocean and river cruise line reflects each itinerary in the cuisine offered on board. For instance, Viking Cruises' 15-night Mekong river cruise focuses on fresh Asian cuisine, such as shrimp pan-fried noodle, Chinese potstickers and firecracker chicken. Expanding on the cuisine theme, there are opportunities in Hanoi to take wooden sampan tours to see a floating fish farm and explore the Mekong rice fields. Back on board you can look forward to attentive table service at The Restaurant, where you can indulge in a relaxed, multi-course fine-dining experience. Open seating allows you to eat with the same companions or meet someone new each day. Alternatively you can enjoy a more casual meal – from a breakfast croissant to lighter evening fare – on the Sun Deck, the outdoor Aquavit Terrace or the al fresco dining area located at the bow of the ship.
5. AMAWATERWAYS RIVER CRUISES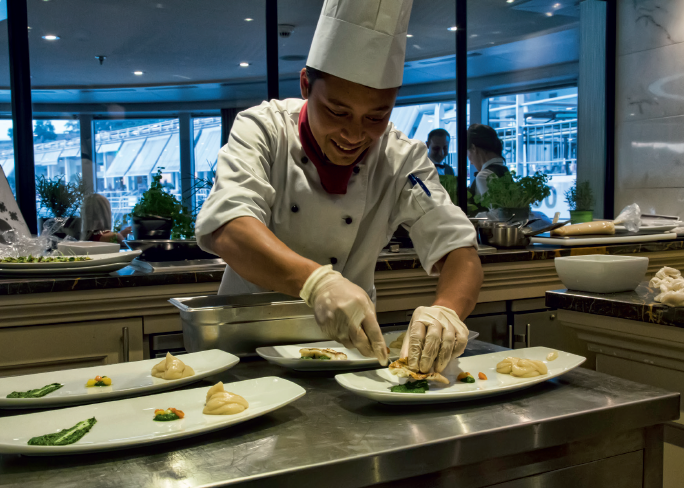 Celebrity chef: Primus Perchtold Restaurants: Chef's Table with Demonstration KitchenSignature dishes:
Signature dishes: – Cod fillet with beurre blanc and crayfish cake – Blanquette de veau Charolais with saffron – Porcini ravioli with truffle mousseline and fresh asparagusA member of
A member of prestigious culinary group La Chaîne des Rôtisseurs, AmaWaterways has enhanced its culinary offerings across the fleet. At the revamped Chef's Table restaurant you'll find a tasting menu of three appetisers, a champagne sorbet intermezzo, three main courses and three desserts, plus a greater variety of regional specialities and traditional dishes. At the Chef's Table, which seats 28, a demonstration kitchen is part of the entertainment, and you can watch as your dinner is prepared. Each course is paired with a regional wine, and the Chef's Table is included in the cost of your cruise.
6. ROYAL CARIBBEAN CRUISES
Celebrity chefs: Jamie Oliver, Travis Kamiyama, Michael Schwartz
Restaurants: Jamie's Kitchen, Izumi, Wonderland, Chops Grille, 150 Central Park, Coastal Kitchen, Sabor Taqueria & Tequila Bar
Signature dishes: – Jamie's Italian – Shrimp gyoza dumpling – Sushi and sashimi – Sliced avocado and homemade blueberry pie
Harmony of the Seas and Anthem of the Seas are Miami-based Royal Caribbean Cruise Line's newest and largest ships. Each has 13 restaurants on board, offering an incredible variety of cuisine. Wonderland specialises in experimental food, providing an amazing experience and taking gastronomy to new heights. The Asian-inspired Izumi offers sushi, sashimi and tableside cooking, while chef Travis Kamiyama has access to a "super freezer" which freezes fish to -76C, meaning his sushi is always incredibly fresh. Jamie's Italian is another popular restaurant on Harmony of the Seas, featuring the fresh, simple ingredients that have made Jamie Oliver one of the world's most celebrated TV chefs.
7. FRENCH AMERICA RIVER CRUISE LINE
Celebrity chef: Regina Charboneau
Restaurants: The Veranda, The Crescent, The French Quarter Lounge
Signature dishes: – Crêpes Suzette – Frogs' legs with okra tomato jam – Shrimp in smoked tomato cream over savoury grits – Lemon fish in roasted corn and jalapeño broth
The French America Line, whose flagship Louisiane began sailing in October 2016, celebrates regional food, music and culture in ports of call on the Mississippi, Ohio, Tennessee, Cumberland and Red rivers, where larger ships cannot navigate. On the "Jewels of the Heartland," a 10-day cruise tour from St. Louis, Missouri to St. Paul, Minnesota, chef Regina will be on board and guests will sample local meats, cheeses, ales and ciders. Mississippi River itineraries feature America's iconic South which is brimming with historic antebellum homes and lush plantations.
8. SILVERSEA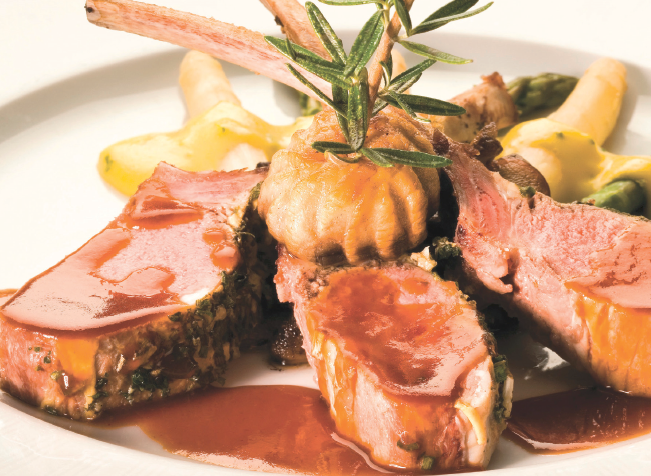 Celebrity chefs: Rudi Scholdis and David Bisland
Restaurants: Le Champagne by Relais & Châteaux, The Grill, The Restaurant, La Terrazza. On Silver Muse: Atlantide, La Terrazza, La Dame by Relais & Châteaux, Indochine, Kabuki, Regina Margherita, Hot Rocks and Silver Note. On Silver Spirit: Stars Supper Club and Seishin
Signature dishes: – Gold-leaf risotto (Le Champagne) – Sole de la petite pêche – Carpaccio de thon rouge
Silversea has an exclusive partnership at sea with the luxury hotel and restaurant group Relais & Châteaux, and each one of the cruise line's classic ships has a Relais & Châteaux restaurant on board. These refined and elegant French eateries offer traditional gastronomic excellence – while for something a little more cutting-edge, try The Grill, where you can select from the finest meat, fish and vegetables and cook the ingredients yourself on a 400C lava stone. Everyone loves Italian food, and reflecting Silversea's national heritage, every ship in the fleet also has an Italian restaurant on board.
9. HOLLAND AMERICA LINE
Celebrity chefs: Mark Best, Jonnie Boer, David Burke, Elizabeth Falkner and Jacques Torres Restaurants: Pinnacle Grill, Sel de Mer, Canaletto, Tamarind, The Silk Den, Grand Dutch Café, Master Chef's Dinner, Taste of De Librije, Lido Market
Signature dishes: – Broccoli and baked ricotta salad – Cedar-plank halibut and shrimp – Pinnacle Grill "The Wave" dessert – Pinnacle Grill New York strip steak
Holland America Line turns its culinary programming up a notch with the introduction of dynamic shipboard cooking shows produced in partnership with the TV hit America's Test Kitchen. The Culinary Arts Center will be transformed to replicate the set where the TV shows are recorded, and the 45-minute demo courses will feature a mix of video content, live instruction, taste tests and recipe samples. Some of the courses in development include Asian Dumplings, We Love Chocolate, Everything Salmon, Flavours of the Mediterranean, Meatless Monday Meals and New Italian Favourites. Also planned are 90-minute workshops that focus on teaching a specific skill.
10. PONANT CRUISES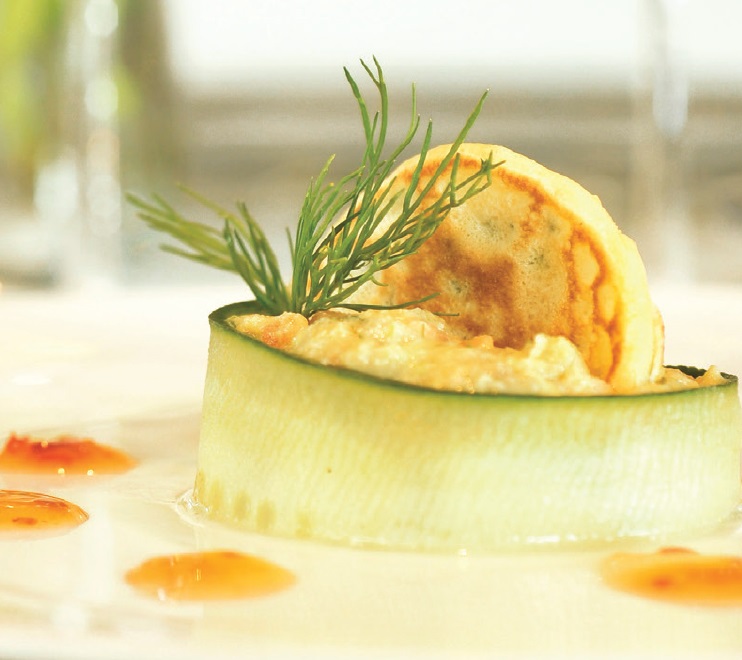 Celebrity chefs: Alain Ducasse, Jean Robert Pitte
Restaurants: The Gastronomic, The Grill
Signature dishes: – Fresh conchiglioni with lobster, gourmet peas and virgin bergamot oil – Molten Madirofolo chocolate tart with Touron nougat ice cream – Seafood with poff ertjes
The "French touch" is paramount in Ponant Cruises' philosophy, describing a way of life in which gastronomy takes pride of place. Guests can look forward to a feast of fragrant flavours, carefully selected cheeses and wines, delicious speciality breads and sweet pastries created by renowned patissiers Maison Lenôtre. Maison Taillevent provides a fine selection of vintage wines by the glass, while Maison Veuve Clicquot takes care of the gala cocktails, and the Ladurée bakery ensures that afternoon tea is truly special.
Through this article, we hope to help you understand Cruise line with best food
Detail: 🔗