Want to know the BEST way to cook Trader Joe's orange chicken? Use an air fryer, of course! This Trader Joe's orange chicken air fryer recipe makes deliciously crunchy orange chicken. You'll love how easy air fryer frozen orange chicken is to make- air fry it in 12 minutes! Come see why Trader Joe's Mandarin Orange Chicken is consistently voted a customer favorite at Trader Joes!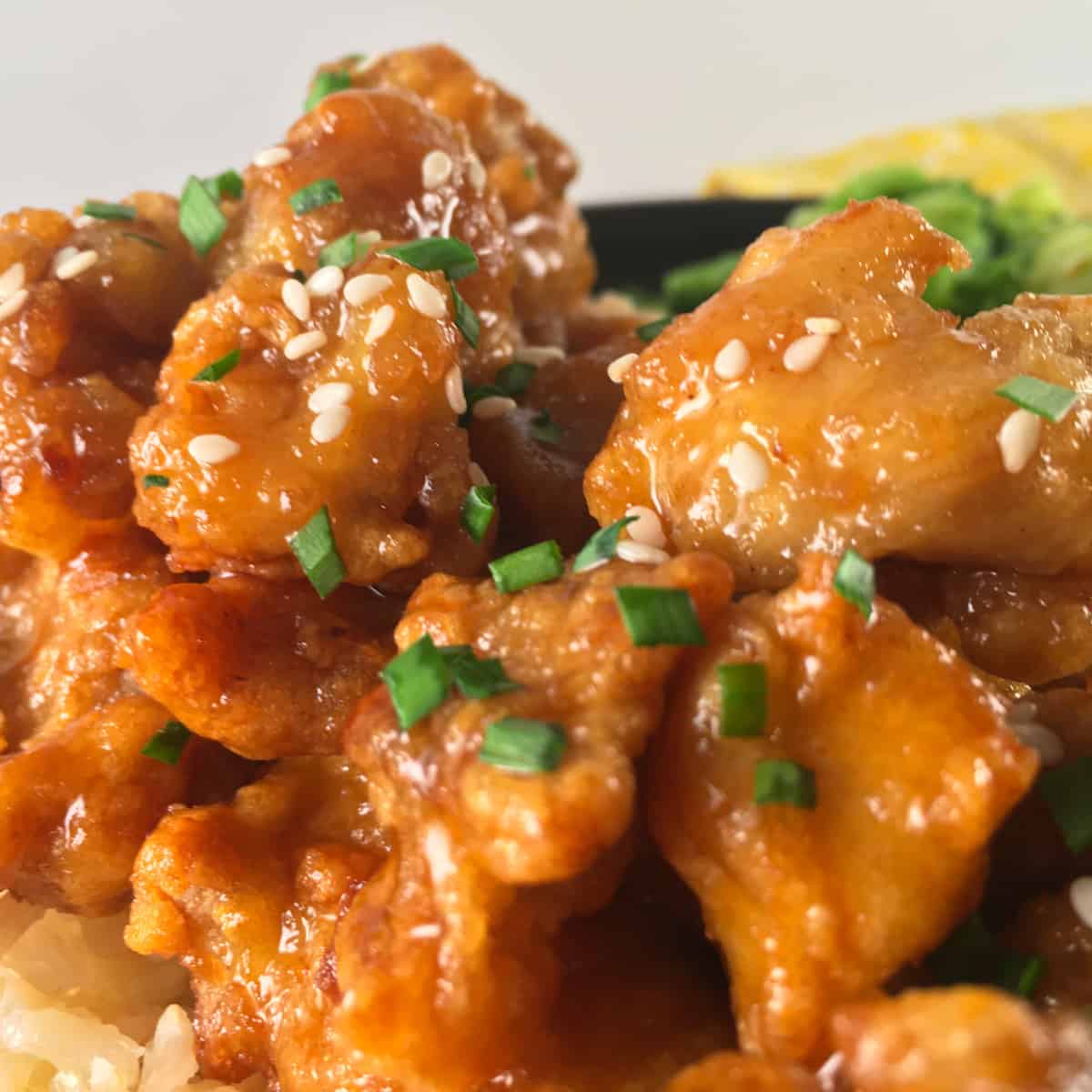 Why is Trader Joe's orange chicken so good? Judging by its popularity, Trader Joe's Mandarin Chicken (AKA Trader Ming's Mandarin Chicken) might be the best frozen orange chicken around. (Sorry, Costco!)
Reading: Best trader joe's frozen food reddit
It really is just as good as takeout from your favorite Chinese restaurant. (Though definitely not an authentic Chinese dish.)
Lucky us, we don't even need to leave the house to enjoy this indulgent comfort food. This frozen orange chicken air fryer recipe cooks up to crispy perfection. The hot circulating air does an amazing job getting our Trader Joe's Chinese food from freezer to plate FAST.
In full disclosure, this frozen popcorn orange chicken isn't the most nutritious thing we could be eating. Air frying really doesn't make it any healthier than baking in the oven. (But do we need to squeeze maximum nutrition out of EVERY. SINGLE. THING. we eat to enjoy overall good health? Nope!)
Since I don't have this often, I wanted to try it before creating a fakeaway orange chicken recipe or two. I figured I'd share what I did for those who (like me) want a break from the kitchen once in a while.
Of course, I'll also share some healthier options in the Dietitian Tips section below, because that's what I do! 😊 Let's get to it, shall we?
Jump to:
📋 Calories, Net Carbs, Protein
⭐ Benefits
🥘 Ingredients
🍊 Mandarin Orange Chicken Sauce
🍽 Equipment
🔪 How to Make Trader Joe's Orange Chicken in Air Fryer
️⏲ Cooking Time and Temperature
🤔 Is Trader Joe's orange chicken pre-cooked?
🐔 When to Add Sauce
️🌡️ Leftovers
🥗 Side Dishes
💭 Expert Tips from a Dietitian
FAQs
👩🏻‍🍳 Other Air Fryer Frozen Chicken Recipes
The Disclaimer…
📖 Recipe
📋 Calories, Net Carbs, Protein
One serving of Trader Joe's Orange Chicken has 533 calories, 38 grams net carbs, and 35 grams protein. Nutrition information is for one-third of the chicken with one-third of the sauce. If you only eat one-fifth of the package (as suggested on the label), you're getting 320 calories, 23 grams net carbs, and 21 grams protein.
⭐ Benefits
Why make this frozen orange chicken in an air fryer? Here are a few reasons:
Easy: One of the benefits of (highly processed) air fryer frozen foods recipes is that you get consistent results easily. Even kids can make this one! (Well, at least the kids who are old enough to use the air fryer.)
No deep frying: There's no need to add additional oil to the chicken, as you would if you cooked it on the stove.
Cooks faster: The air fryer typically takes less time to preheat than the oven. Additionally, your chicken will be done in 12 minutes (versus 20 minutes in the oven). It's super convenient!
Appetizer or main dish: This orange chicken works well as an appetizer or an entrée. To make it an appetizer, put the chicken on a platter with toothpicks for picking up individual pieces. Alternatively, make a Trader Joe's orange chicken bowl by adding rice and veggies.
Dairy free: This frozen orange chicken doesn't work well for most special diets. If you're looking for no dairy though, this one is a good fit.
Delicious: We thought this air fried frozen orange chicken tastes even better than the oven-baked version.
🥘 Ingredients
What do you need to make Trader Joe's orange chicken in the air fryer? Here's the roundup:
One package Trader Ming's Mandarin Orange Chicken
You don't even need cooking spray! How's that for a simple shopping list?
You get the frozen breaded chicken and two packets of orange sauce in the bag. So now you might be wondering what are the ingredients for Trader Joe's frozen Mandarin Orange Chicken? Is Trader joe's orange chicken white meat?
No, Trader Joe's orange chicken uses dark meat chicken. Here is the ingredients list for TJs Mandarin Orange Chicken from the package:
Chicken dark meat
Water
Corn starch
A blend of unbleached enriched flour and barley flour
Whole eggs
Vegetable oil
Salt
White pepper
Green onion
Garlic
Ginger
Does Trader Joe's orange chicken have MSG?
There's no added monosodium glutamate (MSG) in Trader Joe's orange chicken. However, a small amount of naturally occurring MSG may (or may not) be present. IMVHO, this is not a big deal.
We know there's no added MSG because it's not listed in the ingredients for Trader Joe's Mandarin orange chicken or the Mandarin chicken sauce. However, MSG naturally occurs in many ingredients (including healthful foods like cheese and tomatoes). Foods that naturally contain MSG may not claim "no MSG" or "no added MSG" on the packaging.
🍊 Mandarin Orange Chicken Sauce
What's in the orange sauce for Trader Ming's Mandarin Orange Chicken? Here is the ingredients list from the package:
Sugar
Water
Vinegar
Light soy sauce
Modified food starch
Dark soy sauce
Garlic
Green onions
Ginger
White pepper
Sake
Mandarin orange peel
Orange juice
Red chile
Soybean oil
Read more: Weight loss: Importance of pre-workout meal, 11 foods to eat before exercise to burn belly fat & gain muscle
Something interesting here (at least to me lol) is that the list on the package reads "Battered Chicken (chicken ingredients), Sauce (sauce ingredients), Soybean Oil." Ingredients on U.S. food packaging are listed in descending order by weight. So, though there's more "sauce" than oil by weight, there may actually be more oil than the first sauce ingredient.
This means we could be getting primarily oil by weight, with sugar (the first sauce ingredient) in second place.
Honestly though, I don't think it matters much whether the Mandarin sauce has more oil or sugar by weight. It's not really a health bounty either way. Hahaha
🍽 Equipment
You will need an air fryer and meat thermometer to follow this recipe. I use a 10-Quart Kalorik Digital Air Fryer Oven. If you're using a Ninja Foodi, Pampered Chef Air Fryer, Actifry, Cosori, Nuwave, Instant Vortex, Cuisinart, Philips, Power Air Fryer, etc. your cooking times may vary slightly.
I have a large air fryer with two trays, and I used both trays for this recipe. If you have a smaller air fryer, you will need to cook the frozen orange chicken in batches. Your air frying time for each batch may be a bit shorter in this case. That's because the chicken will be in the position closest to the heating element for the entire cook time.
🔪 How to Make Trader Joe's Orange Chicken in Air Fryer
Let's learn how to make Trader Joe's orange chicken! You do not have to defrost Trader Joe's orange chicken. You can cook it from frozen!
Start by filling a medium-sized bowl with water and putting the frozen sauce packets in there. The sauce will thaw out while the chicken cooks. There's no need to mess up a pot or pan.
Preheat your air fryer to 400F (200F) for 5 minutes. Carefully remove the hot trays from the air fryer.
Spread the chicken out in a single layer on two heated air fryer baking trays. (You may need to cook the chicken in multiple batches if you have a small air fryer basket.) Put the trays back in the air fryer.
️⏲ Cooking Time and Temperature
How long to put Trader Joe's orange chicken in the air fryer? Air fry frozen orange chicken for 12 minutes in an air fryer preheated to 400 degrees Fahrenheit (200C). Flip the chicken and switch the position of the racks in the air fryer oven halfway through cooking time (6 minutes).
Check the chicken with a meat thermometer after cooking. It should have reached a safe minimum internal temp of 165F (74C).
The chicken pieces come in varied sizes; air fry the larger pieces a little longer if needed. (I didn't need to do this.)
🤔 Is Trader Joe's orange chicken pre-cooked?
Is Trader Ming's orange chicken fully cooked? I could not find a credible source regarding whether TJ's Mandarin chicken is fully cooked. Unfortunately, this information is not provided on the bag either.
Though the breading on TJ's orange chicken appears cooked, there is a chance the chicken underneath could be undercooked or raw. (It's the same with frozen chicken nuggets, BTW.)
To be safe, you should cook your frozen orange chicken to a minimum internal temperature of 165 degrees Fahrenheit (74C). Use a meat thermometer to check a couple of the larger pieces of chicken. There's no reason to risk food poisoning if you can prevent it, IMO.
🐔 When to Add Sauce
Clip the thawed sauce packets and coat the chicken pieces AFTER your air fryer Trader Joe's chicken has finished cooking. The orange sauce looks very watery initially, but the battered chicken will absorb a lot of it. Now it's ready to enjoy!
️🌡️ Leftovers
Read more: 11 best foods at Universal Orlando Resort to snack on
Leftover cooked orange chicken will last 3-4 days in the refrigerator in a covered container. However, the chicken may lose some crispiness if it's been covered in sauce.
If you know you won't be finishing the bag, try air frying half of it at a time. Since the frozen orange chicken comes with two sauce packets, you can use one on a half batch. Keep the uncooked frozen orange chicken and the other sauce packet in the freezer until you are ready to cook and eat it.
How to reheat Trader Joe's orange chicken? Reheat cooked orange chicken in the microwave for 1-2 minutes. The sugary orange sauce on the chicken may burn if reheated in the air fryer.
🥗 Side Dishes
What to serve with Trader Joe's frozen orange chicken? My two favorite sides for orange chicken are jasmine brown rice and steamed broccoli. Here are a few more ideas for orange chicken side dishes:
Air Fryer Frozen Vegetables
Wild Rice
Quinoa
Air Fryer Pot Stickers (frozen)
💭 Expert Tips from a Dietitian
This is a level 3 recipe (weight maintenance and active lifestyles). Is Trader Joe's orange chicken healthy? I'm going to be totally honest here and say it's not the best choice. This product is an ultra-processed food with that sweet and fat combo that can be difficult not to overeat.
The bag of Trader Joe's orange chicken states it contains 5 servings. IMVHO, it realistically serves more like 2-3, and the nutrition info I've provided reflects this.
If you want a healthy orange chicken, I highly recommend checking out my homemade Air Fryer Orange Chicken recipe. It's sweeter than Trader Joe's version, but has no added sugar. Additionally, it has no refined grains, more chicken, and a (deliciously) more pronounced orange flavor. YUM
If you don't want to make orange chicken from scratch, there's a few ways to make Trader Joe's orange chicken better. First, I'd consider adding some fresh orange zest to the sauce to give the orange flavor a boost. (That's a tip to improve flavor IMVHO, not so much nutrition.)
Second, make sure to add some veggies to your plate. Trader Ming's frozen orange chicken really isn't meant to be a complete meal. Adding some high volume, low calorie veggies to your plate is a good way to help you feel full on a smaller portion of orange chicken.
Third, you could consider adding less orange sauce to the chicken. Trader Joe's orange sauce is mostly added sugar and added oil. Unfortunately, the breaded chicken tends to "suck up" a lot of the sauce, so it might not feel like enough if you use less.
P.S. My yummy Air Fryer Orange Chicken is saucier than Trader Joe's version, even when you use both sauce packets. I like to have enough sauce for the rice. 🙂
FAQs
👩🏻‍🍳 Other Air Fryer Frozen Chicken Recipes
Looking for more air fryer recipes with frozen chicken? Here are instructions to air fry frozen chicken from Trader Joe's or your favorite store:
Air Fryer Frozen Chicken Wings(with Trader Joe's frozen chicken wings)
Air Fryer Frozen Chicken Nuggets
Frozen Chicken Tenders in Air Fryer
If you're bored with chicken, my Air Fryer Breaded Fish Filletsuse Trader Joe's Oven Ready Breaded Cod Fillets. So easy and good!
Join our community! Subscribe to the Weekly Newsletter to be kept up-to-date on all of the latest and greatest recipes! You can also follow me on Pinterest, Twitter, and Instagram!
The Disclaimer…
All recipes on this website may or may not be appropriate for you, depending on your medical needs and personal preferences. Consult with a registered dietitian or your physician if you need help determining the dietary pattern that may be best for you.
The nutrition information is an estimate provided as a courtesy. It will differ depending on the specific brands and ingredients that you use. Calorie information on food labels may be wildly inaccurate, so please don't sweat the numbers too much.
For more information on how the three recipe levels may help with a weight management goal, refer to my overnight oats no sugar post. Let's get cooking!
Read more: Food for hiking and bushwalking | Trip Planner – Bibbulmun Track
📖 Recipe
Please see more list about Best trader joe's frozen food reddit
Source: https://summeryule.com/trader-joes-orange-chicken-air-fryer-frozen/