This smoked pot roast and vegetables made easy on your Traeger pellet grill is a comforting recipe the whole family will enjoy with tender chuck roast, potatoes, onions and carrots in a delicious red wine sauce!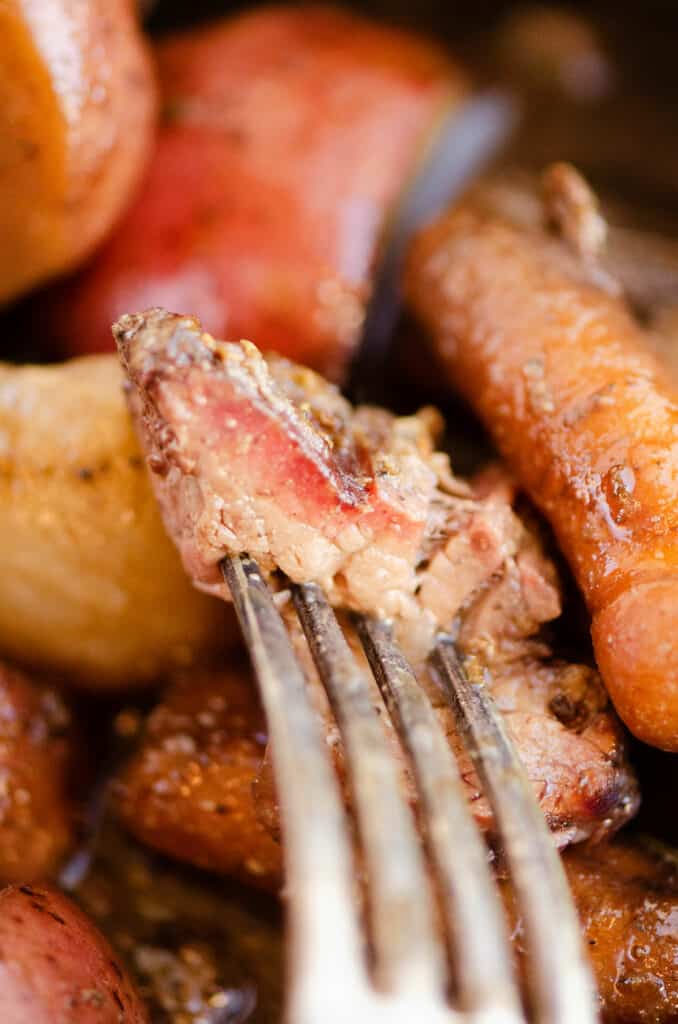 Traeger Pot Roast
Pot roast with vegetables is one of the comforting one pot meals that is absolutely perfect in the cooler months. You get a tender and hearty chuck roast paired with roasted vegetables, including starchy potatoes for a filling meal the whole family will enjoy.
Reading: Pot roast on a traeger
We decided to take things outside to our Traeger pellet grill to add a little smoke flavor on our pot roast and vegetables and it didn't disappoint! The smoke flavor comes through really strong on the vegetables and red wine sauce that is made by naturally reducing during the cooking time with the beef and herbs.
No need to make a gravy because the drippings from the pan are amazing all on their own over the pot roast and veggies!
Chuck Roast on Pellet Grill
Pot roast is a dish I grew up with often on my Midwestern farm table. Our pot roast was always prepared the traditional way, roasted in the oven, but I'm not one to always stick to traditions when it comes to food. Pellet grills didn't exist in my childhood and my Dad was no grill master, so it was time to take things into my own hands when it comes to putting some smoke on the chuck roast!
My family raised all sorts of livestock throughout my Dad's farming career, and in my younger years, we had an abundance of beef while raising cows. That meant that my Mom was grabbing a chuck roast or blade roast from the deep freezer and putting pot roast and vegetables on the table at least once a month.
Read more: Top 15 how to carve a roast
Those potatoes and carrots likely came from our garden as well! I don't live such a wholesome and self-sufficient life, so I personally run to the grocery store to grab a pack of pot roast blend vegetables and a beef roast. I may grab some potatoes from my Mom's garden though…LOL
How to make Smoked Pot Roast
When it comes to making smoked pot roast on your Traeger pellet grill, you will want to start with your beef selection. Chuck roast is always the most popular option for pot roast. You can also grab a blade roast as it is a very similar cut. You will want to get a roast that is about 3 pounds.
Turn your Traeger pellet grill to 185°F or super smoke if you have that option. Pat your roast dry and rub it down with 1/4 cup Dijon mustard. Mix the following spice rub to add to the meat,
1 teaspoon dried rosemary, crushed
1 1/2 teaspoon garlic powder
1/2 teaspoon dried thyme
2 teaspoons onion powder
1/2 teaspoon black pepper
1 1/2 teaspoon salt
Cover the meat in the spice mix and place directly on the grill. Smoke at 185°F for 90 minutes.
Vegetables for pot roast
Some people like to serve a pot roast with mashed potatoes and gravy, but I prefer a mix of roasted vegetables myself. I grabbed a 30 ounce bag of vegetable blend in the produce section at the grocery store. If you don't have this option, you can use the following measurements of vegetables,
1 pound red or Yukon potatoes, cut in 1 inch pieces
1 1/2 cup baby carrots (or peeled and roughly chopped whole carrots)
1/4 cup celery, roughly chopped
1 small yellow onion, quartered
Smoking chuck roast and veggies
When the roast has smoked for 90 minutes, add it to an oven safe dish along with the vegetables. I used a cast iron roasting pan that is great not only for holding up to grilling temperatures, but well seasoned cast iron always adds a little extra flavor as well.
Read more: Top 10 eye of round roast in spanish
Add a sprig of rosemary and two bay leaves to the pan along with two cups of beef broth or stock and one cup of red wine. Cover the pan tightly with tinfoil and return it to the pellet grill and turn the temperature up to 275°F and cook for 3-4 hours. After the four hours, crank the temperature up to 325°F and cook until the meat reaches an internal temperature of 200°F.
Cook Traeger chuck roast to temperature
When it comes to smoking and cooking roasts, we are looking to cook to an internal temperature, not to time. I always use my handy dandy Thermoworks instant read thermometer to check the meat occasionally to see where I'm at.
I know this can be frustrating when you are cooking for a family, but it is important to cook to temperature for a tender roast. Unlike many other things when it comes to cooking, the longer you cook a roast, the more tender it will become. Obviously to a point, we aren't making jerky here!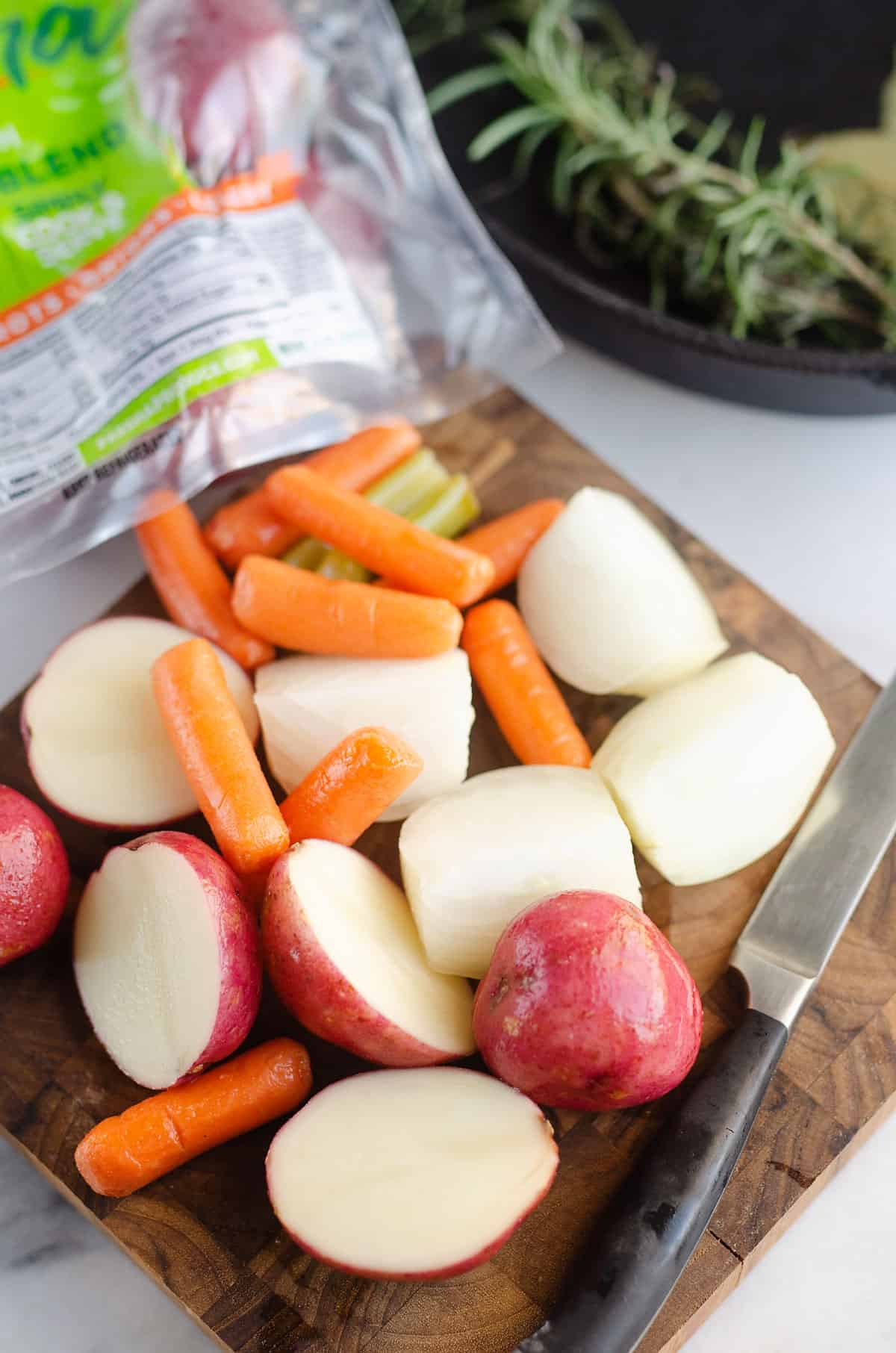 After making the dish a couple times you will have a good idea of how long it takes. Mine usually takes about 6-7 hours from start to finish using this method. When planning for dinner, just aim for an earlier finish time, and hold the meat at a low temperature in the juices until dinner!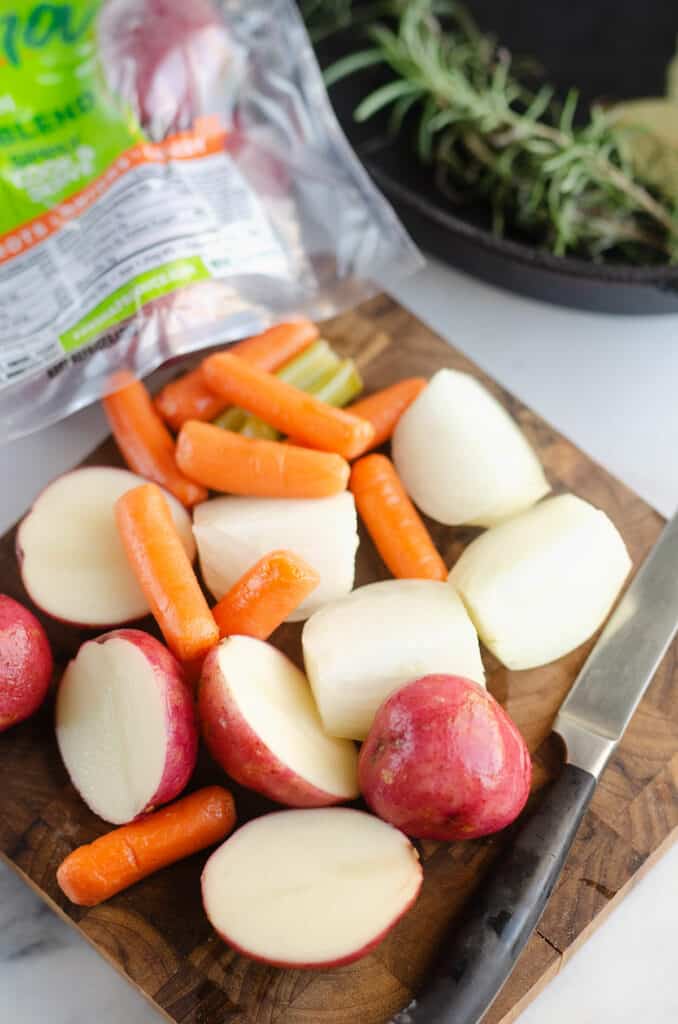 What kind of red wine for pot roast?
The best red wine for pot roast is the one you enjoy drinking! While Pinot Noir or Cabernet Sauvingnon are the two that most people tend to choose for cooking with beef, but Merlot or a red blend will work great as well.
At the end of the day you are only using one cup of wine, so you don't want to select a wine that you won't enjoy drinking. Red wine is not only great for cooking beef in, but a glass also pairs wonderfully with the meat. So grab a varietal you know won't go to waste!
More family friendly comfort food on the Traeger
If you love cooking on your Traeger pellet grill as much as we do, then be sure to check out more of these hearty and delicious meals you can make on your smoker!
Read more: Top 16 chuck roast recipe in pressure cooker
Traeger Smoked Pork Carnitas – These are one of my all-time favorite recipes on the Traeger. The bright flavors and tender meat are to die for!
Traeger Chicken Breasts – Make a bunch of tender and juicy chicken and pair it with just about any side dish for a great meal
Smoked Country Style Ribs – These boneless ribs are bathed in BBQ sauce and oh so tender!
Traeger Smoked Pork Loin – This tender piece of pork loin is great for feeding a crowd at a party or family gathering.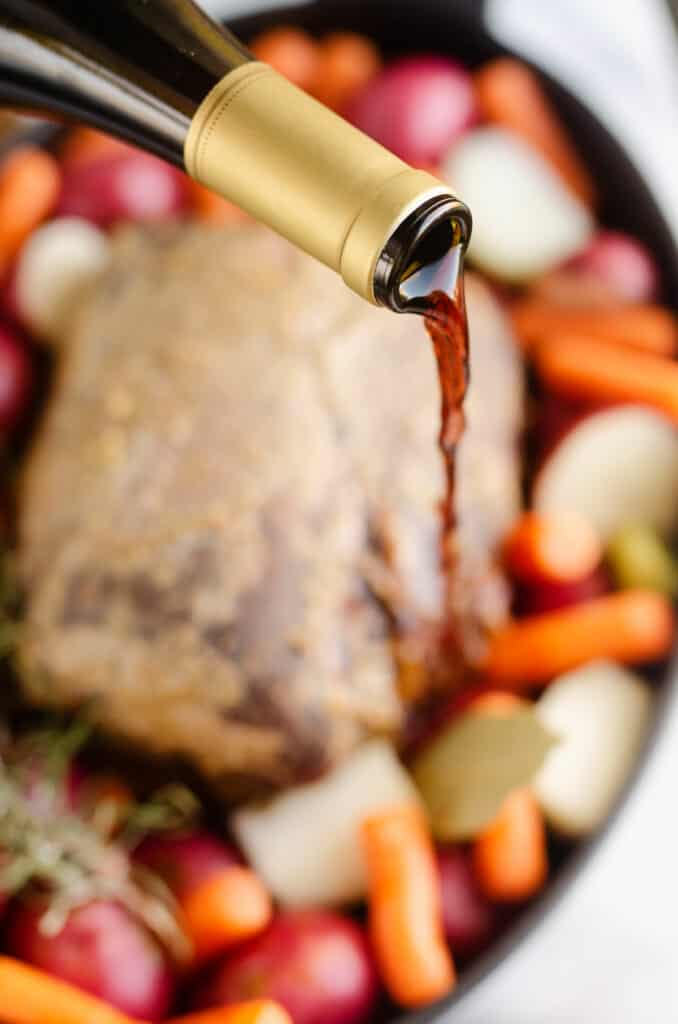 For more information, please see more information about Pot roast on a traeger
Source: https://www.thecreativebite.com/traeger-smoked-pot-roast/