The best healthy tuna salad recipe made with canned tuna, red onion, celery, chopped pickles and Greek yogurt. Perfect as a snack with crackers or on a sandwich.
I wasn't always a fan of tuna salad (ahem, it felt like it was punishment in my childhood years) but as I've gotten older, I'm practically obsessed. It's flavorful, protein-packed and the perfect meal prep recipe.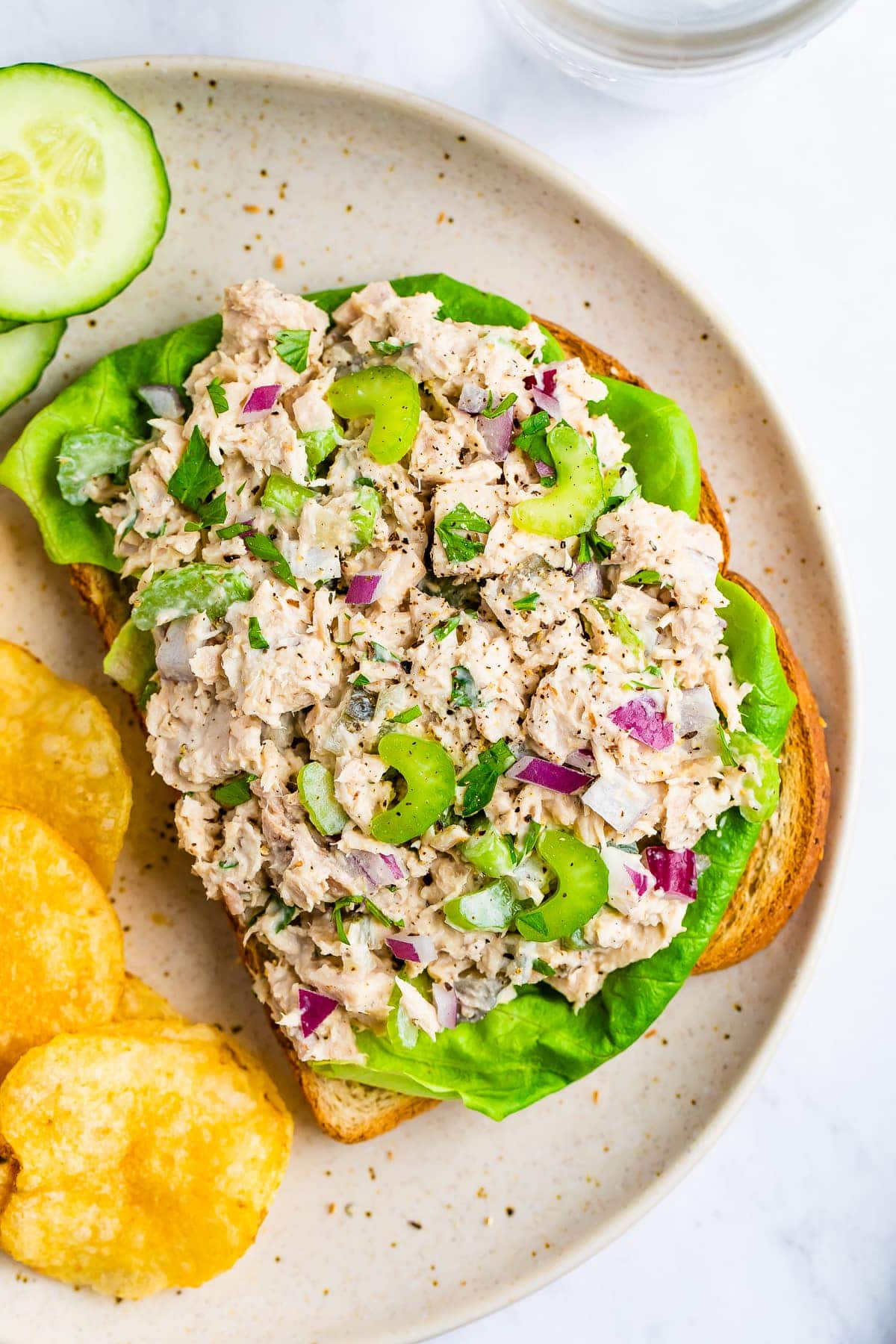 For this recipe I used the same ingredients my mom has always used to make tuna salad but with a few simple changes. I swapped most of the mayo for Greek yogurt, used savory dill pickles instead of pickled relish and added in some fresh parsley.
I know tuna salad get's a bad rap, but trust me… this version is delicious and something I could eat every week.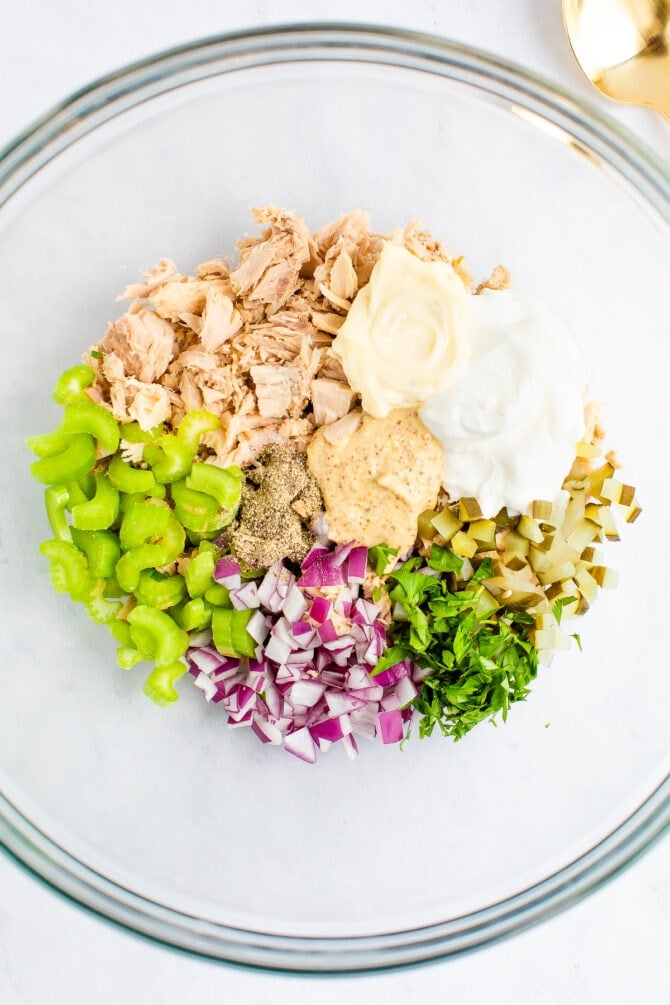 Ingredients in Tuna Salad
canned tuna – I typically buy Albacore tuna because you get bigger chunks of meat that aren't mushy. I really like the Wild Planet brand!
plain Greek yogurt – I like using full-fat, but you can use fat-free if you'd like. It will be more tangy though!
a little mayonnaise – I added in 1 Tablespoon of mayo for a bit of creaminess, but you can skip this or use more Greek yogurt if you'd like
chopped celery
red onion
dill pickle
mustard
chopped parsley
sea salt and pepper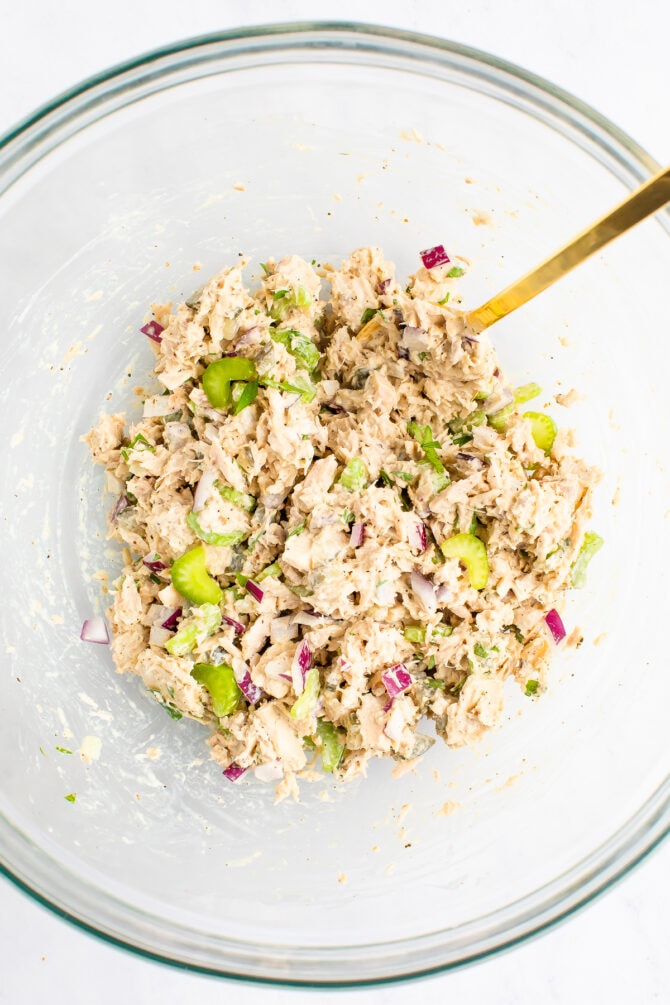 Substitutions & Notes
Dairy-free – I made this with Greek yogurt and mayo for an added protein boost, but you can either use dairy-free yogurt or omit the yogurt and just use mayo. I know it's counterintuitive, but mayo is dairy-free!
Additional mix-ins – This is my baseline recipe, but honestly you can always switch it up… I often do! Sometimes I use green onion instead of red onion. Sometimes I add extra herbs like fresh dill (so good). Feel free to get creative and make this your own!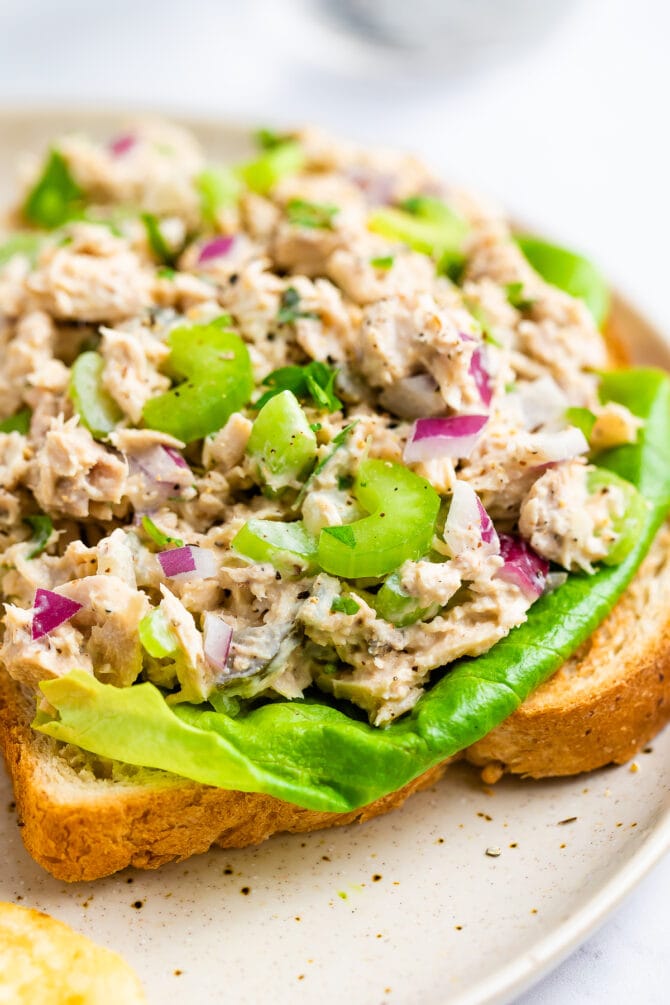 How to Make Tuna Salad
Drain tuna – Most tuna comes packed in water or oil and even if it's not, there will likely be a bit of liquid in the can. If this is the case, you'll just want to drain it off. I have this little can colander that works like a charm for draining tuna!
Chop vegetables – Start by chopping the celery, onion and pickles if you haven't already.
Combine ingredients – Add the drained tuna, yogurt, chopped celery, diced onion, chopped pickles, mayonnaise, mustard, parsley, salt and pepper into a large bowl. Toss to combine, breaking up any large chunks of tuna.
Serve – Enjoy right away or chill before serving.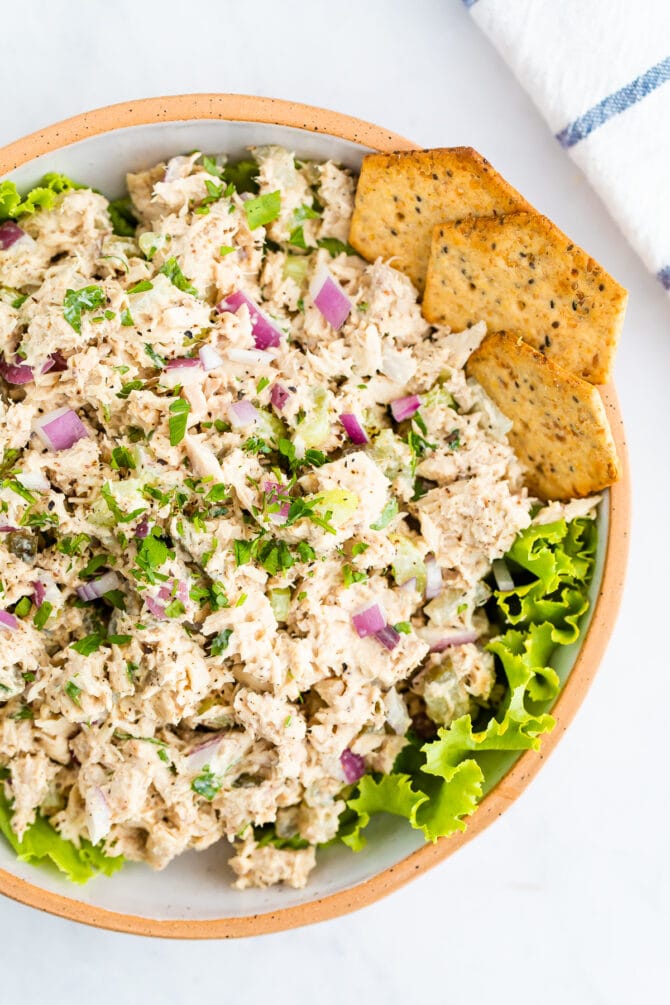 How to Eat Tuna Salad
One of my favorite things about tuna salad is how versatile it is!
Eat as is – it's definitely a complete meal on it's own.
Over a bed of greens – I am a volume eater so I love starting with a base of greens and topping it with this salad.
Lettuce cups – scoop into a lettuce leaf for a crunchy and fresh wrap. Romaine, butter or iceberg lettuce works great for this.
In a wrap – scoop into a whole grain wrap and add some greens for a little extra crunch and you have a satisfying wrap!
On toast/as a sandwich – I love this as both an open faced sandwich on toasted bread or a more traditional sandwich with un-toasted bread. You can also use this salad to make a delicious tuna melt!
With crackers or tortilla chips – This is a great snack or appetizer when eaten like a dip with crackers or chips. I've been loving it paired with my almond flour crackers.
How Long Will Tuna Salad Last?
When stored in an airtight container, tuna salad will last 3-5 days in the refrigerator. Because it doesn't last super long, I usually make small batches and eat it in a variety of different ways (listed above!) to keep it exciting.
More Tuna Recipes to Try:
Lentil Tuna Salad
Sweet Potato Tuna Salad (No Mayo)
Tuna Curry Bowl with Cauliflower Rice
Spaghetti Squash Tuna Noodle Casserole Boats
Tuna Stuffed Bell Peppers
Broccoli Avocado Tuna Bowl
BBQ Hummus Tuna Sandwich
Tuna Egg Salad
More Protein Salad Recipes to Try:
Turkey Salad
Almond Butter Chicken Salad
Curry Chicken Salad
Curried Chickpea Salad
Vegan "Chicken" Salad
Avocado Egg Salad
If you make this tuna salad be sure to leave a comment and star rating below letting us know how it turned out for you. Your feedback is so helpful for the EBF team and our readers!
Through this article, we hope to help you understand How to eat tuna salad
Detail: 🔗