This turkey stew is an easy hearty recipe great for using up Thanksgiving leftovers.
Shredded turkey meat is added to a comforting stew mixture of baby red potatoes, mushrooms, carrots, celery and onions that's simmered with garlic and fresh herbs. A touch of tomato paste and balsamic vinegar bring an acidic offset to the savory flavors for a wonderfully cozy meal.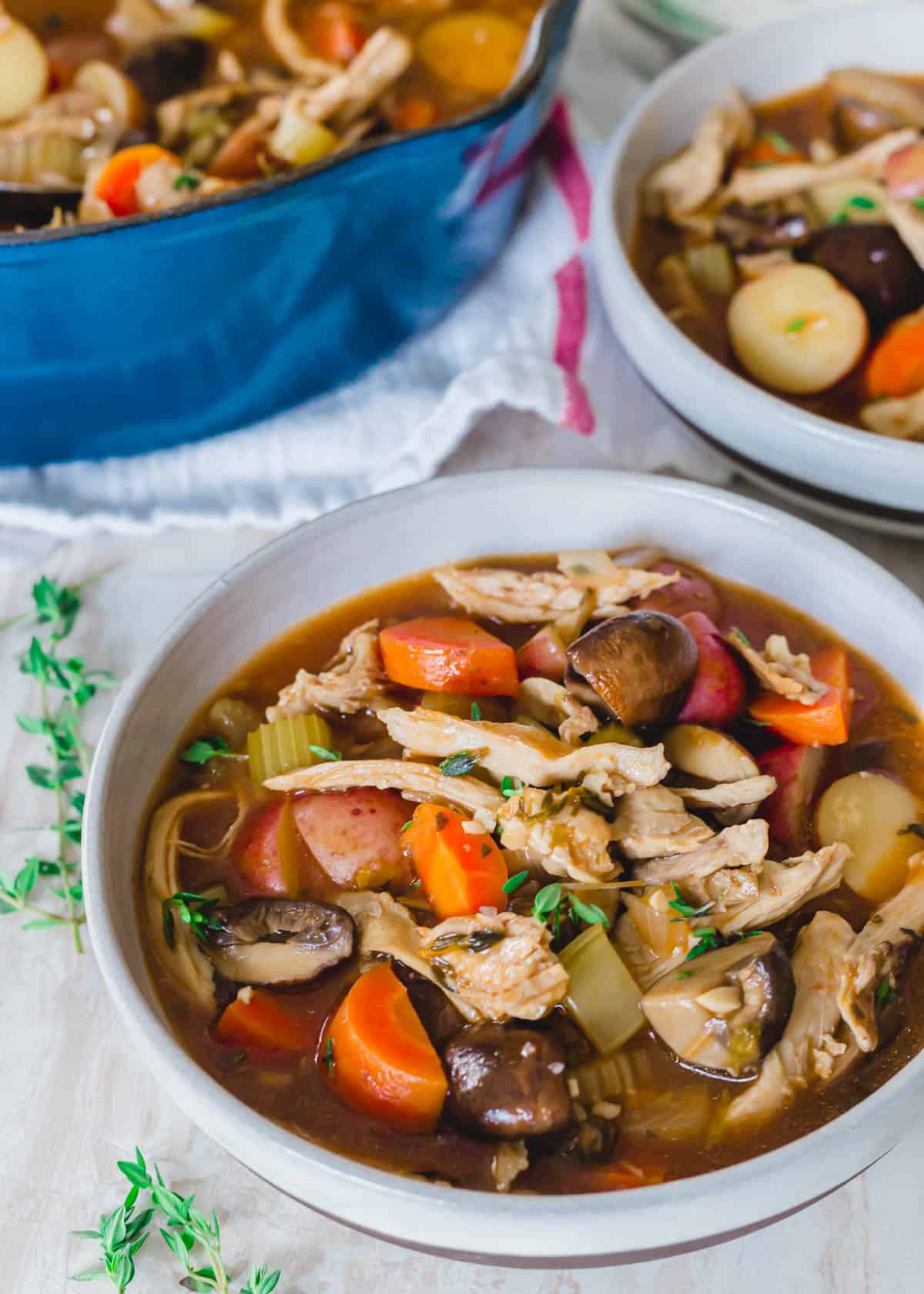 The second the weather turns cold, I basically want to eat soups and stews all day, every day.
For as much as I like being outside, cold weather instantly equates to sweatpants, way too much time on my couch under a blanket and warming cozy foods.
Turkey stew is exactly that kind of food and a great way to use up leftover cooked turkey from a holiday like Thanksgiving or Christmas.
It can also be made with uncooked turkey (there's notes in the recipe card below for that option) other times of the year when you may not have a fridge full of leftovers.
Either way, it's a hearty meal that warms the bones made with simple ingredients, most of which you likely have on hand.
INGREDIENTS TO MAKE LEFTOVER TURKEY STEW
If you have 2-3 cups leftover shredded or chopped turkey (this works with chicken too!), here's what you'll need to make the stew:
olive oil
onion
carrot
celery
garlic
mushrooms
baby red potatoes
fresh herbs
bay leaf
tomato paste
balsamic vinegar
arrowroot powder (or tapioca starch/cornstarch)
turkey or chicken stock
leftover cooked turkey
TURKEY: Leftovers make this stew super simple but if you want to start with an uncooked turkey breast or thigh, that's definitely possible. Check out the notes in the recipe card below for detailed instructions.
VEGETABLES: The vegetables are flexible. If you don't like mushrooms (I love them in beef stew), swap them out for other vegetables like green beans or peas. Peas won't need as long to cook, however, so consider adding them towards the end. Any potatoes can be used but baby potatoes are simple in that they don't require peeling or lots of chopping.
Also read: Slow-Cooker Moroccan Turkey Stew
STOCK: This is preferable to broth for its depth of flavor but if you only have broth, that's fine. If you still have your turkey carcass on hand from the holiday meal, making your own is worth every minute!
HERBS: The fresh herbs in this turkey stew are the main flavoring agents. Since there are no spices used, the fresh herbs are important. Use whatever mixture of winter herbs you have or prefer. I find rosemary, sage and thyme to always be a nice winter blend.
HOW TO MAKE THIS TURKEY STEW RECIPE
Start by adding the olive oil to a large pot or Dutch oven over medium-high heat. Once hot, place the onions, celery and carrots in the pot with salt and pepper.
Cook until the vegetables are softened, about 5-7 minutes.
Add the mushrooms, garlic and herbs to the pot. Stir to combine and cook for another 5-7 minutes until the mushrooms start to soften.
Pour the balsamic vinegar into the pot and add the tomato paste. Stir to combine and cook off the vinegar.
Next, add the bay leaf and potatoes.
Stir the arrowroot powder together with 1/4 cup of the stock in a small bowl until dissolved. Pour the mixture into the pot and stir until all the ingredients are combined.
Add the remaining stock and bring to a boil. Once boiling, reduce the heat to a simmer. Cover the pot and cook until the potatoes are fork tender, about 20 minutes.
Add the cooked shredded or chopped turkey to the stew. Season to taste with salt and pepper.
Serve hot and garnish with fresh herbs.
HOW TO MAKE TURKEY STEW WITH UNCOOKED TURKEY
Also read: Slow Cooker Turkey Chowder
The full recipe to make this stew using raw turkey is in the recipe card but it's an easy adapation.
Brown the turkey (I suggest using a bone-in turkey thigh for the best flavor) in the pot with oil as the first step. Once browned, remove the turkey and set aside.
Follow the recipe directions as stated above but add the browned turkey back to the pot along with the stock to simmer.
The cooking time will increase to at least 40 minutes so the turkey is fully cooked through.
Remove the turkey from the pot once cooked, tear the meat off the bone and return it to the pot.
Finish the stew with seasonings to taste and serve as desired.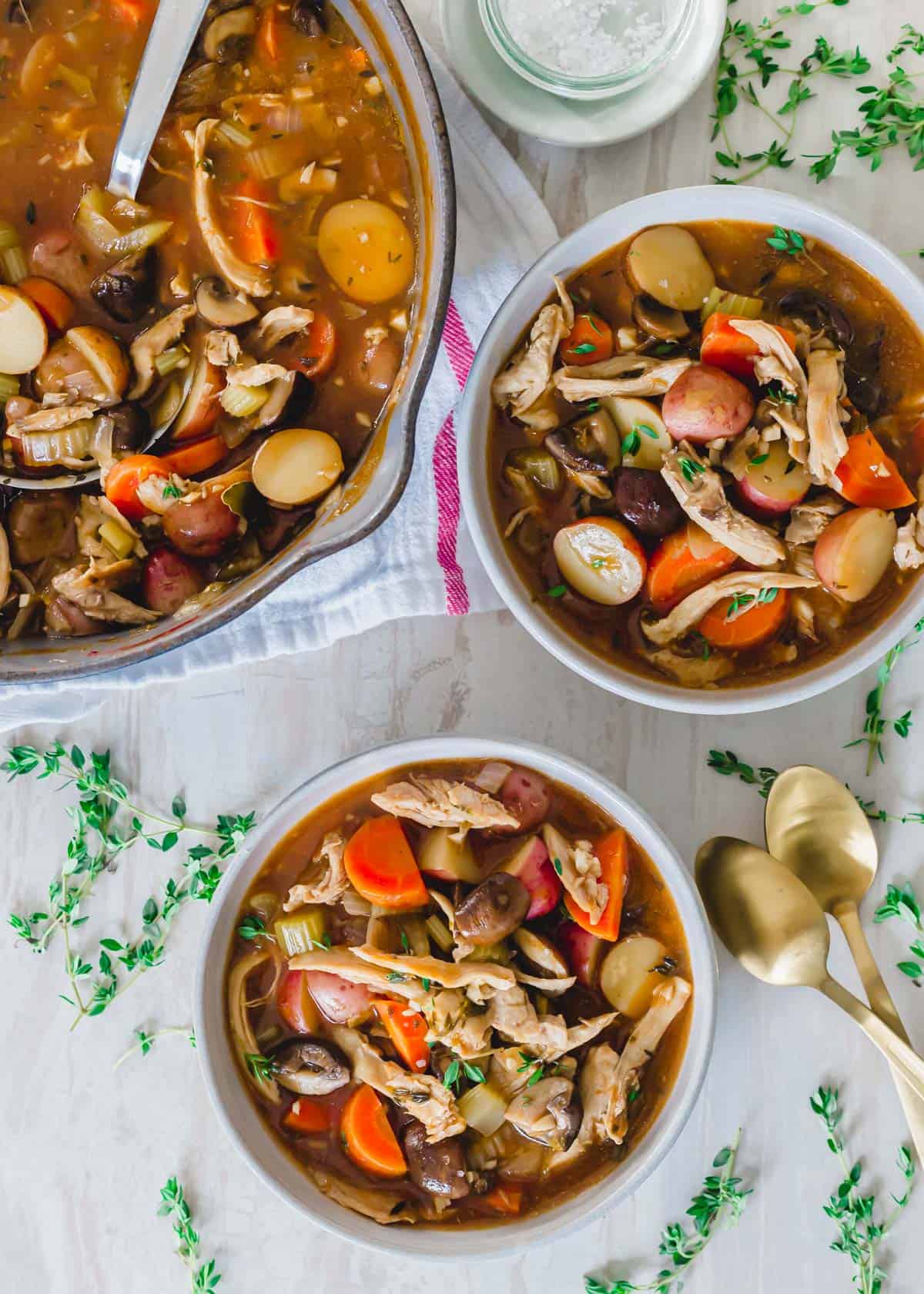 THICK AND HEARTY TURKEY STEW
For a thicker consistency, add a slurry of additional arrowroot starch (or cornstarch) to the turkey stew right at the end of cooking.
Start with an additional 2 tablespoons arrowroot starch and adjust from there to the desired consistency.
This stew isn't a thin broth like a soup (try this leftover turkey soup if you prefer that) but it's not overly thick and creamy either so if you prefer that, consider the additional slurry at the end.
Another option is to stir in some leftover mashed potatoes or even mashed rutabaga to the stew at the end.
Also read: Leftover Turkey Stew in the Slow Cooker Crock Pot
This will not only thicken the stew but definitely add some creamy decadence to the recipe!
For a delicious thick and creamy stew recipe, try this chocolate red wine beef stew and for a thinner recipe, this slow cooker lamb stew.
WHAT TO SERVE WITH TURKEY STEW
The stew is a complete meal on its own with a nice balance of protein, carbs and fats so it really doesn't need anything else.
However, some crusty bread, leftover cornbread, rolls, biscuits, parmesan pumpkin scones or pumpkin popovers from Thanksgiving are all great options.
In my family, my mom always served stew with white rice if you prefer that approach.
Some nice winter greens like this mizuna lettuce salad or radicchio endive fennel salad is a nice light complement to the deep hearty flavors of this stew.
HOW TO STORE LEFTOVERS
Once the stew is made, the leftovers will keep in the refrigerator for up to 5 days in an air-tight container.
I don't suggest freezing the stew.
If you have an abundance of leftover turkey meat, the shredded or chopped meat can be frozen if you won't be using it for turkey stew (or any other Thanksgiving leftover recipe like turkey avgolemono soup or Thanksgiving leftover waffle breakfast sandwiches) within a few days.
Cooked turkey can be stored in an air-tight bag or container in the freezer for up to a few months. Thaw it before use.
MORE WAYS TO USE TURKEY MEAT:
Turkey Cranberry Enchilada MeltsThanksgiving Breakfast FrittataTurkey Sweet Potato SkilletTurkey Cheddar Apple Butter Panini
For more information please see the list of Turkey leftover stew slow cooker