As an Amazon Associate I earn from qualifying purchases. Please see my Privacy Policy for more details.
This gorgeous dairy free Strawberry Beet Smoothie is a little sweet, a little earthy, a little spicy, and a little tangy. Bulked up with loads of plant protein, minerals, and healthy fats from flax and hemp seeds, it's the perfect balance of healthy nutrition and yummy treat.
Reading: using beets in smoothies
Drink it up for breakfast or a midday snack to reenergize. This cleansing drink will leave you feeling refreshed. Bonus: my kids loved it too!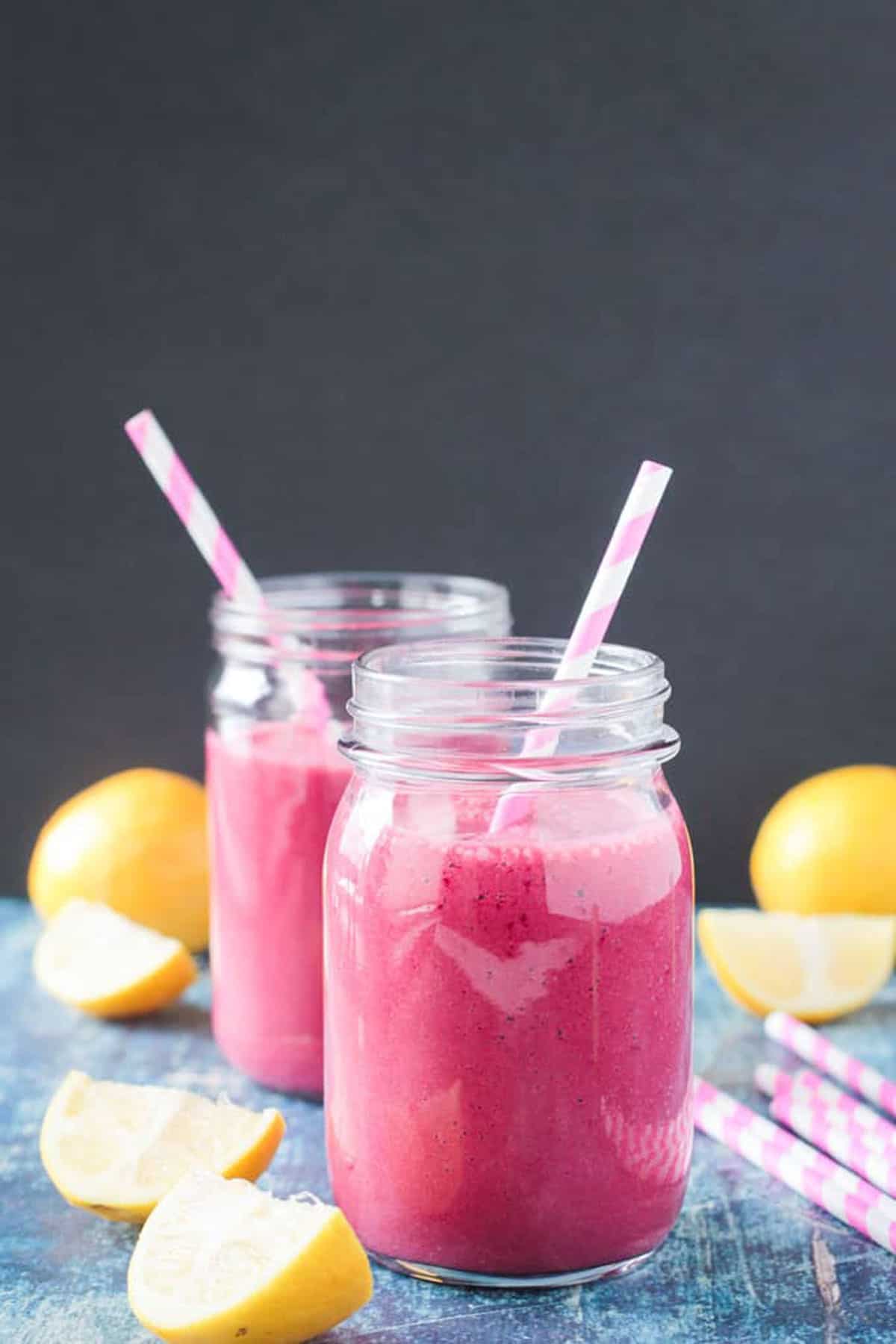 I usually try to change up my juices and smoothies daily to get a good variety of vitamins and minerals, but I find myself making this pretty-in-pink sip quite a lot! It's not too sweet, has a nice citrus and ginger kick, and the flavors are balanced perfectly between the beets and strawberries.
Super healthy, super delicious, and I'm super excited to share it with you today!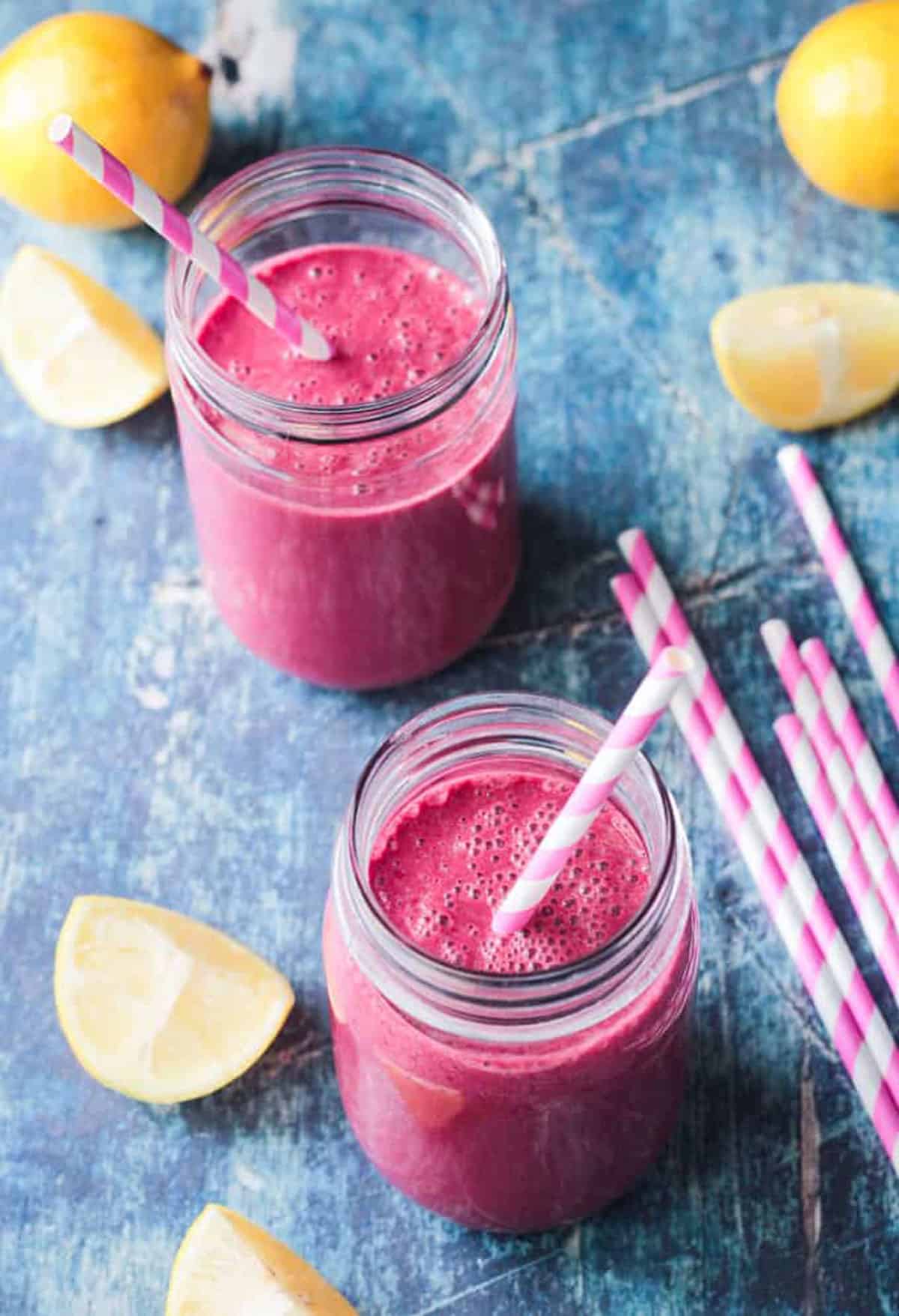 Ingredient notes
This delicious dairy free berry beet smoothie is full of nutrients to help you feel your best.
Beets – They're full of healthy nutrients like folate, potassium, fiber, vitamin C, iron, and B vitamins. They have antioxidant and anti-inflammatory properties, which may aid in disease prevention. And they can even help the body in detoxification. [source]
Read more: how does mcdonald's make their smoothies
Beets are quite earthy, which most people either love or hate. I don't particularly love them by themselves, but paired with other flavors to balance, they are delicious.
I used an equal amount of beets and berries, which I think it perfect. My kids love it too. If you are new to beets and are very leery of the flavor of beets coming through, try 1 ½ cups berries to ½ cup beets instead and work your way up.
I usually use raw beets for this recipe, but if you have cooked beets, either cooked yourself or store-bought pre-cooked, those will work just fine. I often buy a box of steamed beets from Costco or a small package from Trader Joe's. It's easy to pop a whole steamed beet into this smoothie.
Strawberries – They're rich in vitamin C, fiber, potassium, and folic acid. They contain powerful antioxidants and polyphenols that may help prevent heart disease. [source]
If you don't have strawberries or can't have them due to allergies, frozen blueberries, raspberries, or cherries would be yummy alternatives. If you only have fresh available, you may need to add a few ice cubes to the recipe.
Banana – It's used here for sweetness and creaminess. A frozen banana would work great. You could throw in a few pitted dates or use frozen pineapple instead.
Lemon – Fresh lemon juice brings a bit of tang to balance the earthiness of the beets and the sweetness of the berries and banana. You could use lime or orange instead.
Read more: How to make the best cosmopolitan cocktail
Flax and hemp seeds – They offer healthy fats, protein, fiber, and more! [source]
Chia seeds or rolled oats would both work as a substitute, but you could also just leave them out.
Spices – Ginger is a popular spice that boasts many anti-inflammatory benefits and may help to prevent nausea, reduce muscle pain, lower blood sugar levels, aid in digestion, lower cholesterol, and improve heart and brain health. [source]
Not a fan of ginger or cinnamon? Add a few fresh mint leaves instead to switch up the flavor and add a refreshing vibe.
How to make the recipe
All you have to do is place all the ingredients into a high-powered smoothie and blend until smooth!
It really is that easy!
FAQs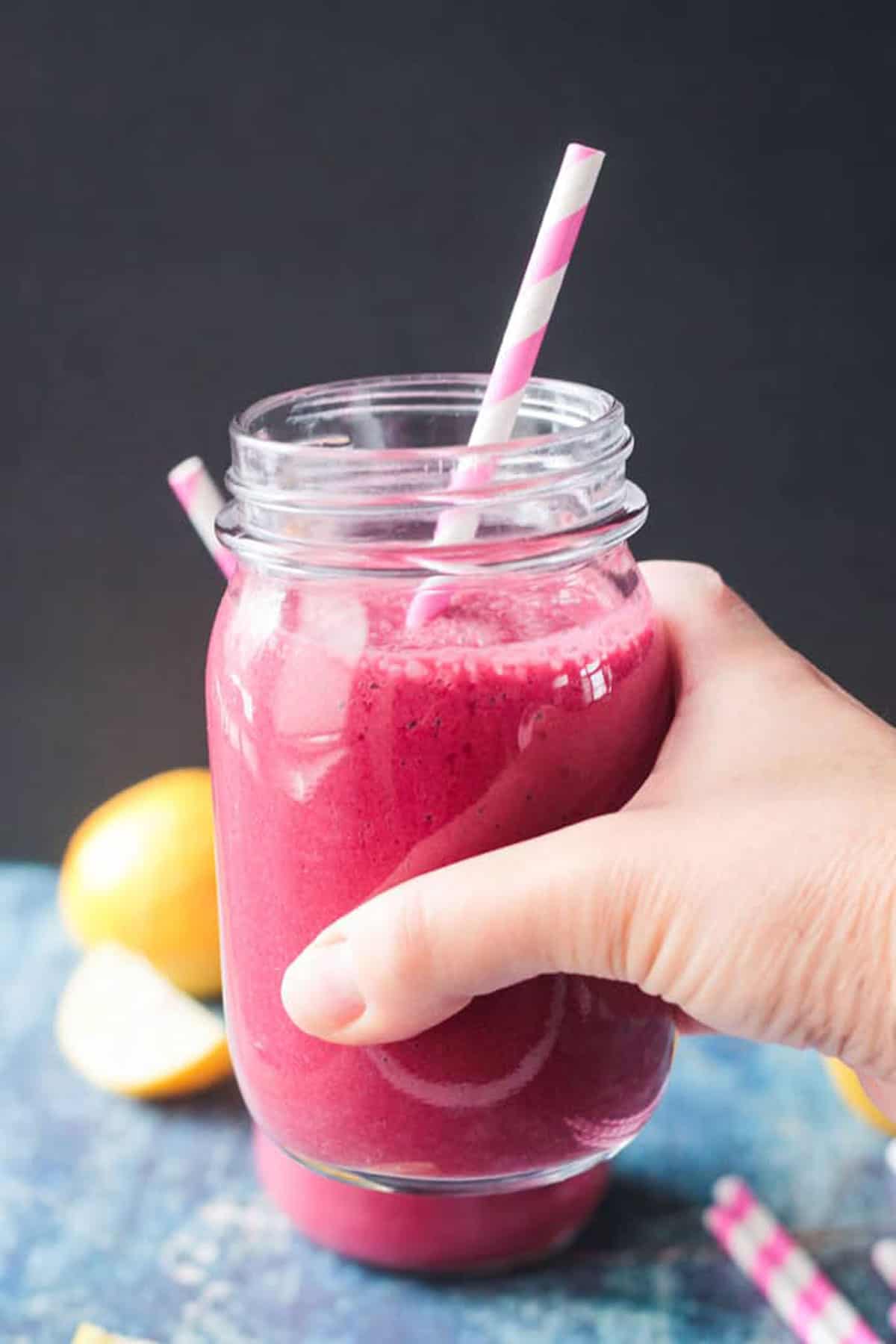 More vegan fruit smoothie recipes
Coconut Berry
Tropical Green
Apple Pie
Strawberry Shortcake
Chocolate Covered Cherry
Pumpkin Pear
Creamy Clementine
I hope you love this recipe as much as we do! If you tried it, please use the rating system in the recipe card and leave a comment below with your feedback. Be sure to sign up for my FREE Newsletter to be the first to get my NEW recipes! You can also follow me on Instagram, Facebook, and Pinterest. For even more easy family recipes, be sure to check out my cookbook, The Meatless Monday Family Cookbook!
Read more: Little Frugal Homestead