Easiest Refrigerator Pickles | Cucumbers!
Refrigerator pickles are pickles (or cucumbers) that are put into a brine and are NOT canned or processed. They take on the flavor of the brine in a couple of days and are ready to eat! I guess they are kind of like marinated pickles. They are super easy to make, use up any excess cucumbers you have (yes you can use full-sized cucumbers), plus you get to reuse a jar full of pickle brine!
Easiest Refrigerator Pickles!
I LOVE the taste of Clausen pickles! They are purchased in the refrigerated section in the grocery store. So, I guess they are already refrigerator pickles? It's the flavor that I like and that's why I tend to have this on hand and then reuse the brine.
Reading: using store brine to make pickles
Ingredients | Supplies
Extra garden cucumbers (or if you are like me, extra Costco cucumbers!) Jars (You can reuse the original pickle jar) Brine from store-bought pickles.
Directions
I usually partially peel my cucumbers because I like the striped effect. Also, if using regular cucumbers, I find the skin a little tough. If using English cucumbers (burpless cucumbers) to make these refrigerator cucumbers, I take less skin off.
Read more: Garlic Dill Pickles Recipe and Canning | Family Cuisine
With regular cucumbers, I do take the seeds out. That's really easy to do. Just cut the cucumber in half lengthwise and scoop out the seeds.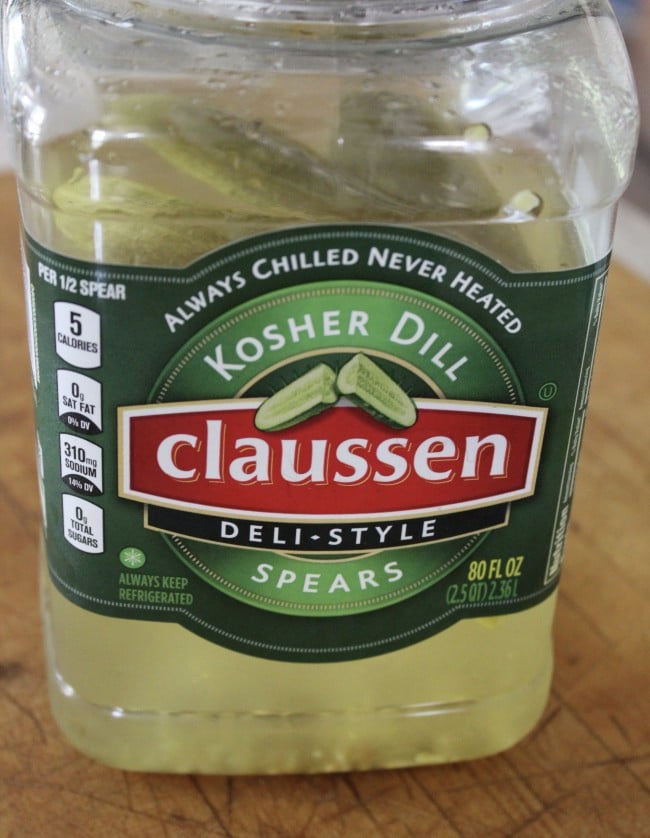 Then I cut the cucumbers/pickles into spears (or sometimes I do coins), and fill the jar.
Fill the jar with the store-bought pickle brine (or as we call it, pickle juice). Make sure you add some of the good stuff, like the garlic, peppercorns or dill you find in the original jar.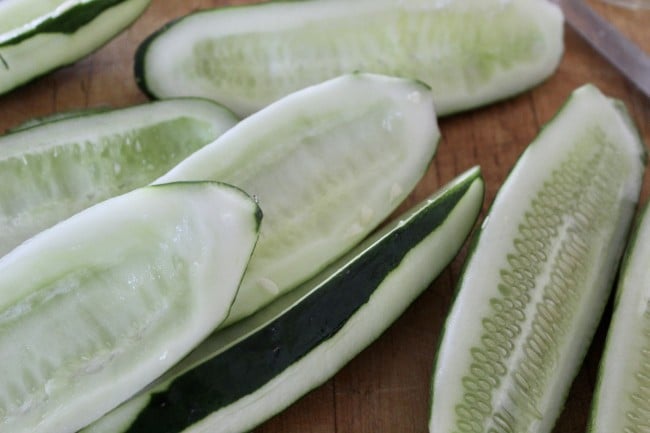 Once you have the jars filled, put a lid on and you are almost done!
Read more: how to make pickles quail eggs | Family Cuisine
A little hint. I always put them into the fridge upside down for the first day and then turn them right side up after that. If we have these in the fridge longer than a few days, I will occasionally turn the jar upside down so that the bottom gets immersed in the brine.
How long do these last?
I've never really had any left for longer than a couple of weeks. We eat them as snacks, or in place of pickles, and I even like them as a veggie side if I'm having burgers or brats. They are kind of like marinated cucumbers (they absolutely count as a veggie!)
Since these refrigerator pickles | cucumbers are NOT processed, they are not intended to be stored long term. Use common sense. Keep them for a few weeks. If they get mushy or look odd, it's time to toss them! You already gave them a second chance to get eaten by doing this!
Refrigerator Cucumber Printable Recipe
Some people like to print and store recipes as reminders of recipes they want to try. So, here it is!
Print
Like this idea? You can do something very similar with marinated/pickled cauliflower! I love that too!
Too much zucchini? Here is an easy way to grill zucchini! Doesn't get quicker, easier or more delicious to prepare zucchini this way.
Read more: how do i make briny garlic pickles | Family Cuisine