We may earn money or products from the companies mentioned in this post.
Sharing is caring!
(Last Updated On: April 1, 2022)
This delicious, thick and hearty vegan beef stew recipe is the ultimate comfort food dish!
Made with a rich and flavorful vegan beef broth filled with herbs and a big splash of stout beer (optional).
The soup is filled with carrots, celery, potatoes and tempeh in place of beef – though you can use any vegan protein you'd like.
It's a real stick-to-your-ribs meal and is perfect year-round, but especially on those cold fall and winter nights with some crispy bread on the side – there's nothing better!
There's not many recipes more comforting than a steaming hot bowl of thick and hearty vegan stew.
The stew sauce has the best savory, herbed and every-so-slightly sweet (thanks to the rosemary and carrots) taste that is so irresistible.
The beer in the stew also creates such a unique, deep and rich flavor, adding to the overall coziness of the stew.
Meatless Vegetarian Beef Stew
This vegetarian beef stew is insanely comforting and so easy to make without beef.
Also read: Can I Make Beef Stew Without Beef Broth?
I love using tempeh in place of beef, but if you're not a fan feel free to use things like fried tofu, mushrooms, vegan beef or even textured vegetable protein.
For this recipe I also highly recommend using vegan beef broth – you can use a no beef bouillon cube for this or many stores carry the broth already made.
Alternatively, you can also use mushroom broth or simply use vegetable broth – the taste and color will just be a bit different with vegetable broth.
INGREDIENTS
Tempeh – Use any vegan protein option you'd like!
Onion & Garlic – The base to any rich and flavorful stew.
Carrots, Celery & Potatoes – I like to keep all of these thick chopped. Feel free to add/substitute veggies, I loved this traditional combination!
Stout Beer – The alcohol should cook out, but you can always substitute for water or more broth.
Vegan Beef Broth – I highly recommend getting this, but you can also use mushroom or veggie broth.
All-Purpose Flour – You can also use corn starch – just make a slurry in a little cold water before adding to the soup to avoid clumps.
Tomato Paste – Just a bit for flavor and thickness.
Brown Sugar – Just a bit helps balance out all the flavors.
Thyme & Rosemary – I also love adding some fresh parsley for serving.
Soy Sauce – Adds a deeper flavor.
Olive Oil – Any neutral oil will work.
Salt & Pepper – Add to taste.
How to Make Vegan Irish Stew
Making the Vegetable Base
To make this vegan Irish stew, place a large pan over medium heat, cook the tempeh pieces with the oil for 3 minutes.
You want to cook the tempeh enough to have a good flavor as raw tempeh has a bit of an earthy taste.
Then add the onion and garlic and cook for three minutes, stirring occasionally.
Now add the carrots and celery and cook another two to three minutes, just until they begin to soften.
Add the flour and cook for two minutes while you stir constantly – you want to cook out that raw flour taste!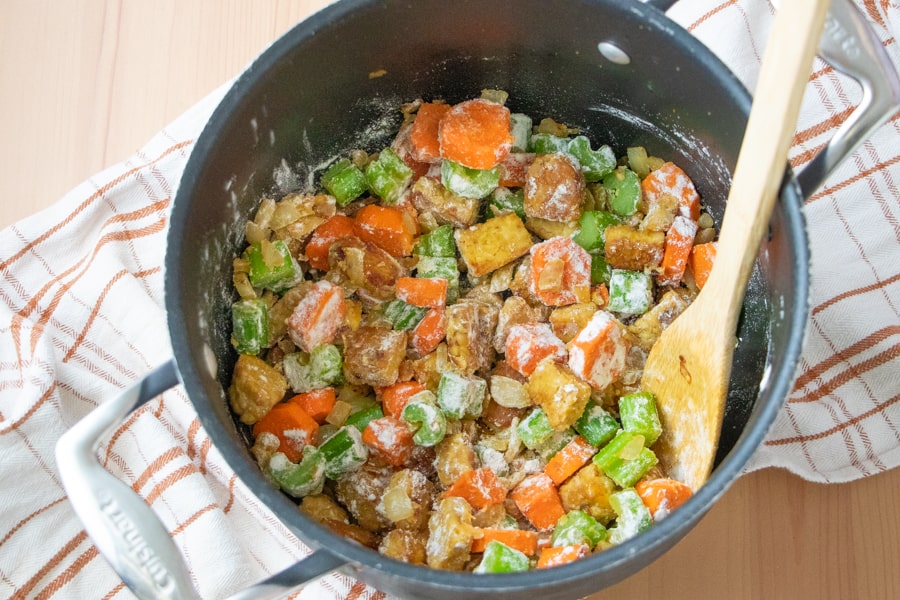 Serving Vegan Stew
Finally, add the beer if using, the broth, tomato paste, chopped potatoes, soy sauce, sugar, herbs and salt and pepper.
Also read: Vegan Beef Stew – Vegan and Oil-free Recipes – Zardyplants
Stir well to evenly distribute everything and raise the heat.
Bring to a light boil and then reduce heat to low to simmer for at least twenty minutes.
You want your potatoes to be tender but not mushy, so be sure to check them with a fork!
Serve the vegan stew recipe with crispy bread and some more thyme on top, or parsley if desired!
Feel free to add any ingredients you like to this recipe: some great add-ins could include peas, a dash of liquid smoke or other veggies you have on hand.
STORING
This meatless stew recipe will keep in the fridge for about 3-4 days.
Beefless Vegan Stew Recipe
This beefless beef stew has all of that savory, umami flavor without the meat.
Plenty of protein and the most delicious way to get in your veggies – this recipe is a regular in my house hold during the colder months.
I love that it's budget-friendly, fuss-free to make and totally customizable, easily one of my favorite vegan stew recipes.
Also read: Mom's Sunday Simple Beef Stew – Baking Mischief
This one pot meal is incredibly filling and perfect for meal prepping – I actually love it even more the next day after all the flavors have marinated together!
This recipe is:
Thick
Hearty
Savory
Rich
Vegan
Meatless
Perfect for Cold Nights
Budget-Friendly
Check out these other vegan comfort meals!
Three-Bean Quinoa Vegan Chili
Easy Vegan Tortilla Soup
Vegan Sweet Potato Corn Chowder
Best Vegan Chickpea Curry
Easy Vegan Lentil Dahl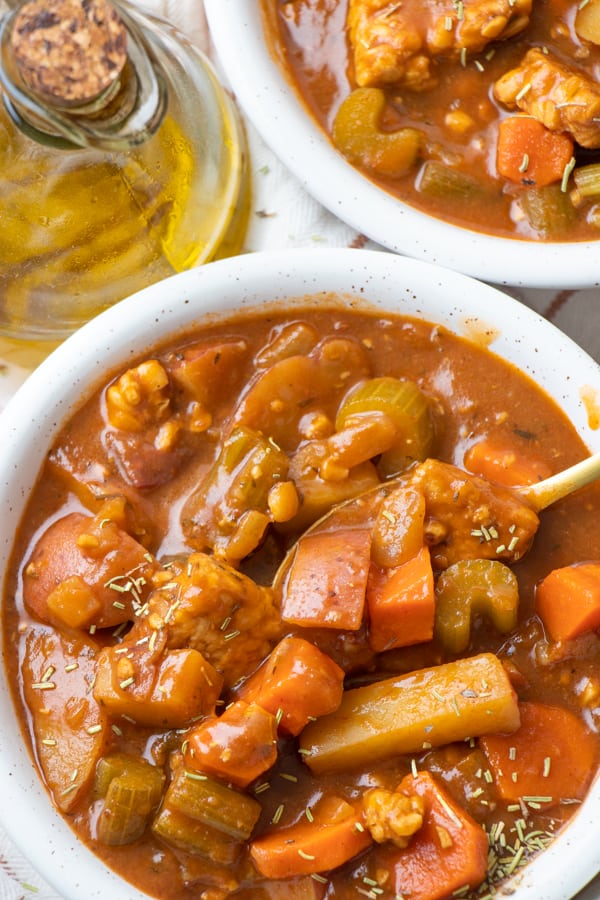 Pin this for later!
Sharing is caring!
For more information please see the list of Beef stew no beef broth