This Vegan No Tuna Salad has just the texture and flavor you'd expect – but with no tuna! It's a tasty mix of chickpeas, kelp, and spices, perfect for any sandwich or appetizer.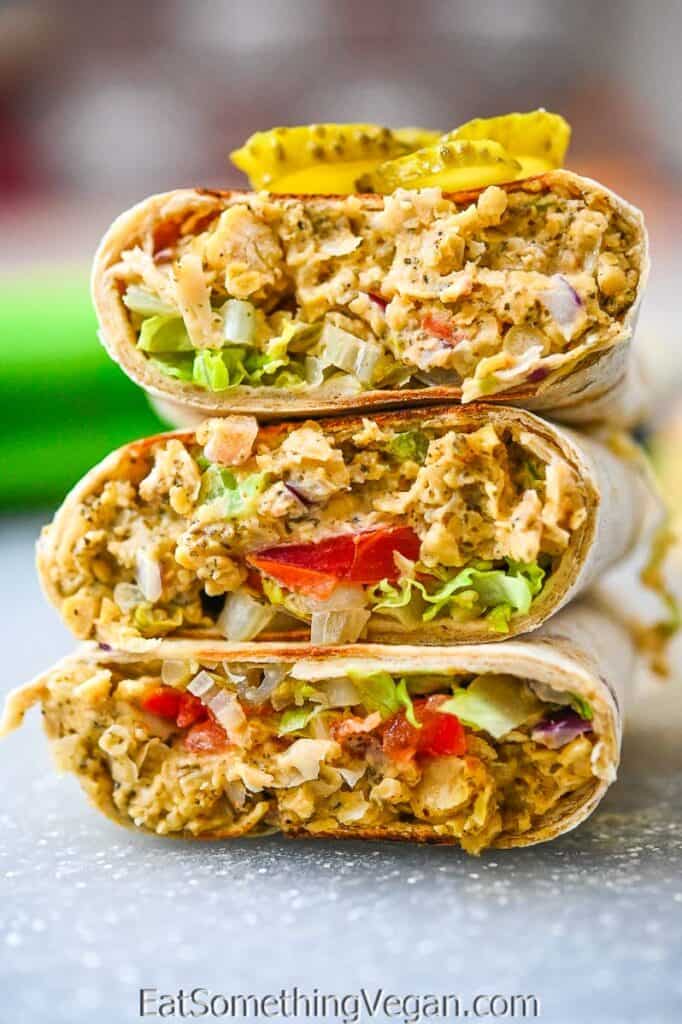 This No Tuna Salad is the perfect vegan version of a classic favorite. Mashed chickpeas give it mild flavor, and texture that mimics tuna. Vegan mayo, celery, and onion are always good add-ins to give the salad a little tasty crunch and moisture. Salt, pepper, and a couple of other spices are also flavor musts.
Reading: Vegan tuna salad no chickpeas
But what really makes this No Tuna Salad work is the kelp granules. These give it a seafood taste that is unmistakable. While you can skip this ingredient if you don't have any or just prefer to not use it, I really suggest trying it because it gives your Vegan No Tuna Salad authentic flavors. Let's look at some ingredient specifics.
Video Tutorial
What you'll need
Chickpeas. Use canned or cook them yourself.
Vegan Mayo. I always make a homemade vegan mayo (great way to use the aquafaba!). Of course, you can use store-bought vegan mayo as well.
Celery. The classic. Adds crunch and nice flavor.
Red Onion. Or regular onion words, too.
Kelp Granules. I buy this kelp online. Dulse Flakes work great, too. This is what adds the seafood flavor to the salad. However, you can skip it, if you'd like.
Spices. Garlic powder, paprika, salt, and black pepper.
How to make this No Tuna Salad
1. Mash the Chickpeas. Place the chickpeas into a medium bowl and roughly mash them with the back of a fork or a potato masher, until they reach the desired consistency (leave some chunks for texture).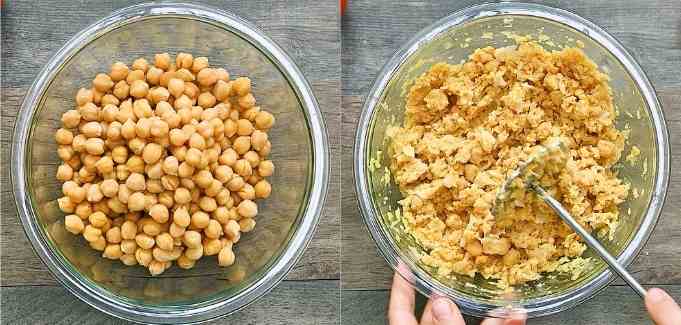 2. Make the Salad. Add the chopped celery and onion, vegan mayo, kelp granules, and the spices to the chickpeas and mix well.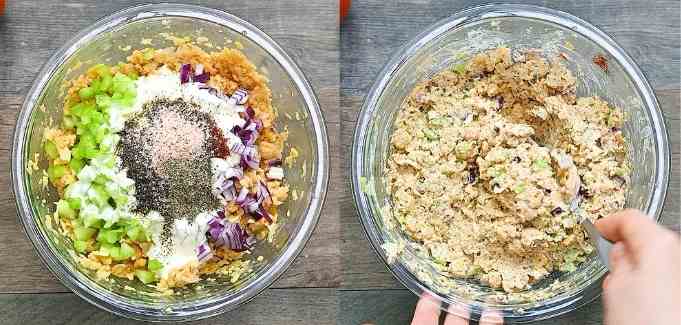 Read more: The top 8 recipe cucumber tomato onion salad
3. Serve it! Make a sandwich, wrap, or lettuce boats with this Vegan No Tuna Salad.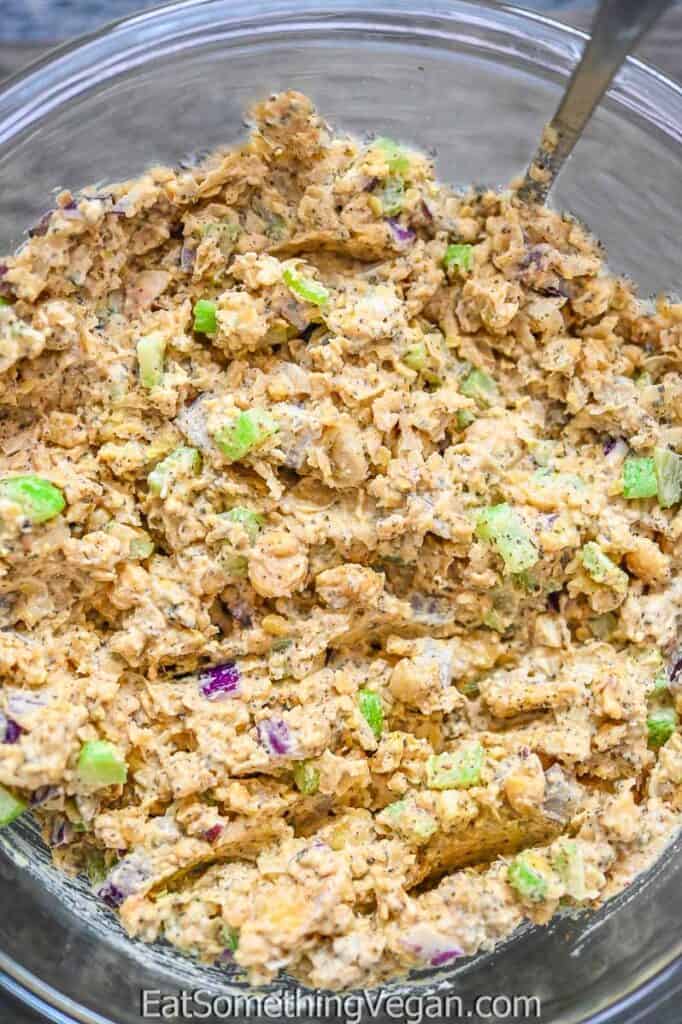 Way to serve
Wrap or Sandwich. You can serve this Vegan No Tuna Salad on bread or insides of a tortilla. It goes really well with tomatoes, lettuce, pickles, and/or avocado for a filling and delicious meal.
Lettuce Boats. You can use your favorite lettuce, such as romaine, iceberg, or butter lettuce leaves, to create a lettuce boat to hold this No Tuna Salad. Then add some extra veggies on top for extra flavor.
As an appetizer. Slice cucumbers and top them with this salad to make them into cute bites to serve before a meal or on a buffet table. To brighten them up, top each with some fresh herbs.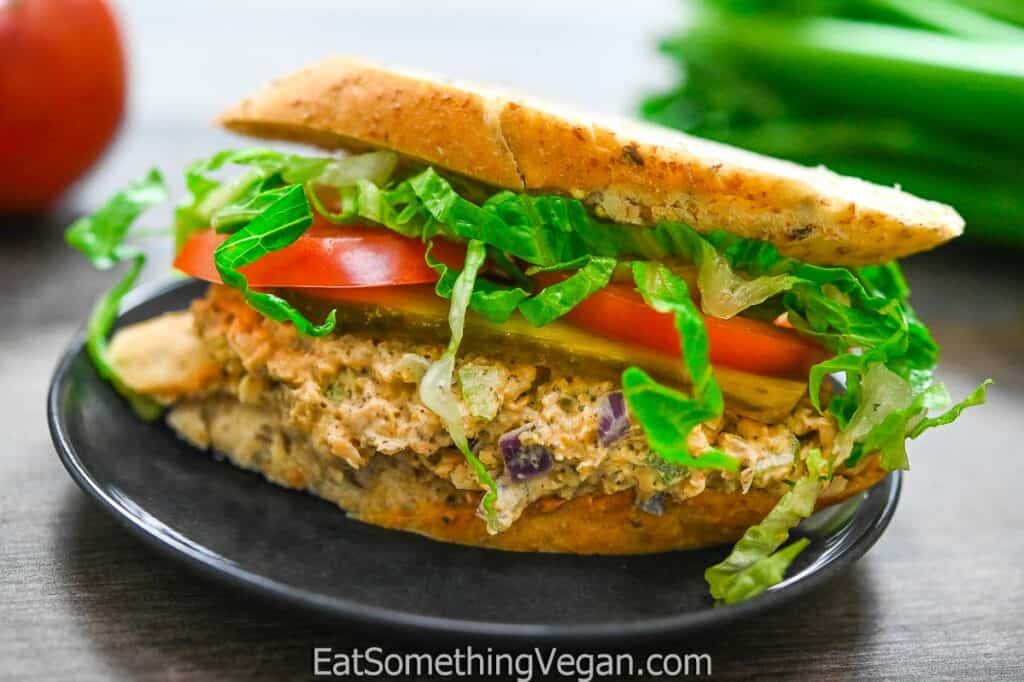 How to store
Vegan No Tuna Salad makes a great make ahead option because it tastes great days after. Place this salad in an airtight container and store it in the refrigerator. You can keep it in there for 5-6 days before serving.
Helpful Tips
Add extra crunch. This salad is even better with a little crunch to complement the creaminess. Try roasted sunflower seeds to add great taste and texture to this No Tuna Salad. You can use other roasted nuts as well, like almond slivers or even pumpkin seeds.
Read more: Easy Chicken Salad Recipe With Grapes And Pecans
Add extra omegas. You can also add a spoonful of hemp seeds to this salad. They pack plenty of protein, vitamins, and minerals, too.
Season to taste. Use your favorite seasonings to add extra flavors that best suit your taste buds. Onion powder, dill, or Old Bay seasoning are all great possibilities.
Add a hint of spice. You can also add a few red pepper flakes, a pinch of cayenne, or even chopped jalapenos to this salad for a little heat.
Mayo Substitute
If you don't have any vegan mayo or prefer not to use it, you can also use Tahini Sauce as a substitute. Made with sesame, it changes the flavors away from the classic, but it still pairs well with the other ingredients in this No Tuna Salad.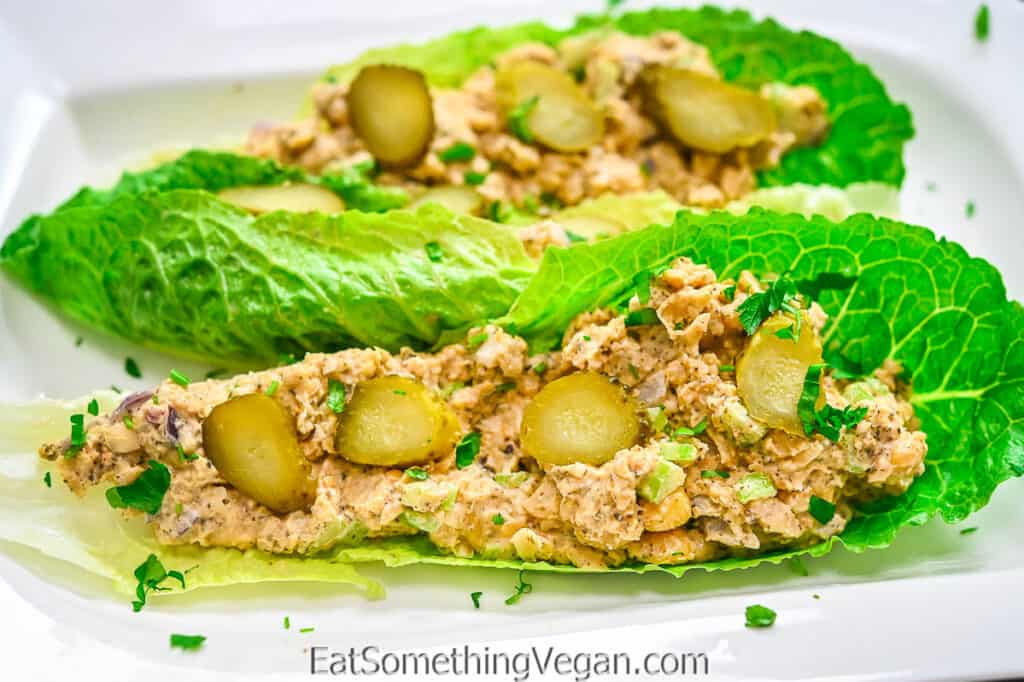 For a flavorful cold lunch or quick snack, this Vegan No Tuna Salad is a great recipe to have. You can serve it in a variety of ways and change up the seasonings and ingredients depending on your taste and mood. Make a double batch and enjoy it all week. This salad is delicious, easy, and the perfect vegan version of a perennial favorite.
More tasty recipes to try:
Read more: Can You Freeze Pasta Salad? 
Easy Lemon Lentil Soup
Cauliflower Steaks with Chermoula Sauce
Vegan Potato Pancakes
Stuffed Peppers
Napa Cabbage Steaks
For more information, please see more information about Vegan tuna salad no chickpeas