This vegan potato sauerkraut casserole is a warm, cozy and filling dish that you will love to feed your family and friends.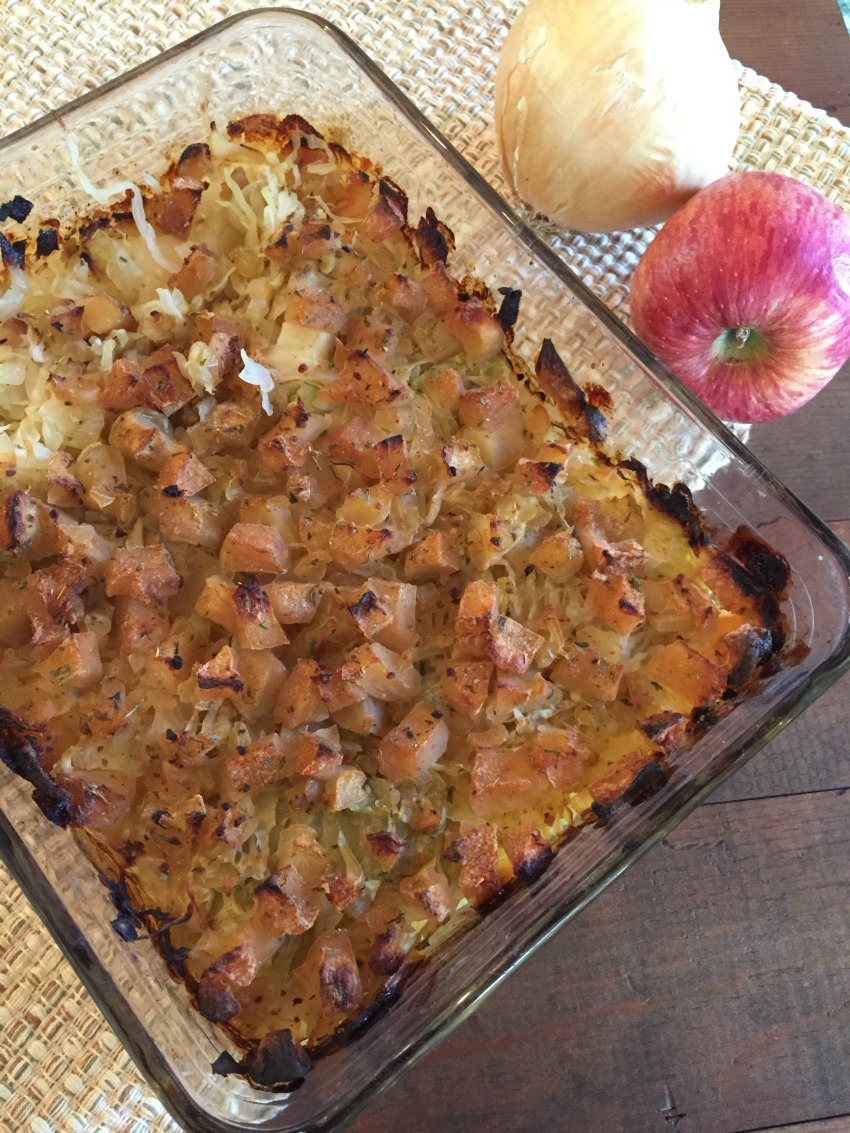 Reading: vegetarian dish to go with sauerkraut and mashed potatoes
I've recently been eating a lot of potatoes. I mean, A LOT!
Because I follow Dr. McDougall and his starch-based way of eating, I became aware of what he and his wife refer to as "Mary's Mini." It is a 10 day re-set that you do by eating only one starch for 10 days. Every meal is that starch with a side of non-starchy veggies. It is intended to be boring, so all the tasty sauces that we know and love are discouraged. Condiments and seasonings are okay.
You choose which starch you want to eat and stick with that the entire 10 days. Because I LOVE potatoes, I chose them and thought I'd never get tired of potatoes.
Wrong. I got tired of them. By day 3 I felt like I could never eat potatoes again and be happy about it. But, I learned something valuable. So often, I was eating because I was bored or because something was so tasty that I didn't want to stop. While doing the Mary's Mini I found that I often went to the fridge, thinking that I was hungry, but when my choice was another potato…suddenly I realized that I really wasn't hungry. Of course, there were times that I was hungry and opened the fridge and there was my potato salad or some plain potatoes and I would chow down until I felt full. What a concept…eating to feed my body!
So, re-training my brain is one of the benefits I've found so far. I hope to carry that forward and be more mindful of whether I'm eating for true hunger or just out of boredom or pleasure-seeking.
One of the many potato meals I made during this challenge was Potato Sauerkraut Bake. It's a recipe that my mom has made my whole life. Of course, it had meat in it up until we all stopped eating meat and I don't miss the meat at all. This is an adaptable recipe. We use sauerkraut because that was the original recipe and we love it, but we have also made it with shredded cabbage and that works well also.
Read more: Vegan Thanksgiving Series: Main Dish Proteins. 15 Ideas
We like tart apples in it, but you can leave them out if you are not a fan of apples…but are there really people who don't like apples??
Here we go…start by cubing your potatoes. I use my Mueller chopper. It's so easy and it makes the potatoes all the same size so they bake evenly. Below is a link to this cool gadget. If you use my affiliate link to buy this, I will get a few cents (at no additional cost to you).
nbsp;
If you don't have one, you can cut the potatoes into 1/2″ cubes with a knife. Peeling them is up to you. I did peel this time, but often I leave the peel on. Yukon Gold potatoes are my favorite for this.
Place the potatoes in a bowl of cold water while you prepare the rest of the ingredients. This keeps their color…or else they turn a gross grey/brown. Which really doesn't matter much after they're cooked.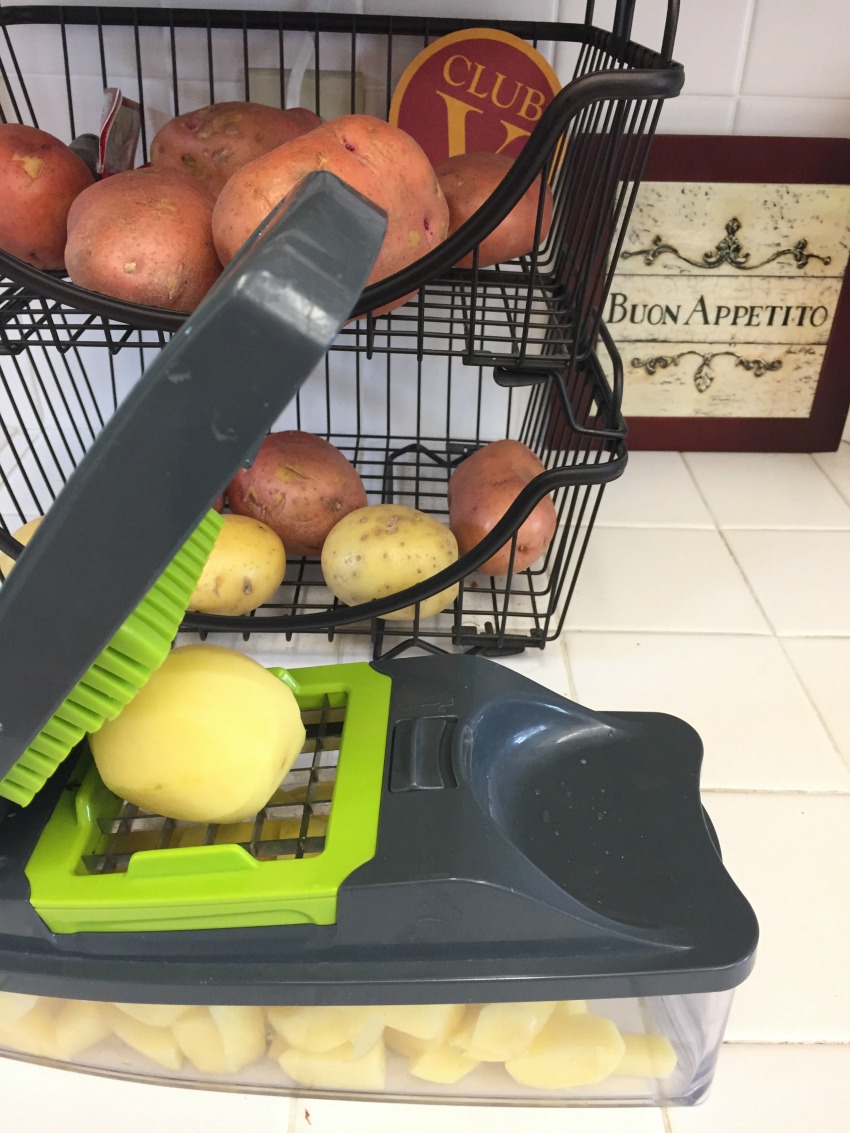 Dice your onions into small (1/4″) pieces. Again, this is a super fast process if you use the chopper with the 1/4″ attachment. Sauté the onions in a frying pan over medium/high heat. Add splashes of broth to unstick the brown bits that stick to the bottom of the pan. This creates a nice caramel color and flavor to the onions. Stir and add splashes of broth as necessary until the onions are soft. (if using fresh cabbage instead of sauerkraut, add the rest of the broth to the pan and set aside.
Read more: make a vegetarian dish with sauce into a gumbo
Peel and core your apples and dice into 1/2″ pieces like the potatoes. I put them in a bowl of water for the same reason as the potatoes.
If using cabbage instead of the sauerkraut, shred it coarsely. You can use a knife or a food processor with the shredding blade.
The assembly order depends on if you are using fresh cabbage or sauerkraut.
If using cabbage, add it to the casserole dish and spread it out evenly. Add the apples, then potatoes and finally your cooked onions and broth.
If using sauerkraut, assemble in this order: Potatoes, apples, sauerkraut, onions.
Season with Spike or your favorite seasoning salt. Or just salt and pepper.
Cover and bake, uncovering for the last 15 minutes or so until the top begins to brown and get some crispy bits.
Serve with your favorite mustard. I love it with a horseradish dijon.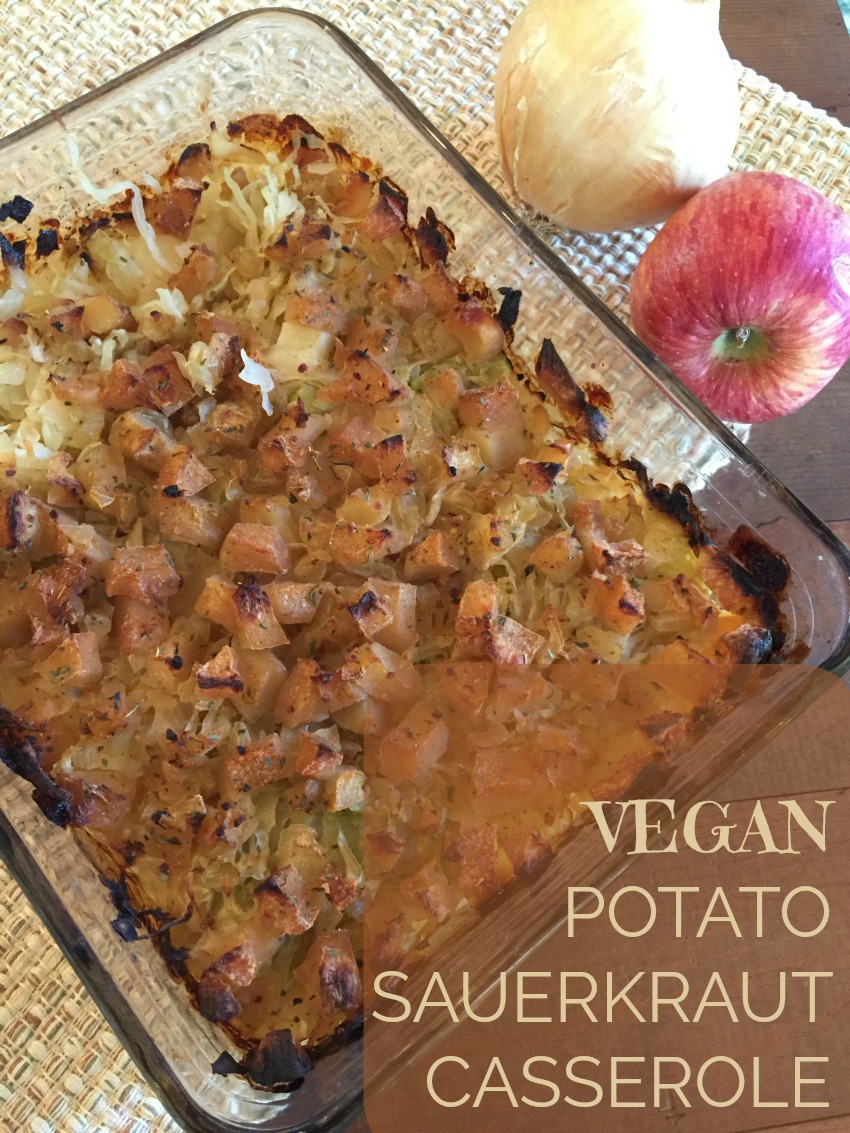 Read more: 25 Easy Spanish Vegetarian Recipes