This easy baked pasta is loaded with vegetables, extra cheesy, and seriously irresistible. Our meatless baked pasta will please vegetarians and meat lovers alike. Jump to the Vegetable Baked Pasta Recipe or read on to see our tips for making it.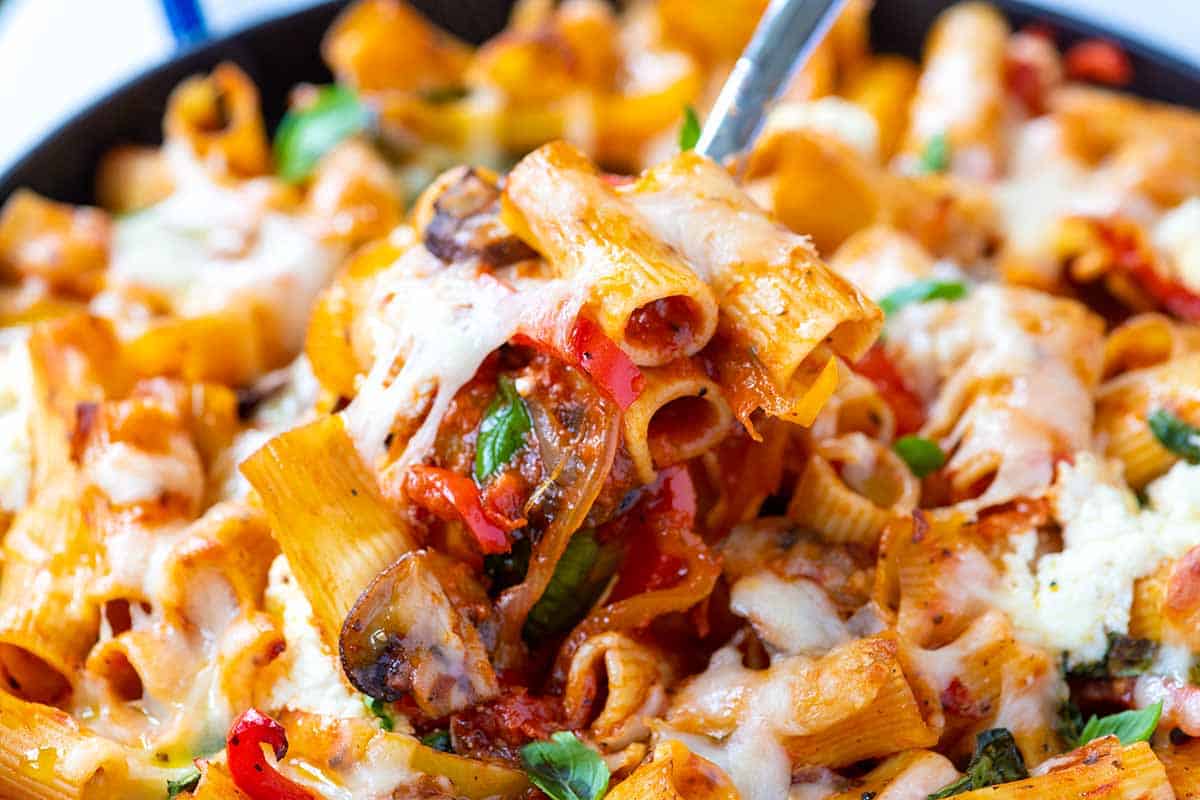 Why I Love This Easy Baked Pasta
We've shared quite a few vegetarian pastas already, but this extra easy pasta bake just might be at the top of my favorites list. Here are four reasons to love this recipe:
Reading: vegetarian pasta oven dish
The recipe calls for seasonal vegetables and affordable pantry ingredients.
The pasta is hearty and ultra-satisfying. Even meat lovers adore this vegetarian baked pasta recipe.
Baked pasta is the perfect make-ahead meal. Look for all my tips below.
It's incredibly easy to make and can be adapted to be dairy-free/vegan (I've shared substitutions below).
How To Make The Best Veggie Baked Pasta
A few years ago, we shared our recipe for vegetable lasagna. So many of you have commented about how much you love the recipe, we set out to create another veggie based pasta, but one that doesn't require nearly as much time to make.
I still LOVE that lasagna, but when I'm short on time, this cheesy baked pasta is where I turn. Since we are on the subject of pasta recipes, you might want to take a look at our recipe for veggie spaghetti.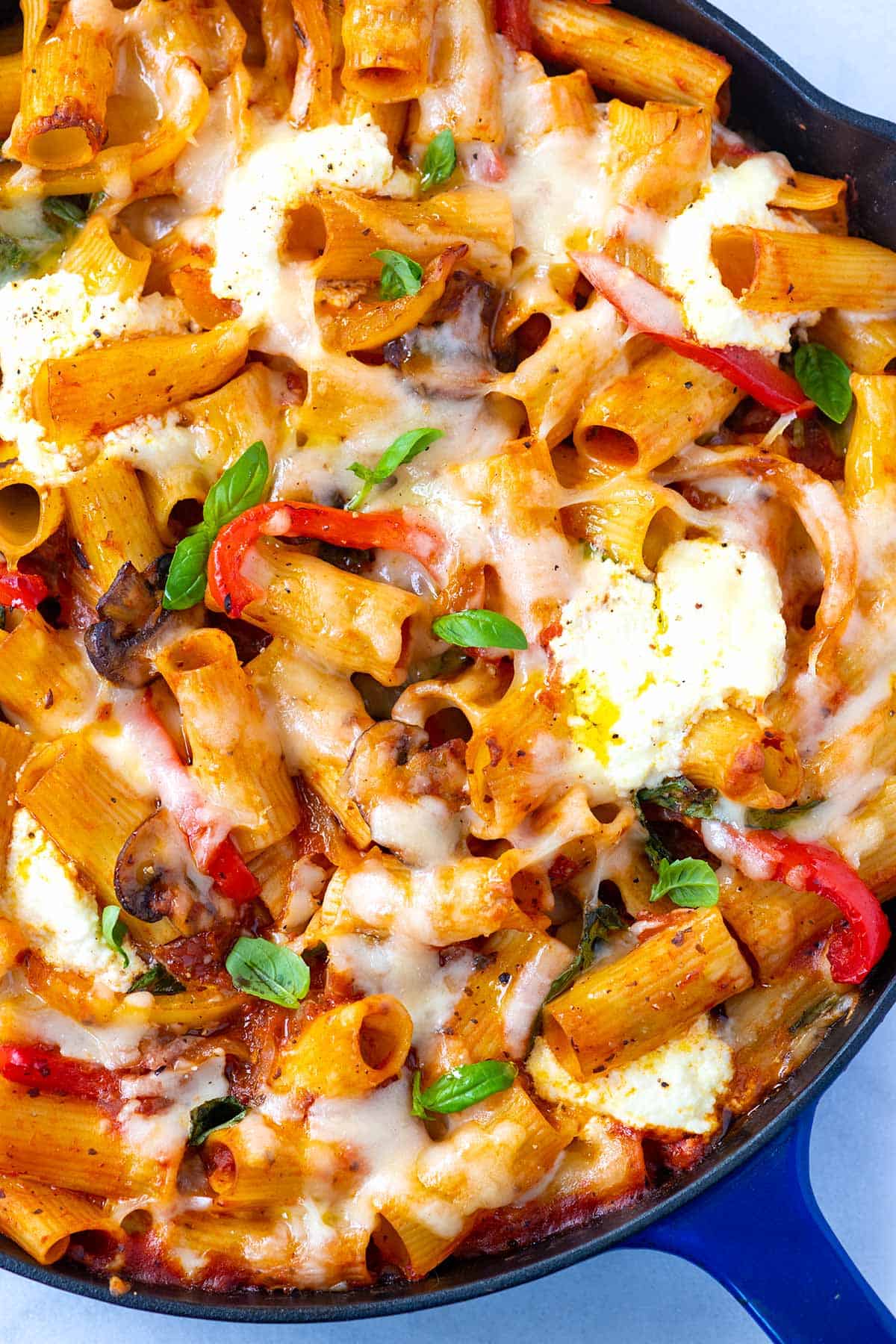 The Ingredients You'll Need
Read more: Vegetable Pasta – One Pot!
The ingredients for this easy pasta bake are simple. Here's what you will need to make it:
Pasta of choice — I love rigatoni, which is what we used in the photos.
Vegetables — These are up to you. In our photos, we used onion, bell peppers, and mushrooms. I've shared alternatives below.
Marinara sauce — The sauce you use can be homemade — here's our recipe — or you can use store-bought. I love Rao's and Muir Glen sauces.
Fennel and fresh basil — A simple addition of spice and fresh herbs are what makes this pasta taste homemade and fresh.
Ricotta and mozzarella cheese — The ricotta turns into pockets of creamy heaven and the mozzarella becomes melty and brown.
How I Make The Pasta
I start by partially cooking my vegetables in a skillet on the stove. I use the largest oven-safe skillet in my kitchen so that it can double as the baking dish that goes into the oven.
If you don't have a large enough skillet, that's okay, you can always use a regular baking dish for the oven portion of the recipe. Here are the basic steps:
Cook sliced onions, bell peppers, and mushrooms on the stove-top.
While the vegetables cook, bring a pot of water to a boil and cook the pasta.
Combine the vegetables, pasta, fresh basil, and marinara sauce.
Sneak spoonfuls of creamy ricotta cheese into the pasta and vegetables.
Add shredded cheese to the top and bake until bubbly.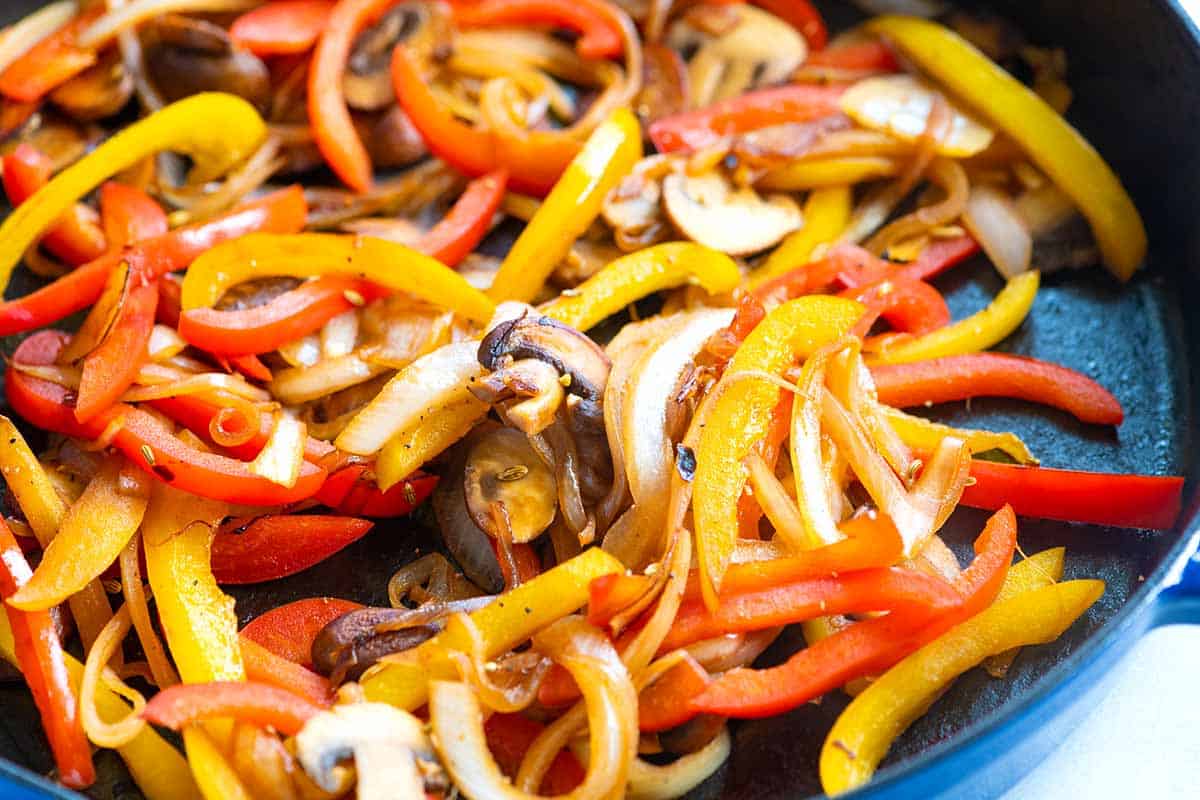 Veggie Substitutions
As I mentioned above, the vegetables you add can be adapted based on seasonality or what is in your kitchen. I love the combination of onion, peppers, and mushrooms, but other vegetables work, too. Here's a list of other veggies you can use:
Cubed zucchini or summer squash.
Spinach, kale, or collard greens.
Cubed eggplant.
Cauliflower florets.
Winter squash like butternut or delicata squash — This will take a bit more time to cook.
Making Vegan Baked Pasta
One of my favorite things about this pasta recipe is that it's incredibly easy to adapt. It is already delicious before adding cheese so for a vegan variation, just leave the ricotta and mozzarella out.
Read more: Vegan Cannellini Bean Stew
For a little extra "cheesy" flavor, I love stirring a tablespoon or two of nutritional yeast into the marinara sauce. You could also experiment with adding vegan cheese alternatives.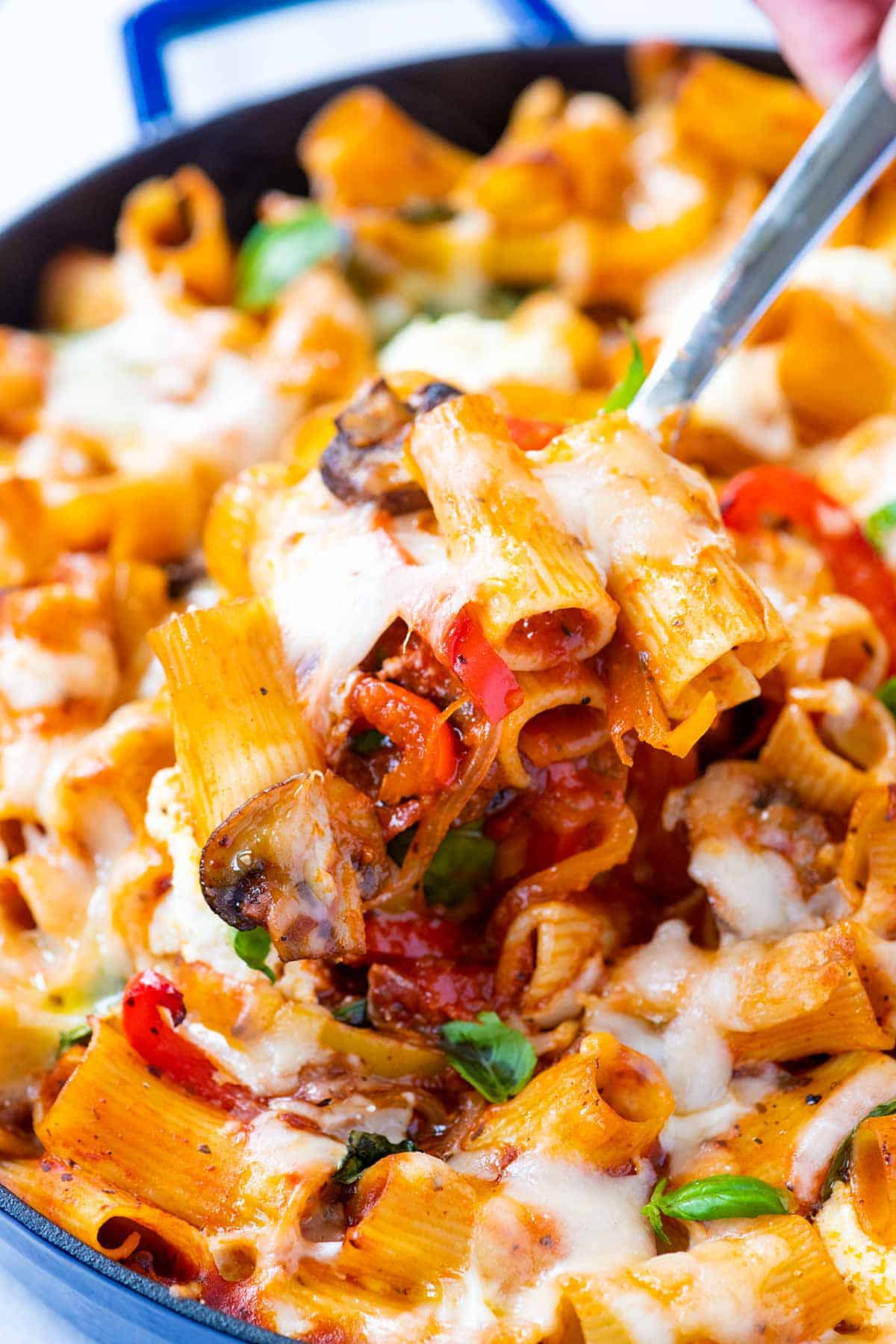 Make Ahead and Storing Tips
Baked pasta is the perfect make-ahead meal. Here's how I do it:
The vegetable sauce can be made in advance and should last in your refrigerator up to 3 days and in your freezer for about three months. We recommend using freezer-safe glass containers, or double layers of freezer bags to store sauces. To thaw, leave it overnight in the refrigerator.
You can refrigerate the pasta unbaked. Cover and refrigerate the assembled, but unbaked pasta up to 2 days. When you cover, use parchment or wax paper between the pasta and aluminum foil. Aluminum foil can react with the tomatoes.
Baked pasta also freezes well. Let it cool completely on a rack before freezing, and then wrap it very well with foil (we use two layers). Defrost the frozen pasta overnight in the refrigerator and then bake at 400°F for about 1 hour. (I prefer baking and then freezing the pasta instead of freezing uncooked pasta dishes.)
Read more: what side dish goes well with a vegetarian moroccan stew
More Baked Pasta Recipes
Another vegetarian pasta, this Baked Ziti With Spinach and Artichokes is a fan favorite.
When the craving hits, I love making our Creamy Baked Macaroni and Cheese. It's extra cheesy!
No-boil lasagna sheets make our Healthier Spinach and Mushroom Lasagna extra easy!
For a meaty pasta, try our popular Lasagna with Beef and Sausage.
If you love stuffed shells, try these Mushroom and Spinach Stuffed Shells