Waldorf Chicken Salad is a summer classic! This cool and refreshing chicken salad recipe is bursting with sweet, creamy flavors with amazing texture. Perfect for the warm months of the year when you're craving chilled food.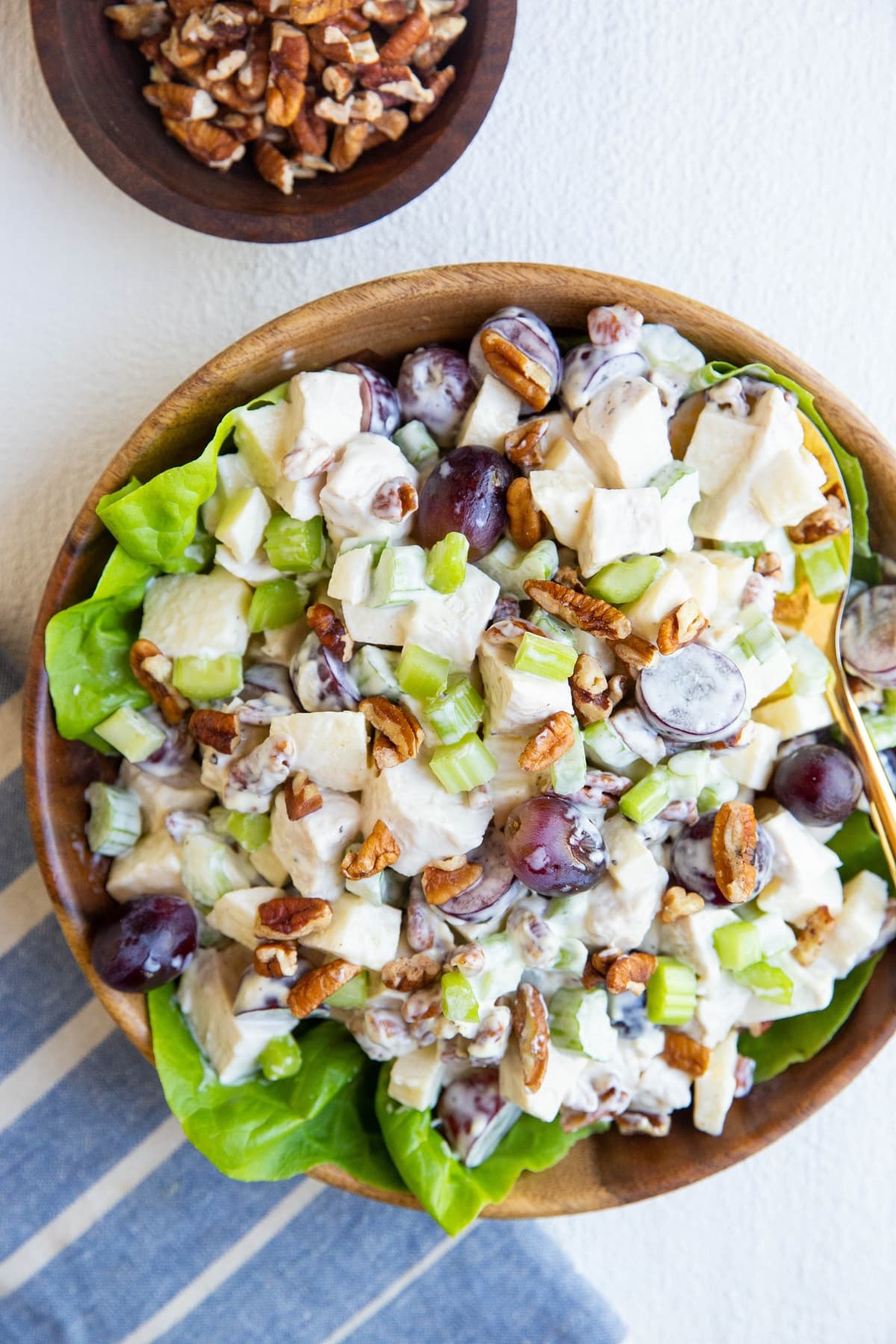 Whether you're having a barbecue, picnic or are simply trying to beat the heat, Waldorf Chicken Salad is a classic summer favorite for lunches and dinners when you're looking to keep cooking at a minimum.
Tender chicken with sweet grapes, crisp apples, refreshing crunchy celery and crunchy pecans wrapped in a creamy mayo dressing is a high-protein delight when you're looking for a filling yet cooler meal.
With lean protein and a lower-fat dressing, this easy Waldorf chicken salad recipe is a marvelous healthy addition to your green salads on a hot day.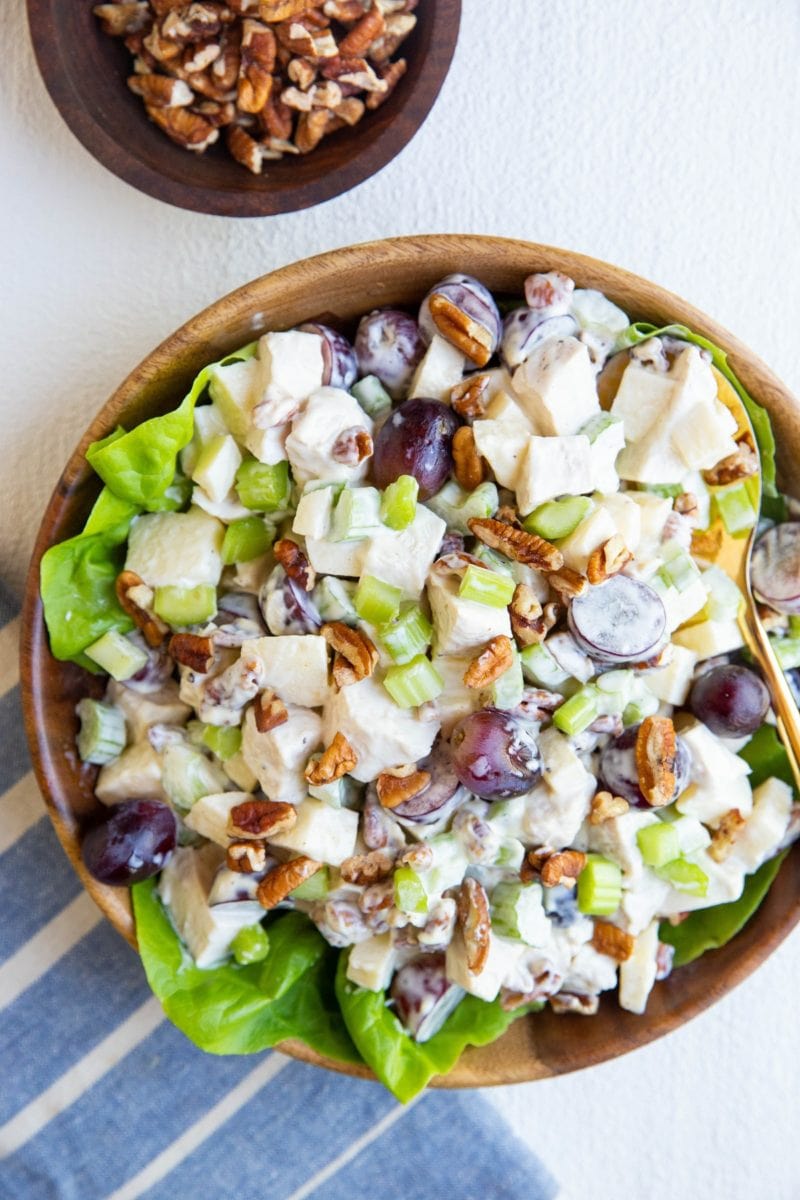 Let's discuss the fresh ingredients needed for this easy recipe.
Ingredients For Waldorf Chicken Salad:
The traditional ingredients used in Waldorf Chicken Salad are boneless chicken breasts, grapes, apple, celery, pecans and mayonnaise.
I cut out some of the mayonnaise and replaced it with plain Greek yogurt in order to eliminate some of the fat without sacrificing the creamy texture of the chicken salad.
For added tang, you can add some fresh lemon juice, lemon zest or rice vinegar to offset the sweetness of the dish. If you love the zing of red onion, crunchy walnuts, or green grapes, feel free to swap them in.
If you prefer dark meat, you can always use chicken thighs instead of chicken breasts, or even leftover roasted turkey from Thanksgiving.
Waldorf Chicken Salad is often served on top of a bed of lettuce or greens to make a high-protein green salad, and many people also serve it as a sandwich or wrap.
The easiest way to cook the chicken for chicken salad is to poach it in hot water.
If you have leftover baked chicken, grilled chicken, or leftover rotisserie chicken on hand, you can certainly chop it up and use it in this classic American salad.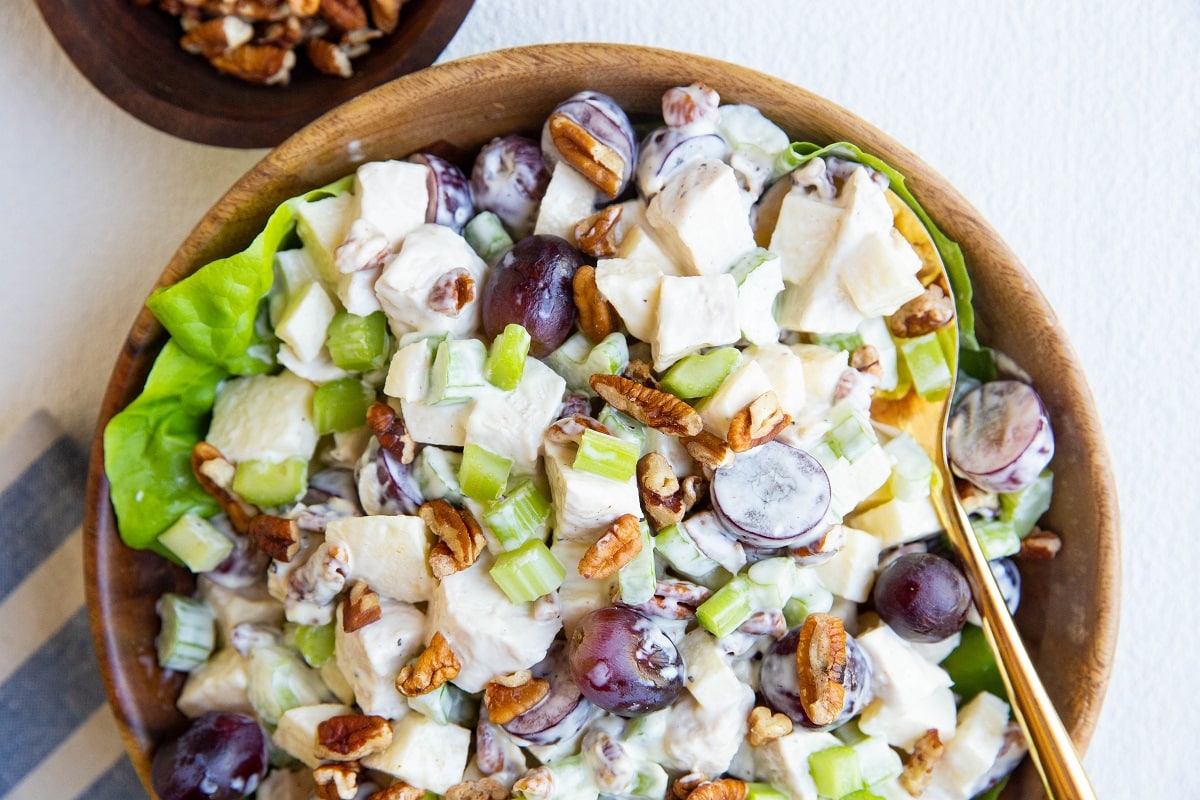 For those wanting to poach the chicken, here's the method I use for this easy chicken Waldorf salad.
How to Poach Chicken:
Bring a large pot of water to a full boil and season liberally with sea salt.
Once the water is boiling, carefully place the chicken inside the pot and reduce the heat to medium. Simmer for 5 minutes, then remove the pot from the heat, cover it with a lid, and allow the chicken to sit in the hot water for 15 to 20 minutes, or until it reaches an internal temperature of 160 degrees F.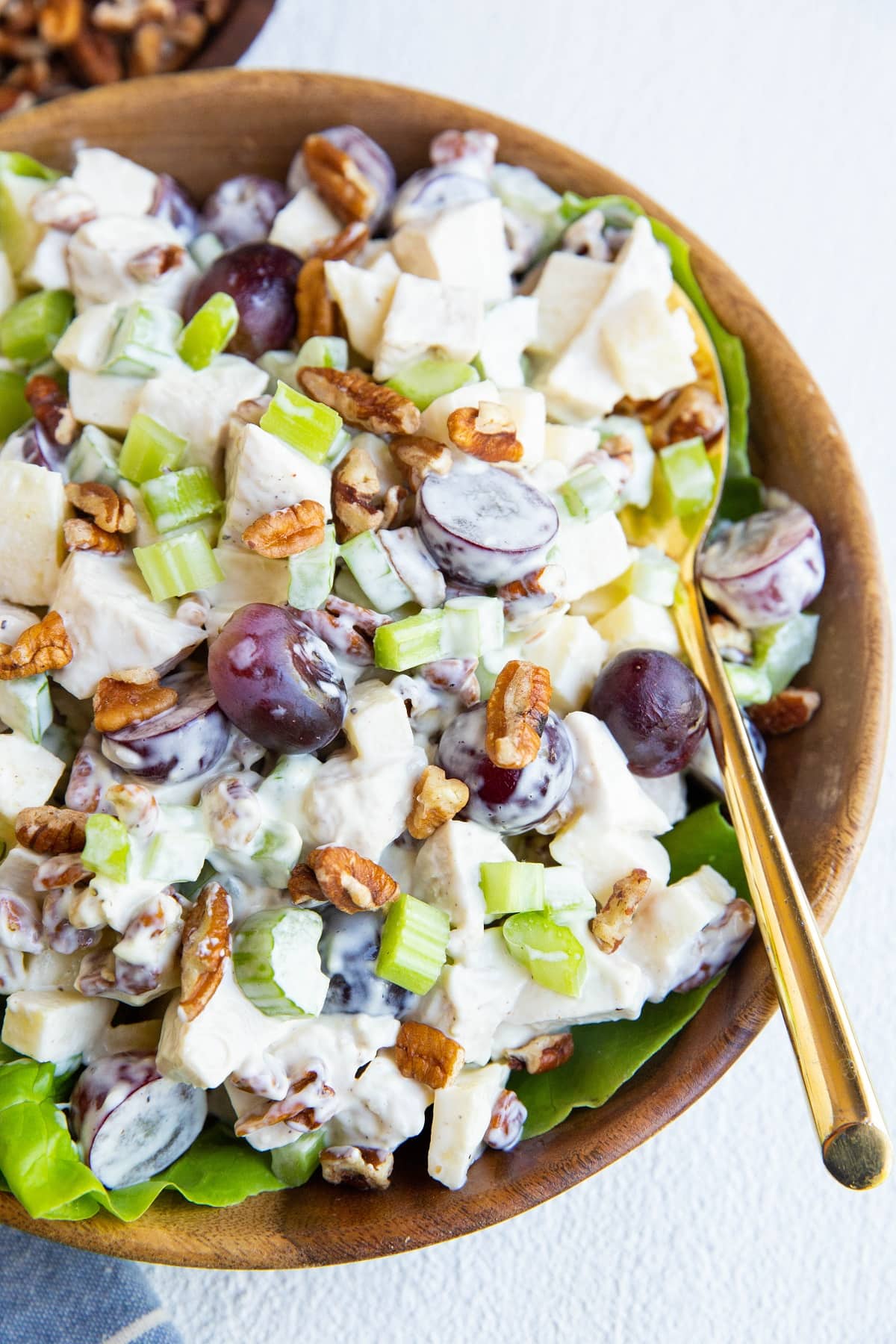 To verify the chicken is cooked through, insert a meat thermometer into the thickest part of the breasts.
Transfer the chicken breasts to an airtight container and refrigerate until they are completely chilled. Because you want the chicken to be very cold, you can poach the chicken ahead of time (up to 3 days).
Now that our boneless skinless chicken breasts are cooked, let's make this tasty salad!
How to Make Waldorf Chicken Salad:
Transfer the cooked chopped chicken to a large mixing bowl, along with the apple, grapes, celery, and pecans.
Add the mayonnaise and Greek yogurt and stir well until everything is well coated in the creamy dressing.
Sprinkle sea salt and black pepper over the chicken salad, mix well, and taste before adding any more.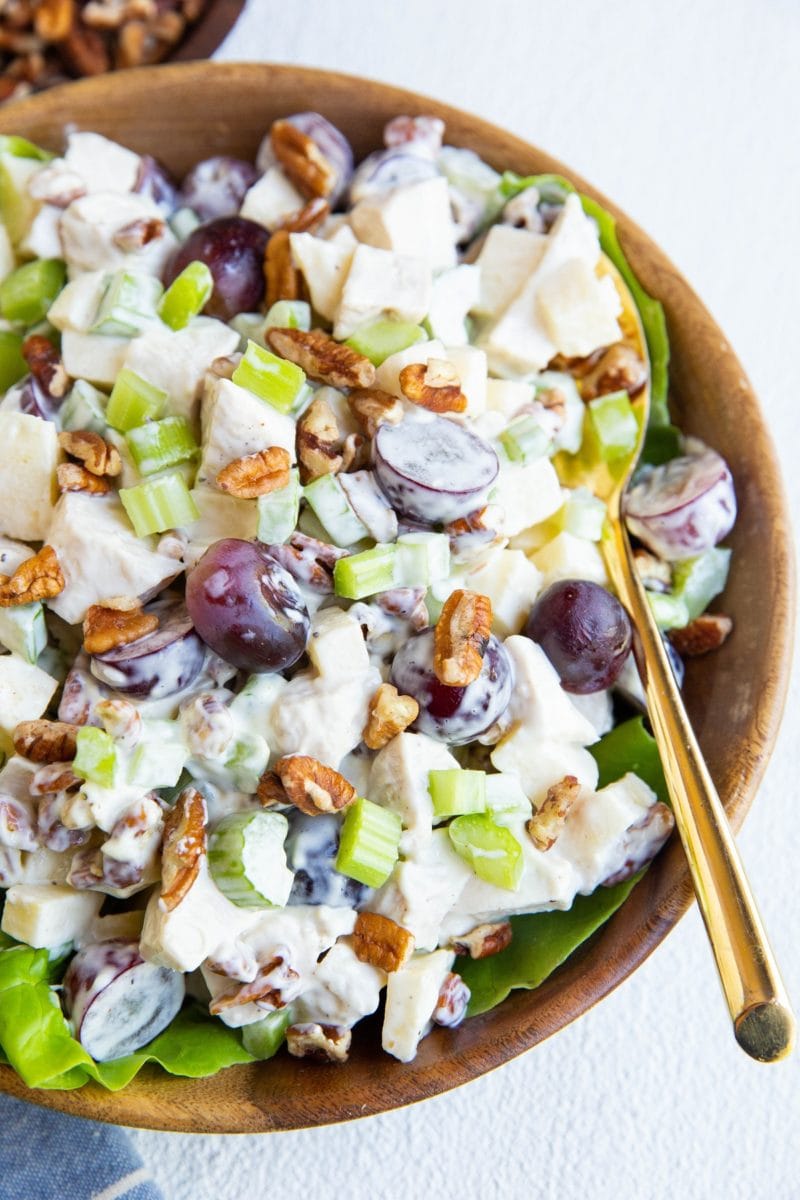 Serve the Waldorf chicken salad over a bed of greens or make lettuce wraps using butter lettuce or greens of choice.
Store any leftover chicken salad in an airtight container in the refrigerator for up to 5 days.
This chicken Waldorf salad recipe tastes even better the next day after you prepare it. For this reason, I always recommend making it a day ahead of time for the best result if you can!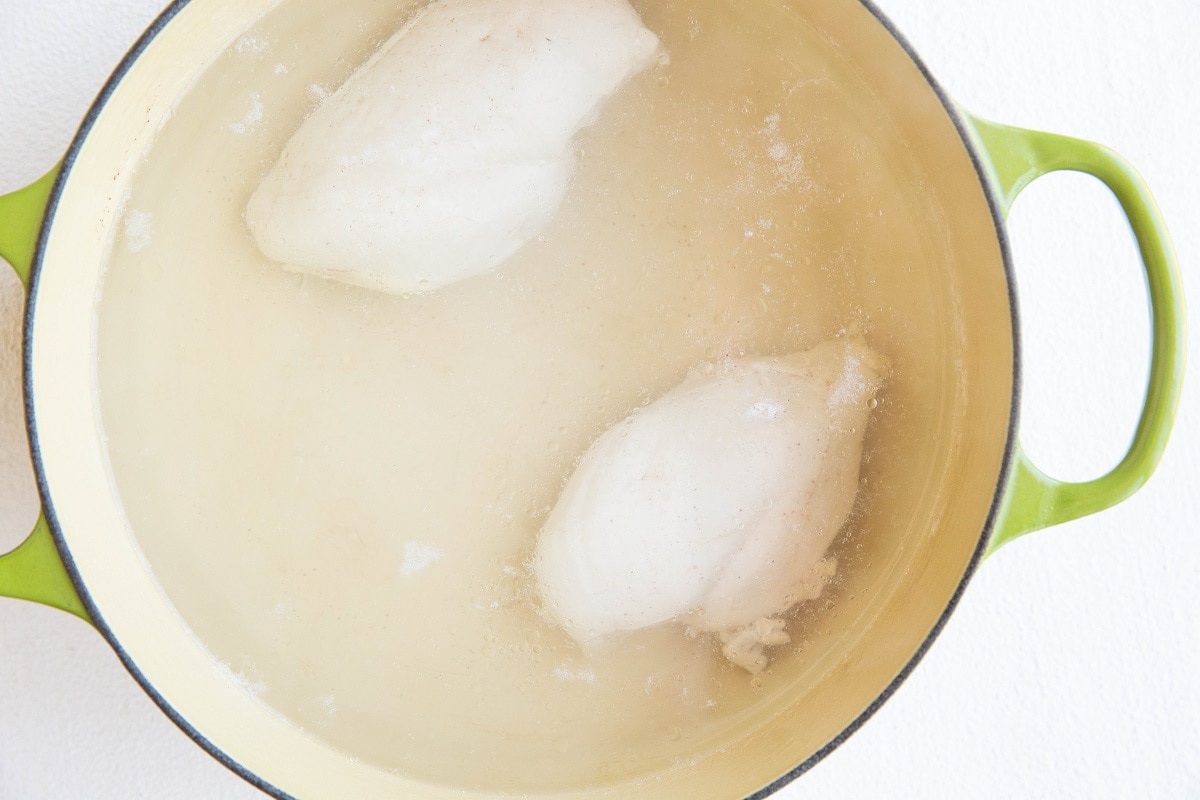 Also check out my Copycat Trader Joe's Curried Chicken Salad and my Mayo-Free Mango Avocado Chicken Salad.
If you love chicken salad recipes and are seeking more healthy salad recipes to beat the heat, here are some reader favorites!
More Summer Salad Recipes:
The Best Potato Salad
Mediterranean Chickpea Salad
The Best Broccoli Salad
Creamy Chicken Pasta Salad
Steak Salad with Berries Avocado and Goddess Dressing
Thai Chicken Chopped Salad
Enjoy this simple chicken salad recipe on repeat for a healthy lunches or dinner.
This post contains affiliate links, which means I make a small commission off items you purchase at no additional cost to you.
Please see more list about Waldorf salad with chicken recipe
Detail: 🔗