This super healthy and energizing Watermelon Cucumber Feta Salad is a mix of a fruit, a vegetable, a herb, and a cheese that tastes like the most delicious meal in the world. Ideal for light lunch.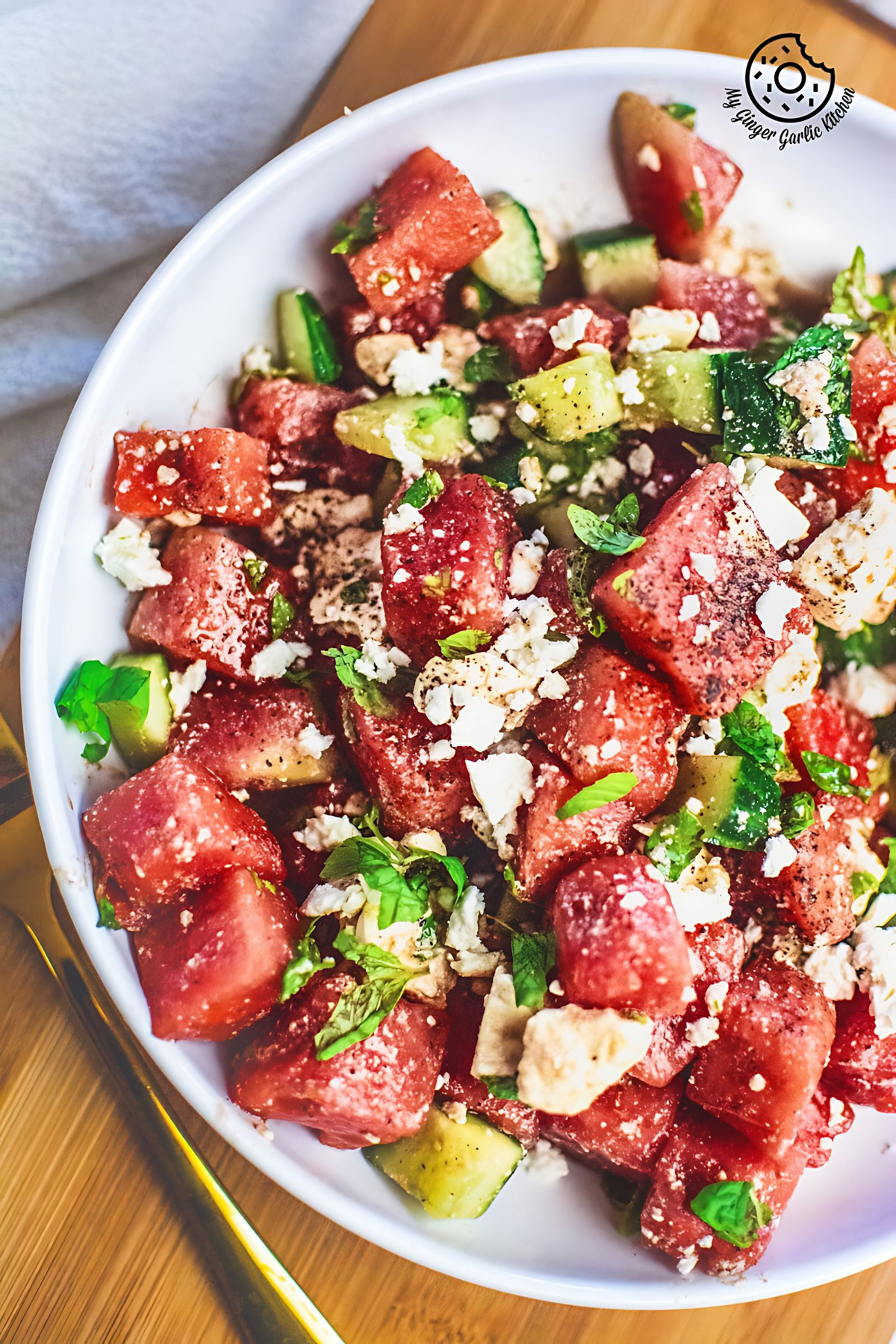 Watermelon Cucumber and Feta Salad is perfectly sweet, salty, cheesy, and a bit tangy salad to enjoy during summer. It's like you synthesize all the summer flavors and textures on a plate. The addition of mint leaves makes this salad taste even brighter.
This salad is naturally sugar-free, vegetarian, gluten-free, and nut-free.
This simple to make, delicious summer salad would be a hit at your summer get together or bbq party. Hence, make this easy, fresh, and colorful side dish to serve at all your summer BBQs and everyone will love it and would surely rave about it.
For some, watermelon and feta might seem like a weird flavor combination, but trust me they both get along so well. If you have never tried watermelon and feta together, then I would highly recommend giving it a go. This is one of the most freshening sweet and salty food combinations.
Whether you need something light to eat or you want a quick energy boost, this chock-full-of-nutrients-salad is sure to take very good care of your body.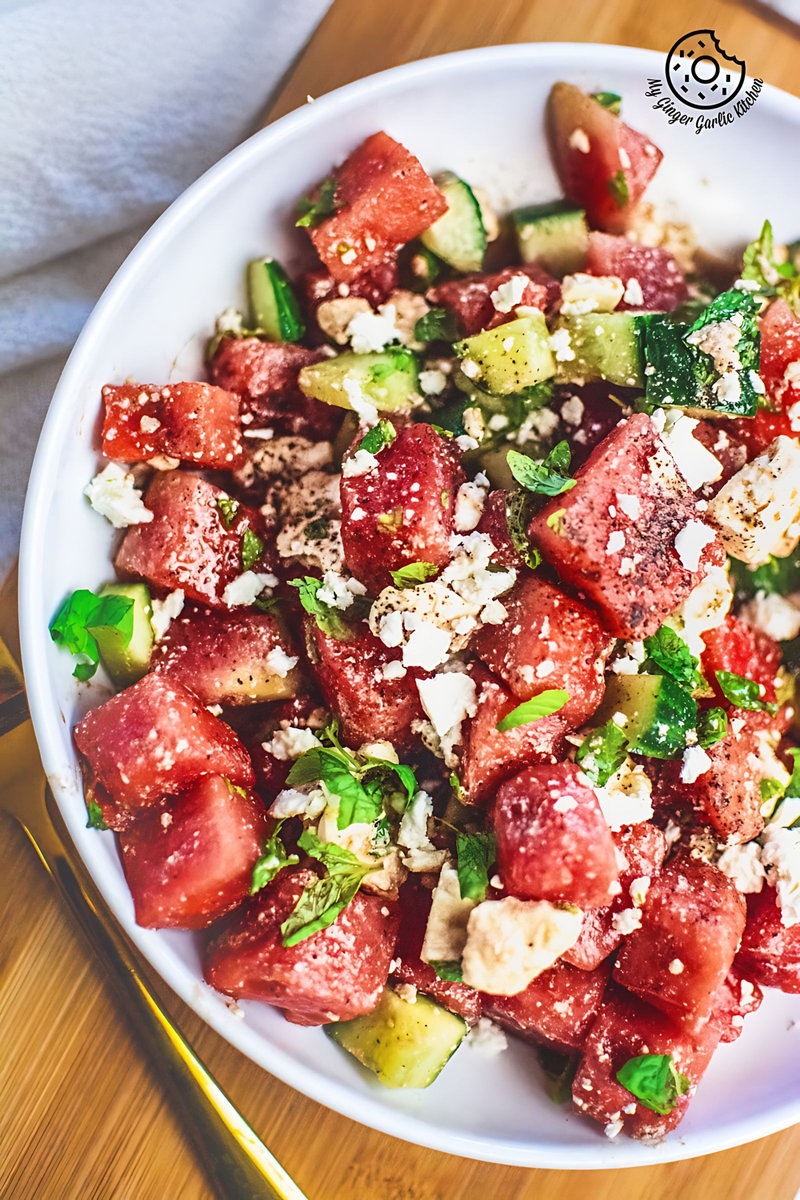 What is Watermelon Cucumber Feta Salad?
This Watermelon Cucumber Feta Salad is full of diced juicy and sweet watermelons, refreshing diced cucumbers, crumbled feta cheese, and herbaceous mint leaves, which are tossed in an easy and delicious balsamic vinegar honey dressing. It makes a perfect light lunch for any weekday.
Watermelon Cucumber Feta Salad:
✓ is full of summer flavors.
✓ vegetarian, and gluten-free.
✓ perfect for lunch or dinner.
✓ tastes like pina colada.
✓ super healthy and rejuvenating.
✓ is protein rich.
✓ is quick and easy to make.
✓ is ready in less than 10 minutes.
✓ is naturally sweetened.
✓ is brimming with exciting fruity flavors.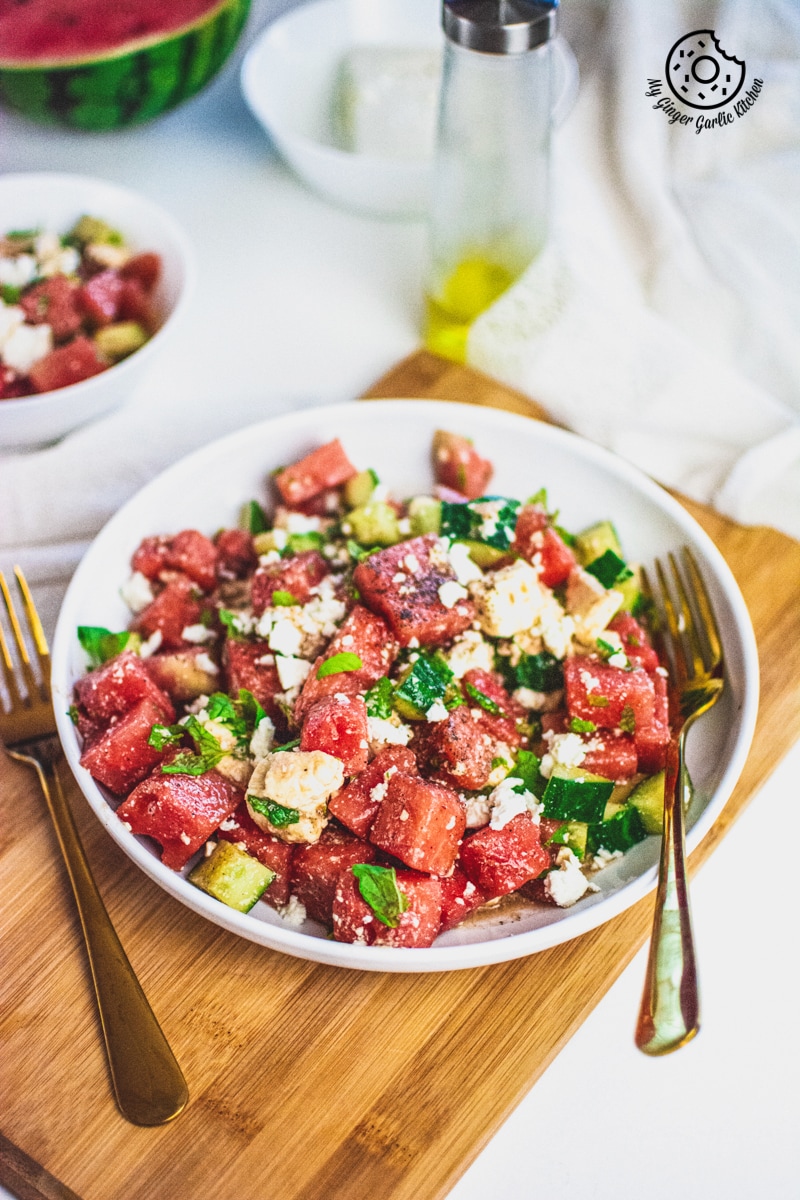 What are the other cheese options for Watermelon Cucumber Feta Salad?
Feta cheese tastes great in this watermelon cucumber salad because it adds that utterly creamy, salty, tangy touch to the salad. But that's perfectly replaceable if you don't want to use feta cheese in this salad.
Here are some other cheese options you could add to this salad:
Ricotta cheese

Queso fresco cheese

Halloumi cheese

Goat cheese

Pearl mozzarella cheese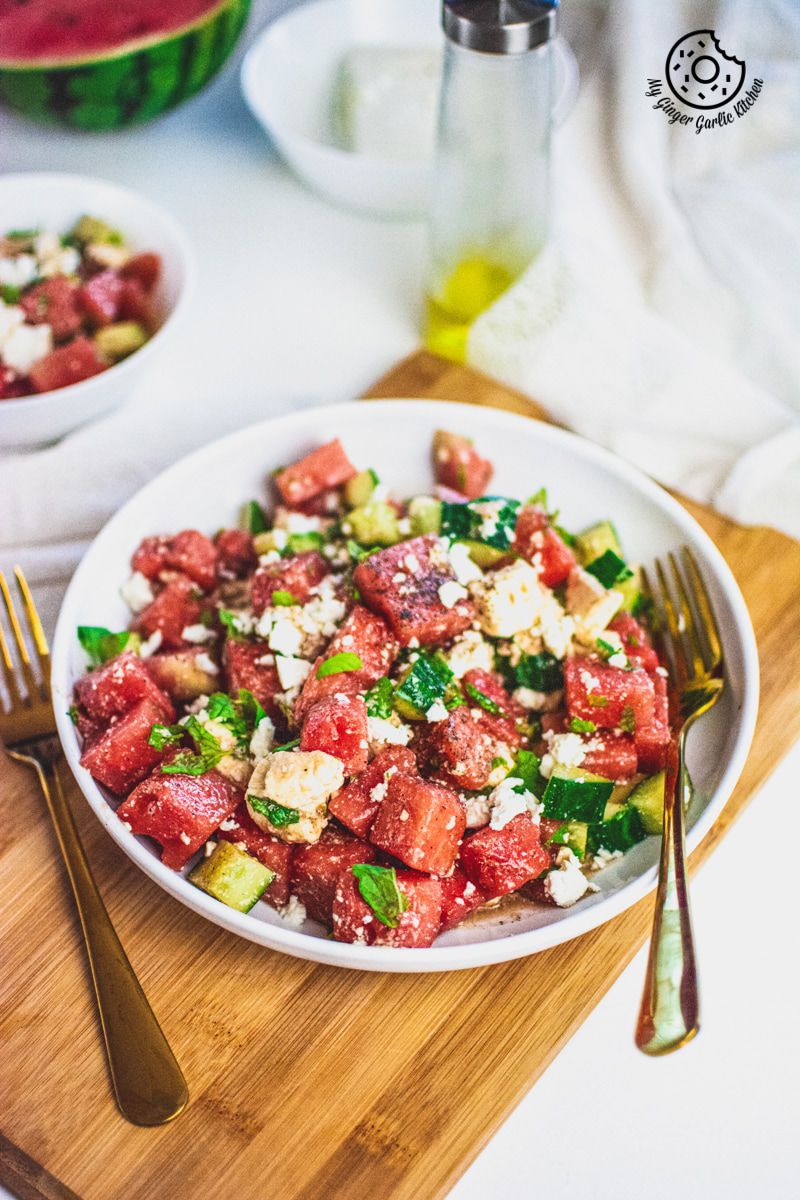 Can I make this Watermelon Cucumber Feta Salad in advance?
You can do the preparation part like chopping and dressing making in advance. But don't make the entire salad in advance. Make sure that you only mix everything right before serving this salad. This would prevent the watermelon and cucumbers from watering the whole salad.
Also, cut mint leaves at the last minute, because after chopping they turn brown after some time.
What are the ingredients used in Watermelon Cucumber Feta Salad?
This vibrant and invigorating salad is made with the most delicious things out there. You only need 9 ingredients to make this summer salad.
These ingredients are:
Balsamic vinegar

Cucumbers

Crumbled feta cheese

Feta cheese

Honey

Mint leaves

Olive oil

Salt & pepper

Watermelon
What cucumbers are best for Watermelon Cucumber Feta Salad?
English cucumbers are the best for this watermelon cucumber salad. This is because they are seedless and don't have any waxed coating which makes them tastier with skin. You might need to scoop the seeds if you are using regular cucumber.
Can I have Watermelon Cucumber Feta Salad without dressing?
Yes, you can. It would still taste super delicious. Because you will get salty flavors from the cheese and sweet flavors from the watermelon. However, I love to add dressing in my salad, this is because it brings out more delightful flavors in this salad.
If you like salads, then you would also like this healthy and delicious chickpea salad.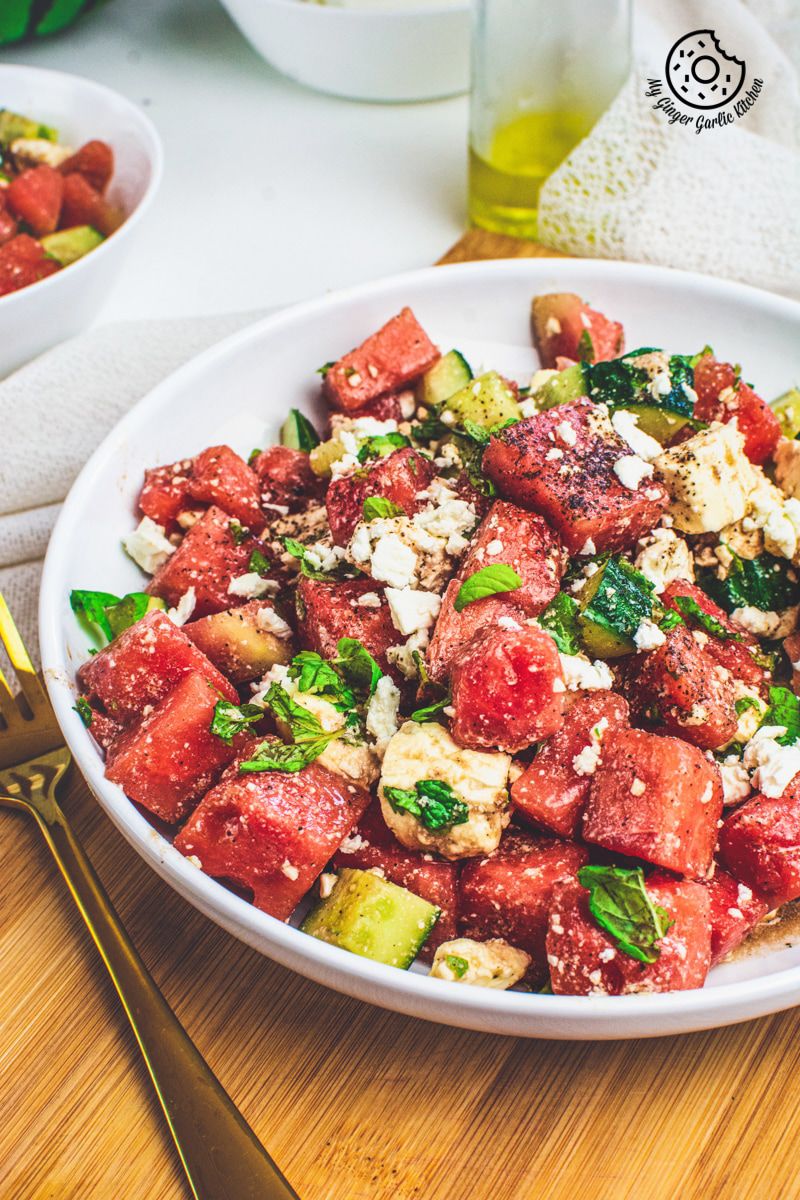 How to Make Watermelon Cucumber Feta Salad?
Making watermelon salad from scratch is fairly simple and only requires 10 minutes of your time. The most time-consuming part is cutting the watermelon. Altogether, you just need to do some chopping, whisking and tossing.
This is how you can make watermelon cucumber feta salad in 5 simple and easy steps:
Step 1: Cube watermelon, slice cucumbers, and chop mint leaves.
Step 2: Make the dressing by combining balsamic vinegar, honey, olive oil, salt, and pepper.
Step 3: Add all the chopped ingredients to a mixing bowl along with crumbled feta cheese.
Step 4: Drizzle with dressing and toss everything well to combine.
Step 5: Transfer salad to a plate and finally jazz it up a little by a garnish of mint leaves and feta cheese! Done.
You can check out the full recipe in the recipe box on this page.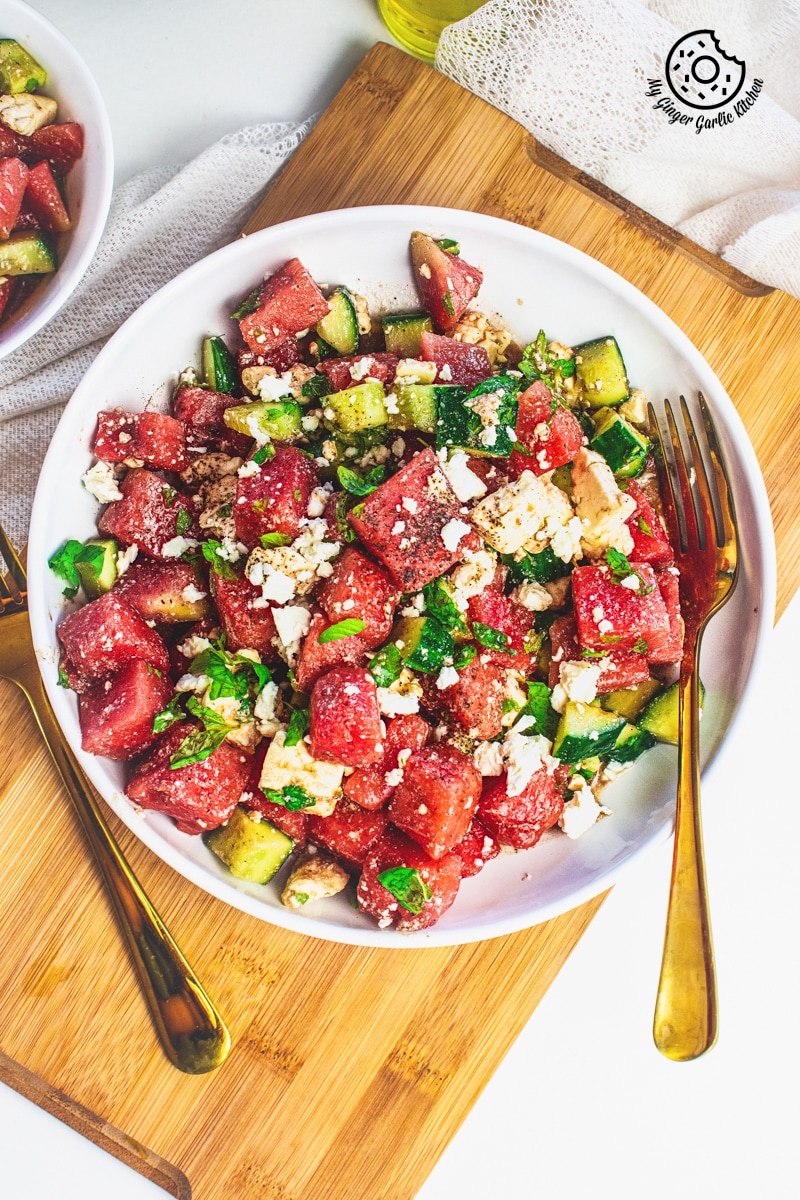 Wonderful tips, tricks, and variations to make the best watermelon cucumber feta salad:
I used watermelon with seeds for this recipe, but this recipe would be a lot easier when you use seedless watermelon. Then you don't have to remove the seeds from it.

I used freshly chopped mint leaves for that herby touch. You can also swap the fresh mint with basil leaves. Or you could use the combination of both herbs.

If you have cut watermelon in advance, and it has released too much juice, then discard the juice before making the salad.

Make sure to use chilled watermelon and cucumbers in this salad. This watermelon salad tastes great when served chilled.

I cut my watermelon into cubes because this way it is faster and easier to cut. But if you want to go fancier, then use a melon baller.

If you don't want to use balsamic vinegar, then simply substitute it with fresh lime juice or lemon juice.

Adding honey to the dressing is optional. So if desired, you can omit it.

Don't buy pre-crumbled feta cheese. Always buy blocks of feta cheese for making salad, because they taste more fresh and flavorful.

You can also add avocado, fresh arugula to this watermelon salad.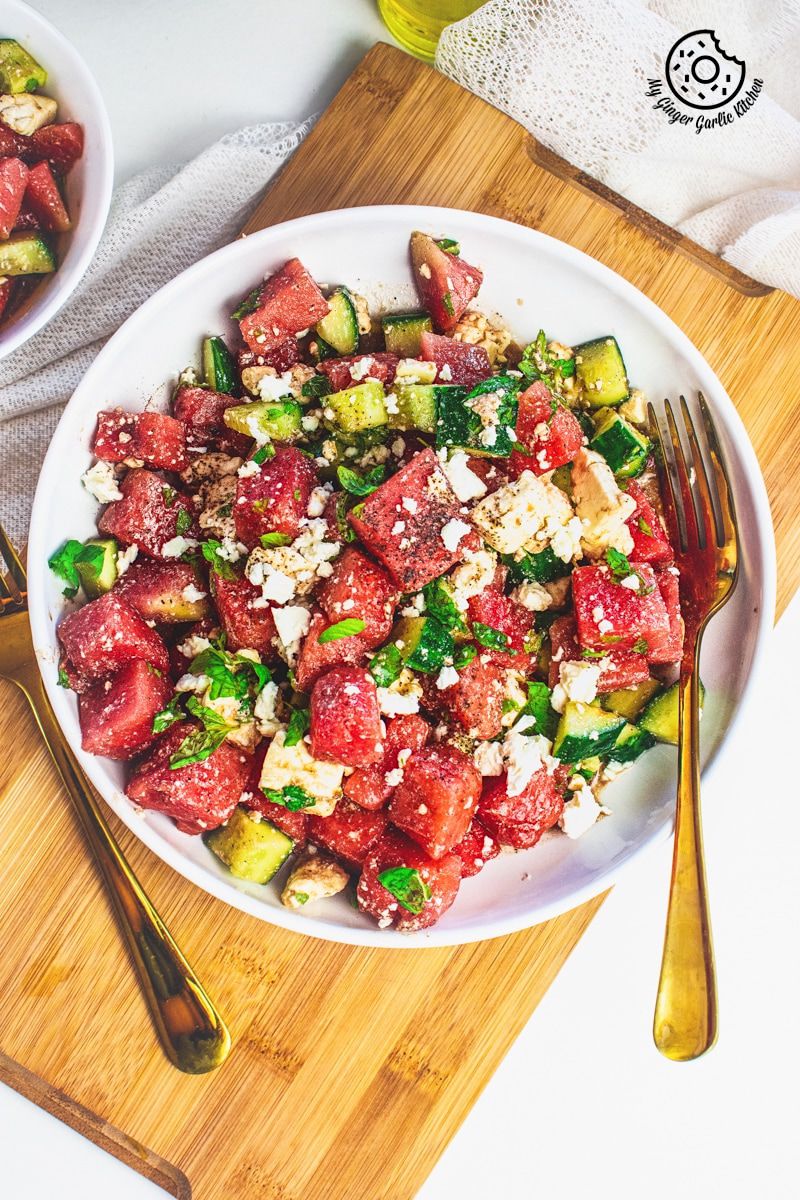 I hope you will like this recipe.
Your feedback is so helpful for me and other MGGK readers. So, if you make this Watermelon Cucumber Feta Salad recipe, then tag me on Facebook or Instagram using @MyGingerGarlicKitchen or #mygingergarlickitchen. I would love to see your photos. 🙂
Please see more list about Watermelon and feta salad with balsamic
Detail: 🔗