This weeknight slow cooker lentil soup makes the perfect lazy weeknight dinner. This is a hearty vegetarian soup loaded with two types of lentils, sweet potatoes, and veggies!
Crock Pot Lentil Soup
There's nothing better than enjoying cozy soups when the weather starts to get cold out! This Slow Cooker (or crockpot) Lentil Soup Recipe is a great healthy and hearty recipe that can be eaten as a main dish, an appetizer or for lunch. This recipe is naturally vegetarian and vegan friendly, and gluten-free.
I use this slow cooker to make this recipe, but it can also be made in a regular pot or an instant pot.
Vegan Lentil Soup Ingredients
Onion/Garlic: you can't make a soup without these! Any type of onion and fresh garlic will work.
Sweet potato: I love the sweetness and flavoursweet potato adds to this lentil soup. If you prefer white potato you can substitute it with russet potato.
Carrot: try cutting the carrot into rounds rather than small pieces in this soup. It will give the soup more texture.
Celery: celery helps to add flavour to the soup.
Green lentils: make sure to use dried green lentils. You can also substitute with black lentils.
Red lentils: use dried red lentils too. Make sure to rinse the red lentils before adding them to the soup, red lentils can be bitter if they aren't rinsed.
Vegetable broth: I recommend a low sodium broth so you can control the saltiness of the soup
Bay leaves: dried or fresh both work here.
Herbs de Provence: this is a herb blend made with a variety of different dried herbs. It's very earthy and tastes delicious with lentils!
Kale: this gets added in at the end for extra nutrients. You can also use spinach if you prefer.
How to Make Lentil Soup (step by step)
Heat some oil in a pan on medium-high heat and cook the onions and garlic for 2 minutes.
Then add the onions and garlic to a slow cooker
Add all the rest of the ingredients to the slow cooker, except the kale and cook on high for 4 hours, or on low for 8 hours.
Add the kale 10 minutes before serving and mix it into the soup.
Can you put dry lentils in a slow cooker?
The quick answer is yes!
Unlike most legumes, lentils do not need to be soaked or cooked before you put them in the slow cooker. I would recommend giving your lentils a quick rinse before adding them to the slow cooker since there can sometimes be some dirt on them depending on the type of lentils. Red lentils can also have a slightly bitter flavour if they aren't rinsed before using them.
But this is the best part of this dish – it is so easy! The lentils do not need to prepare them beforehand!
What makes lentil soup healthy?
This soup is one of those hearty soups that can be an appetizer if you want a small portion, or if you're like me and want a big bowl, this soup is a full-on MEAL. It is also full of nutrients, so you will be getting a meal that feels like it should be not healthy, but it is!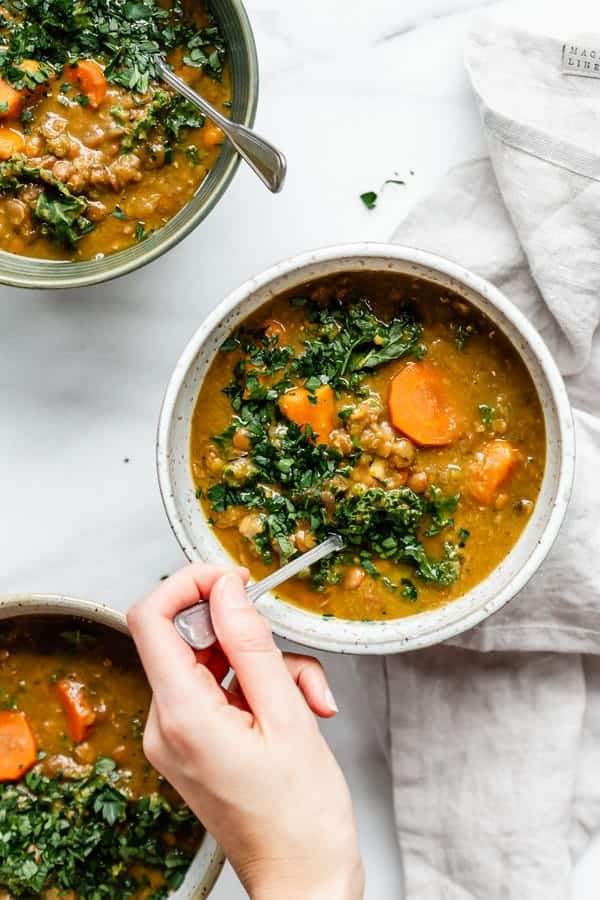 We've got:
Red lentils: light in flavour, soft and add great texture to the soup.
Green lentils: a bit bolder in flavour and have more of a bite to them.
Sweet potatoes: sweet and satiating and help thicken the soup.
Carrots: great for adding flavour.
Kale: Adds nutrients and a great texture.
All the makings of a perfectly acceptable hearty, filling and protein-rich vegetarian soup! Lentils are full of fibre, protein and packed full of B vitamins. They also have a great amount of iron, which is something all my vegetarians and vegans think about since they do not eat iron-rich red meats.
This soup will require 10 minutes of prep, and then your crockpot will do the rest of the work for you. Just throw everything into the crockpot in the morning, turn it on for the day, and next thing you know you'll be coming home to a delicious already made dinner! (Thank you crockpot, thank youuu!)
If you're looking for some more slow cooker recipes make sure to make this crockpot Moroccan chickpea stew and this slow cooker quinoa chili next!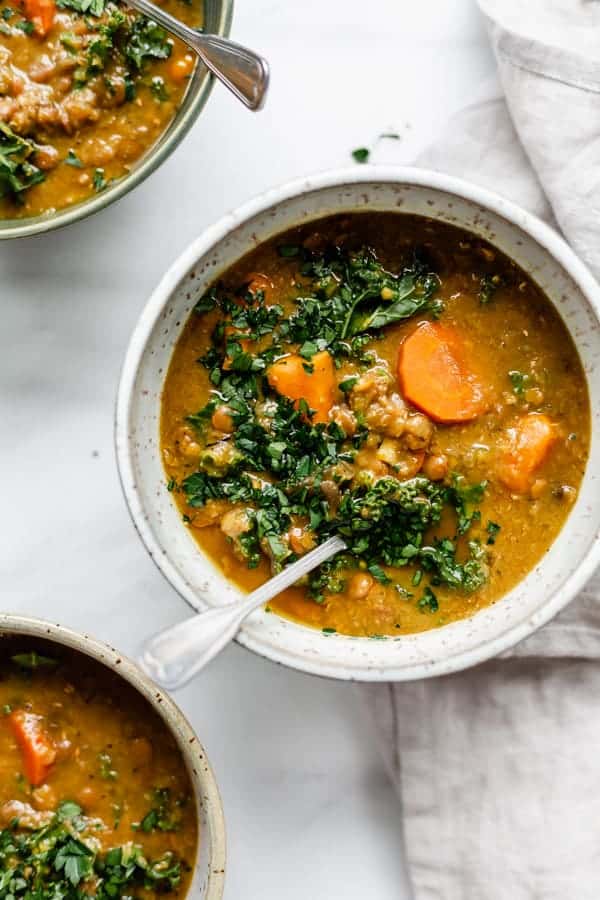 How to Store, Freeze, and Reheat Vegan Lentil Soup
Fridge: store any leftover lentil soup in an airtight container in the fridge for up to 6 days.
Freezer: let the soup cool completely then transfer to an airtight container. Place in the freezer for up to 3 months. To defrost let the soup thaw on the countertop.
Reheating: reheat this lentil soup in a pot on the stovetop or in a bowl in the microwave until warm.
Slow Cooker Lentil Soup FAQ
Variations and Substitutions for Crock Pot Lentil Soup
You can use all red lentils, or all green lentils in this recipe if that's what you have on hand.
You can also substitute both of these lentils for any type of lentil you love.
Add in any of your favourite veggies like cauliflower, broccoli, spinach, or white potatoes.
Mix up the herbs in this recipe with your favourite herbs.
Add in some rice for an even more hearty filling soup.
What to Serve with Crockpot Lentil Soup
Crockpot lentil soup is delicious on its own since it's such a hearty soup. If you want to serve it with something it goes well with some crusty bread, a side salad, steamed vegetables or a quinoa salad.
Tips for Making the Best Lentil Soup
This weeknight slow cooker lentil soup is already quite hearty and loaded with some veggies, but you can always add some more of your favourites to the mix! Regular potatoes, cauliflower or turnips would work particularly well!
One thing I always like to do when making recipes in my slow cooker is to brown my onions and garlic in a pan. You can just throw these directly into the slow cooker completely raw, but they won't get that same delicious caramelized flavour. So this step is always working the extra couple minutes for me!
Depending on how big your vegetables are, you may need to adjust the amount of broth you use slightly to make the soup a little thinner. You can always add a little extra broth at the end to make the soup your desired consistency.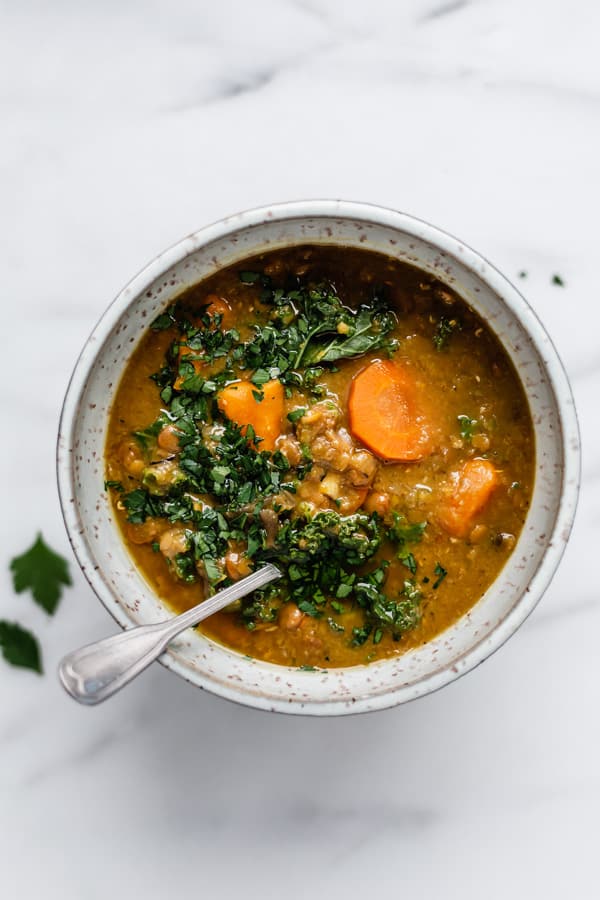 If you tried this Weeknight Slow Cooker Lentil Soup or any other recipe on the blog let me know how you liked it by leaving a comment/rating below! Be sure to follow along on Pinterest, Instagram and Facebook for even more deliciousness!
Print
For more information please see the list of Sweet potato lentil stew slow cooker
Detail: 🔗