I am a bit of a pizza addict, it can be a problem. Previously I would hoard my daily points all day just so I could splurge on pizza for dinner. I no longer have to starve all day for pizza and I am still able to reach my weight loss goals. The Weight Watchers point system makes this recipe a winner in my book. I love that the whole recipe makes two ww cauliflower pizza crusts. Everyone can customize their own pizza, than add a side of fruits and vegetables to make this a great family dinner!
Where's the recipe?
Recipes here on My Crazy Good Life are written so that anyone, from a beginner cook to an advanced chef, can make them. In this post I go over the ingredients, give tips and try to provide help for anyone who needs it. If you'd like to go straight to the recipe, just scroll down to the bottom of the page where you'll find the easy to print Weight Watchers Cauliflower Crust Pizza.
Ingredients
Just 3 simple ingredients and less than 20 minutes from start to pizza.
Cauliflower: Cauliflower is high in fiber and one of the most versatile vegetables out there. It's a great low carb alternative to rice. I love making this "fried rice" with chicken breasts or thighs for a low carb dinner that won't blow my smartpoints budget.
Mozzarella Cheese: The favored cheese for pizza, mozzarella is a high-moisture cheese with a mild flavor that melts beautifully.
Eggs: Eggs are zero point foods that are high in quality protein and a good source of Omega-3s. Because they are so filling, they can also help you lose weight.
Directions
PreheatPreheat your oven to 400 degrees.
Mince your cauliflowerPlace your cauliflower in the bowl of your food processor and process on high until it is finely minced and forms crumbs.
Add your cheeseOnce your cauliflower is minced, stir in the mozzarella cheese and egg. Mix until well combined and a paste forms.
Make your crustsLine a large pan with parchment paper. Divide your cauliflower mixture in half. Spread your cauliflower mixture into a circle of equal thickness and press it down into the pan so that it is packed together. Repeat this step with your other crust.
BakeBake your crust for 7 minutes until nicely browned. Remove your crust from the oven and use the parchment paper to help you carefully flip your crust. Add your desired toppings and bake for 7 more minutes.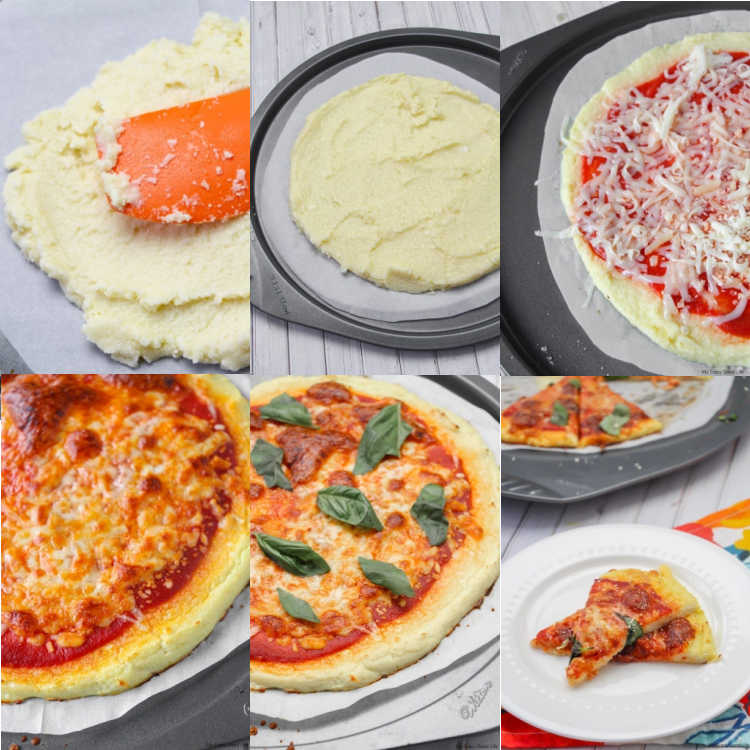 Recipe Tips
For a crispier crust, flip your crust before adding your toppings.
Line your pan with parchment paper so that you can easily flip your crust.
Weight Watchers Plan Points
I love the WW points based plans. No need for calorie counting and the myWW program really helps prevent weight gain, even when you're eating pizza! This recipe has points calculated for one crust, or half of the recipe – and for the crust only. Don't forget to count points for added toppings. 5 Blue Plan Points | 6 Green Plan Points | 5 Purple Plan Points
Do you have any other WW recipes?
Weight Watchers Cloud Bread
Pineapple Fried Rice
Air Fryer Buffalo Cauliflower
WW Hamburger Helper
Cauliflower Pizza Crust Recipe
For more information, please see more information about Nutritional information stew leonard's cauliflower pizza
Detail: 🔗