This vegetable demi-glace will enhance your dishes. This brown sauce, slightly thicker than water, is incredibly tasty. And it takes a third or a quarter of the time of the traditional recipe. It has a rich and meaty flavor without the need to add meat.
Well preserved, it will last for months. As long as you don't use it lavishly.
Reading: what can replace demi-glace in a vegetarian dish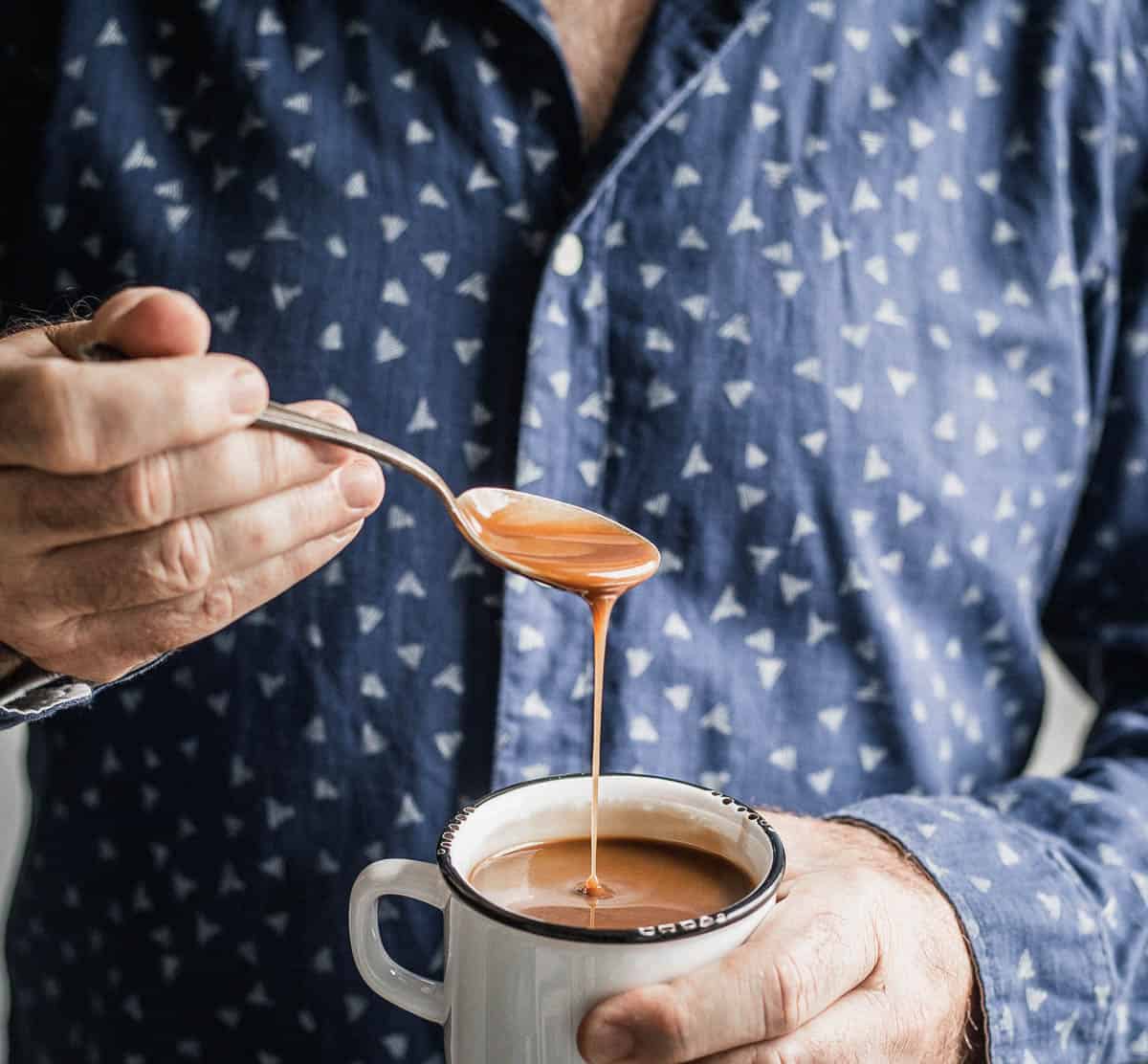 Jump to:
Why You Should Make this Recipe
What is Vegetable Demi-Glace Made of?
How to Make it Step by Step
My Top 6 Tips for Making an Ultra-Tasty Demi-Glace
Answers to Your Burning Questions
Other Creative Variations
What to Combine it with?
Make this Sauce Now
Vegetable Demi-Glace
Why You Should Make this Recipe
Usually, traditional demi-glace sauce can take 6 to 8 hours to make.
This only takes about two.
This recipe is straightforward. The cooking time is long, but not the prep.
Why does it take a third or a quarter of the time?
The mere fact that you don't incorporate bones and cartilage considerably reduces your cooking time. Besides, you won't have to remove the solid fat layer that consequently forms on the surface.
In any case, it's not just the meat that gives the flavor. You just have to choose ingredients that contain what is called umami.
Umami is the flavor resulting from the amino acid L-glutamate. And they're mostly found in meat.
It's the pleasant taste of "broth" or "meat" with a lasting sensation, appetizing, and covering the whole tongue. It's the round, comforting, and invigorating taste.
Moreover, this sauce includes an ingredient that gives almost the same effect to evoke the umami of meat: a rich flavor with body. Which one? The shiitake mushroom.
The shiitake mushroom has a rich, buttery, and earthy flavor quite different from that of other varieties of mushroom in its raw form. In its cooked form, it's steamy, woody, and meaty.
That's why this vegan demi-glace sauce is so cheerfully complex. Tasty, you know.
And you'll be amazed by inhaling its scent, which perfumes all your kitchen.
What is Vegetable Demi-Glace Made of?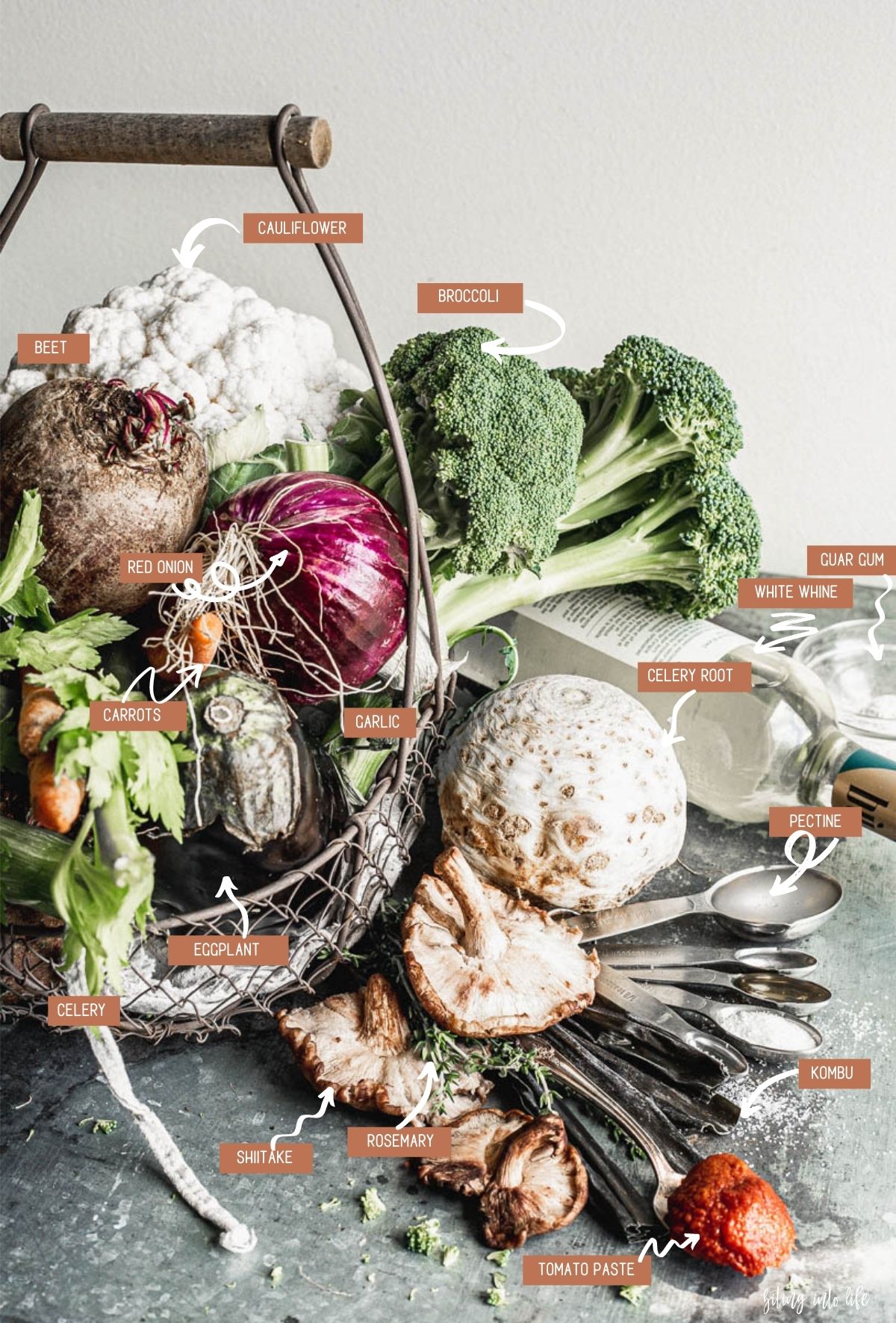 In short, you can make a crazy vegetarian demi-glace with any vegetables. The most important thing is to balance the flavors: you have to add ingredients that emanate from sweet, salty, bitter, sour, pungent, and tasty vegetables (which give umami). I've broken down the ingredients for this recipe below so that you understand the main points. Sometimes a vegetable can have a primary and a secondary flavor.
Sweet
Carrots – They add a nice sweet touch. For a more earthy flavor, don't peel them.
Beets – These red jewels add an earthy sweet flavor and a lovely dark color. To have more tannins, wash them thoroughly and don't peel them.
Salty
Celery – This is natural salt.
Celery root – Optional ingredient. It brings even more natural salt and an earthy note.
Kombu – In strips, it serves a double function: it brings the salty flavor simultaneously as the umami.
Bitter
Usually, aromatics (bay leaf, thyme, parsley) are added. You can splurge on other bitter vegetables, such as eggplant, broccoli, cauliflower, kale, cabbage, or something dark, green, and leafy. Moreover, when these vegetables are roasted, they add a pleasant bitter note.
Read more: Mojo Marinated Portabella Steaks
Acid
Tomatoes or tomato paste – Tomatoes also give umami. Depending on them, they add a little citric acid and/or a sweet flavor to the final sauce. The tomato paste offers a more concentrated flavor.
White wine – It will intensify the flavor and aroma of the sauce and impart a fruity flavor. The alcohol in the wine evaporates while the food is cooking, and only the flavor will remain. For added richness and robustness, use red wine instead.
Pungent (considered a flavor)
Red onions – They offer the pungency and, when finely chopped, a sweet note to the mixture. They also bring a spicy flavor. Red onions are tastier than the yellow ones.
Garlic – It's a cornerstone of many sauces. Garlic adds its own salt and tangy flavor.
Umami
Fresh shiitake mushrooms – Definitely the essential ingredient. They reinforce the umami in the final sauce and give it a perfect round, earthy and meaty taste. Dehydrated ones taste much more pronounced than fresh ones, so if you use those, cut the amount in half. Portobello mushrooms or other tasty mushrooms will do the trick too.
How to Make it Step by Step
I'm not gonna lie. There's a lot of cutting involved. But once that's done, it's smooth sailing.
All in all, you take a lot of vegetables, cut them into strips, and roast them in the oven until they brown ① ②. Then you produce the vegetable broth: You add water and let it simmer ③ ④.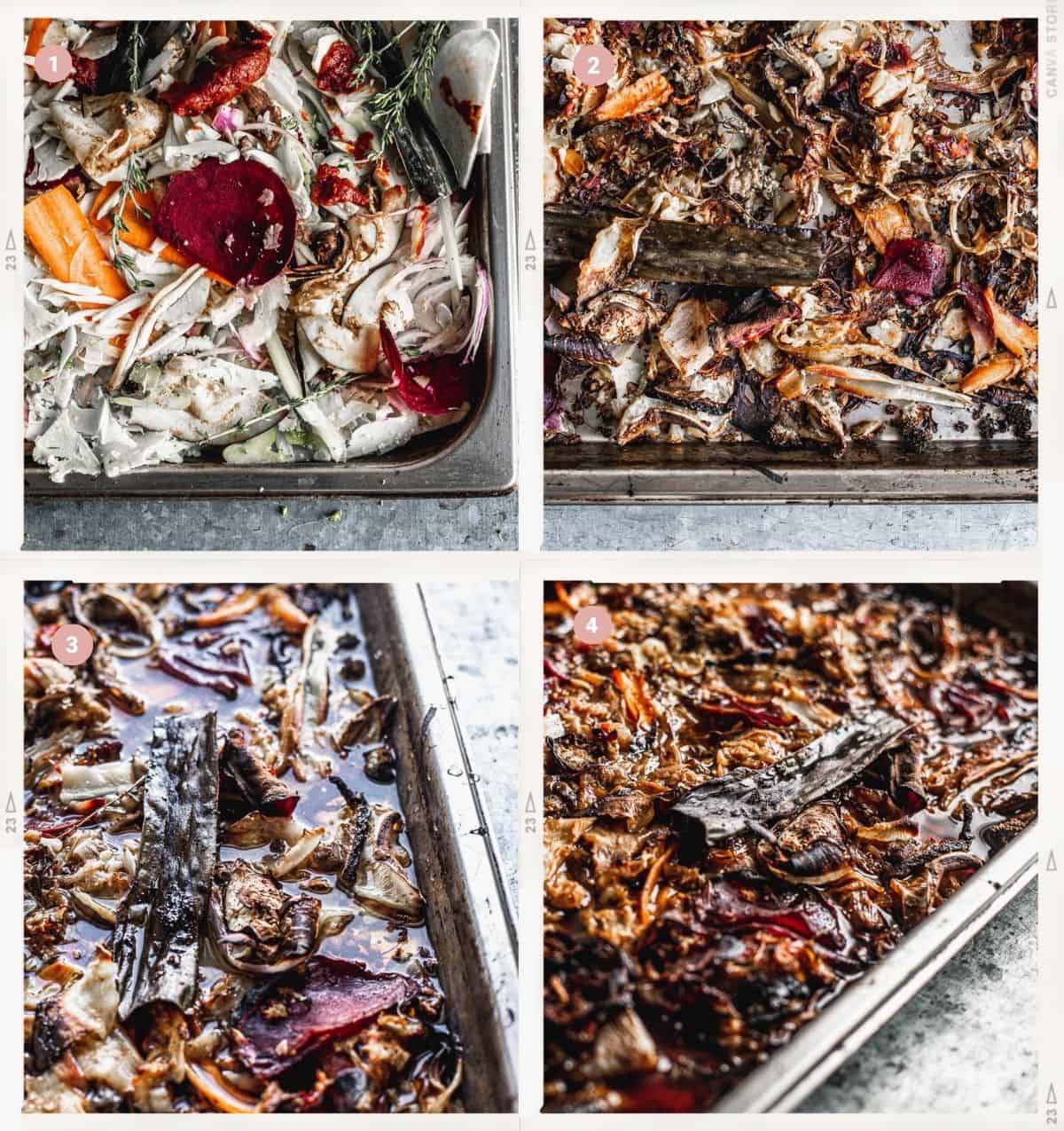 Afterward, you drain the liquid ⑤ and thicken it ⑥ ⑦.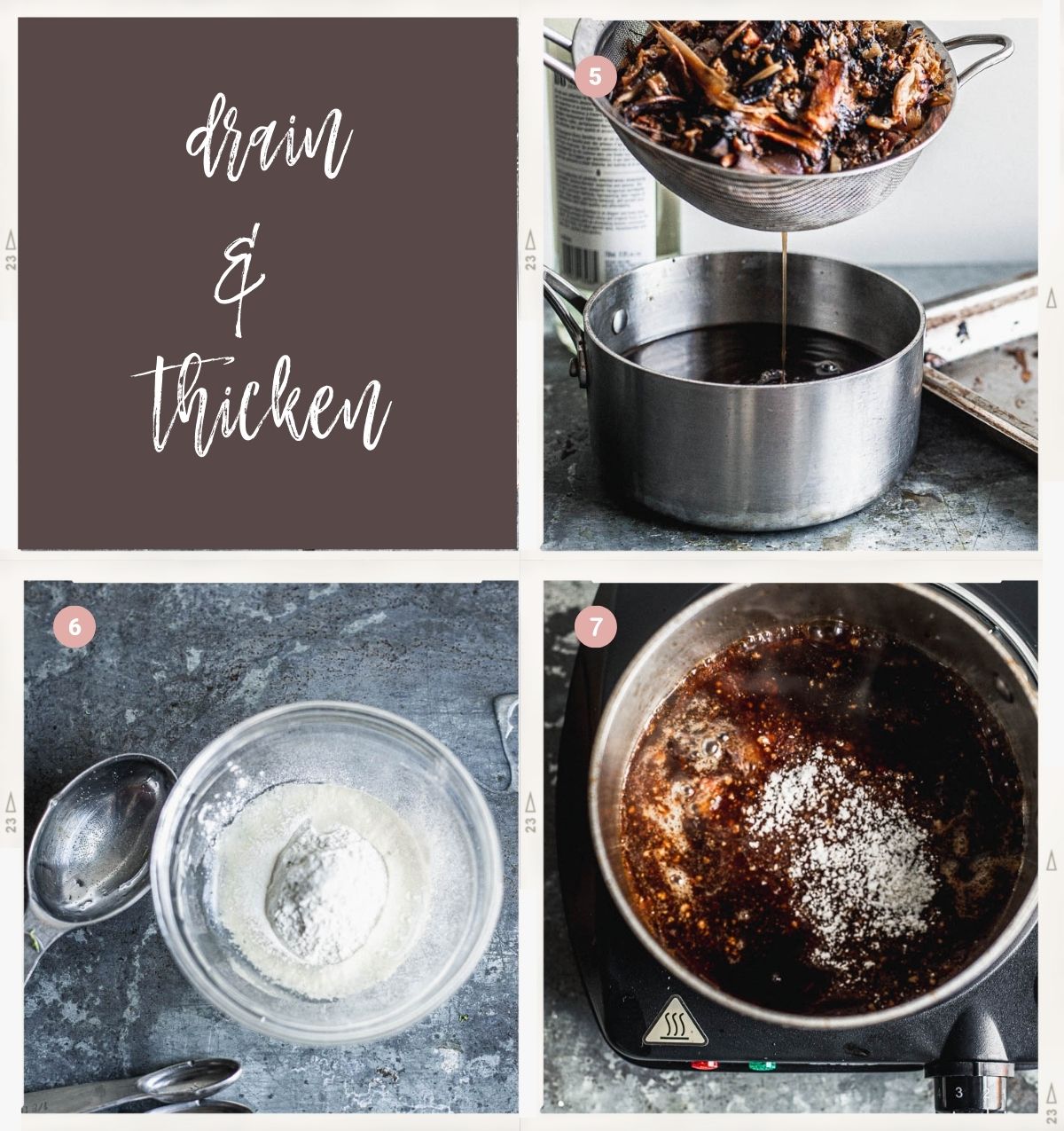 My Top 6 Tips for Making an Ultra-Tasty Demi-Glace
Cut the vegetables very thinly
This will allow you to have a sweeter sauce. The mandoline is your best tool for that, but that doesn't stop you from using the food processor or doing it by hand.
If you're going to use the mandoline, here's some tricks to accelerate the process:
Slice many carrots or celery stalks together;
Slice the whole garlic head. Even if garlic skins go into the mix, you'll end up expressing only the liquid.
Warning: Unless you stubbornly want to go back to the traditional recipe for thickening your sauce with an inanimate component of a living being, use the mandolin's hand protector. This will prevent you from slicing your thumb into strips.
Alleviate the flavor of the tomato paste
If time permits, warm the tomato paste a little to reduce its acidity. For example, you can also add a little baking soda (ratio: 1 cup of tomato paste to a ¼ cup baking soda).
Simmer gently, uncovered
To get a good veggie demi-glace, use the same tips for preparing a meat stock: simmer gently.
But you may avoid letting it boil. Why? Apparently, the agitation caused by the boiling prevents the particles from rising to the surface.
Drain with a fine mesh
I used my nut milk mesh bag to express the liquid to the maximum. (Let the mixture cool so as not to cook your hands on the bag). If you don't have this accessory, a fine-mesh sieve will do.
Blend the preparation before draining it
Read more: Creamy Roasted Pumpkin Soup
This will allow you to get maximum flavor. But if you're like me and don't like messing up too much cookware, you can definitely skip this step. (I definitely skipped this step).
Mix your thickeners really well
You have two options: stir in the thickening powder and pectin separately or mix it with the pectin until you meticulously break up the lumps.
No lumps should get into the thick sauce. Otherwise, you'll find yourself crushing them with the back of your spoon to make them disappear forever, like when you untwist the tangled threads of a yarn ball.
Answers to Your Burning Questions
Other Creative Variations
For a less pronounced vegetarian demi-glace, try other types of mushrooms, such as white mushrooms, coffee, or portobello.
Tomato paste works well here to provide a concentration of tomato flavor. It can also act as a thickener after the liquid has been filtered. However, it will change the taste (more acid and more umami). It can be replaced by Passata.
For even more umami, add a little tamari or nutritional yeast.
You can also make sweet demi-glace sauce using strawberries, berries, or apples.
What to Combine it with?
As mentioned earlier, demi-glace is excellent for adding depth of flavor to your preparations. Incorporate it into the following dishes:
Pasta, all kinds;
Risotto, rice or barley;
Soups and stews;
Stir-fried vegetables;
Potatoes, baked or mashed;
Stir-fried tofu and tempeh.
It's very versatile, so experiment!
However, keep this in mind: demi-glace will enhance the flavor of a finished dish when incorporated at the end of cooking. If it is intensely tasty, before adding the demi-glace, dilute it with a few teaspoons of hot water until it reaches dense cream consistency. This will make its integration more straightforward and faster.
Use it in these recipes!
Make this Sauce Now
A little know-how is all it takes to make a homemade demi-glace.
It's enough to make commercial preparations jealous, with their unwelcoming additives.
There's nothing colorful about the finished product, but you get a creamy, light sauce that's ready to stick on any dish for which you want to enhance the flavor.
You'll see, your simple dishes will turn into magical meals with the addition of demi-glace.
Now that the demi-glace has no secrets for you, you're ready to make your homemade versions!
If you try this recipe, I want to know about it! I always appreciate your feedback. Leave a star rating in the recipe card right below and/or a review in the comment section further down the page. You can also follow me on Pinterest, Facebook, or Instagram. Sign up for my email list, too!
Read more: vegetarian dish made with phyllo dough and sauces