If you suffer from acne you may have some questions about the food you eat such as:
Will any foods give me acne?
Which foods cause acne and pimples?
Which foods and drinks help with acne?
What changes can I make to my diet to help acne
The link between food and acne – the theory
To understand the link between food and acne, let's review how acne develops in the first place.
Pimples form when the following occur at the same time:
Excess sebum production – too much sebum is produced by the sebaceous gland
Hyperkeratinization – The hair follicle cells get clogged so the sebum can't escape
Cutibacterium acnes – this bacteria is normally found in the skin begins to over grow
Inflammation – this is when the immune system begins to be react to the hair follicle which is clogged, has a build up of sebum, and a build up of bacteria.
The diagram below shows how food could trigger acne.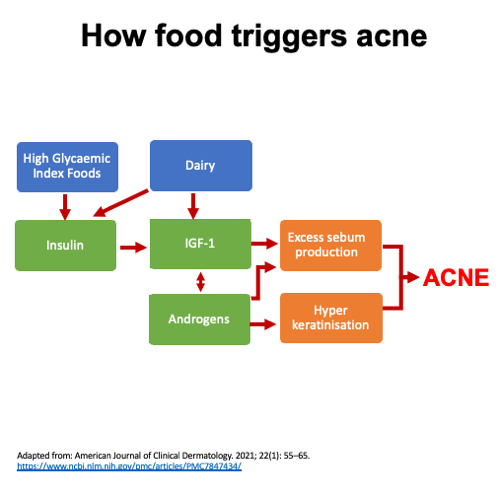 Foods containing carbohydrates with a high glycaemic index and dairy products may increase Insulin, IGF-1 (insulin like growth factor 1) and androgens and trigger acne.
The link between food and acne – the clinical studies
While there are possible pathways that food may aggravate acne, the relationship has not always been borne out in studies. Several studies show conflicting or inconsistent findings.
This may be becuaseof the nature of many dietary studies as they often rely on patients with acne trying to remember what they have eaten (which is not always very accurate). The studies are small, and they include a diverse group of patients in diverse areas of the world.
As such, the findings of individual studies are not easily applicable to every person suffering from acne.
However, general trends can be seen and this can be helpful in creating a dietary plan for acne.
Types of food
Carbohydrates, proteins and fat are the three main nutrients in our diet.
These three are also called macronutrients.
Hardly any food will contain just one macronutrient, and most food contain a combination of all three macronutrients in various proportions.
Carbohydrates and acne
The three carbohydrates found in our diet are sugars, starch and fibre.
Carbohydrates are an important source of energy. Fibre helps good bowel health and reduce some diseases.
Sugars and starch get broken down into glucose in the digestive tract. Glucose enters the blood stream and is used for energy.
When glucose is absorbed, the body produces more insulin. If a lot of glucose is absorbed quickly, then insulin levels may surge higher.
We know that insulin can set of a chain of reactions and flare acne by raising IGF-1 levels and androgens. The glycaemic index helps us understand which foods cause insulin levels to spike.
What is the Glycaemic Index (GI) and how does it affect acne?
The glycaemic index (GI) is a food rating system that ranges from 0 – 100.
It gives foods a value that indicates how quickly blood glucose levels rise after consumption. Essentially, the GI rating gives a value to foods based upon how slowly or quickly that particular food gets converted into glucose in the body.
Remember more glucose means more insulin. In turn, this means more Insulin-like Growth Factor-1 (IGF1). IGF-1 is thought to lead onto increases in androgen hormones which can drive acne.
Pure glucose has a GI rating of 100. That is the highest score you can get. That means means when you have pure glucose, the body rushes to produces a high level of insulin.
Foods with a high glycaemic index include
Sugar and sugary foods
Sugary soft drinks
White bread
White rice
White flour
Potatoes
Foods with low and medium glycaemic index include
Pulses
Wholegrain foods such as porridge
Some fruits and vegetables
Most fruits, vegetables, unsweetened milk, nuts and pulses have a lower GI rating of around 55 or below.
To put it simply, the lower the GI rating, the slower blood glucose levels are expected to rise after the food has been eaten. This in turn will have a lower impact on IGF-1 and androgens.
Which carbohydrates to choose for acne
Based on the above pathways, a high intake of sugary foods and other foods that have a high glycaemic index may aggravate acne.
In fact, many studies have confirmed that the excess of consumption of food with a high glycaemic index is a major promoting or exacerbating factor on acne
Avoiding sugary food and high glycaemic index foods like white bread, white pasta and white rice, and other refined carbohydrates, may therefore be beneficial for acne.
Substituting these for foods with fibre and a lower glycaemic index, such as brown rice, brown bread and brown pasta as well as legumes and vegetables would seem like a reasonable change in diet for acne.
A few precautions
It is important to take this information with caution, as foods with a high GI are not necessarily unhealthy and not all foods with a low GI are healthy.
It is also important to remember not to focus solely upon glycaemic index as a treatment for acne, as seldom does acne clear with a diet change alone. The relationship between diet and acne is very complex.
Instead, it is best to focus on the overall quality of your diet in general. In doing so, try to avoid high GI foods.
How does dairy affect acne?
Several studies have suggested that for some people, dairy products may flare acne even though milk has a low glycaemic index.
This is because dairy products including milk contain hormones such as steroids, alactalbumin, and IGF1 which may stimulate androgens within the body. Androgens cause increased sebum secretion, clogged pores and can contribute to worsening development of acne.
Although studies do suggest that milk proteins could exacerbate acne it is important to be aware that swapping to milk alternatives may not be the complete answer.
For instance, a number of oat milks and rice milk products have a high GI index compared to unsweetened hemp, almond, cashew and soya milk.
It may be more sensible to reduce the total amount dairy in the diet and keep a healthy balance to help control acne.
Should I Give Up Chocolate for acne?
There are a multitude of chocolate varieties available on the market today.
Some studies have shown high chocolate intake may be linked to acne flaring. However, chocolate is a diverse group of products and it is unclear which ingredients if any may be causing flares.
For example milk chocolate is often laden with sugar which results in it being labelled with a high GI rating due to the negative effect it will have on your bodies blood glucose level.
In addition to the high sugar content, milk chocolate also has an added dairy source which can trigger the stimulation of IGF-1.
With both of these components combined the consumption of milk chocolate is more likely to have a negative affect on skin health – triggering an insulin response leading to excess sebum and blocked oil glands.
In comparison to this, dark chocolate often has a lower GI rating and contains cocoa which is an excellent source of manganese. It is a powerful antioxidant that offers vitamins such as A, B1, C, D and E alongside iron and calcium. Therefore it is important not to eliminate chocolate all together but to have it in moderation and as part of a calorie controlled and healthy diet.
Protein and ance
Healthy protein sources are recommended as part of a healthy balanced diet however issues with acne may arise when diets are supplemented with alternative protein sources such as whey protein.
Although often used for gaining muscle and loosing body fat, whey protein is a powdered protein which can be problematic for skin health.
During its production whey protein is separated from casein and is a by product of cheese production. Due to its origins to dairy, whey protein can trigger the same problematic pathways as pure dairy forms such as milk, cheese and butter. Consumption of whey protein may increase the production of IGF-1 which will in turn increase sebum levels, initiate the production of excess androgen hormones and stimulate oil glands which combined will cause ongoing inflammation and collectively contribute towards acne breakouts.
Studies have shown an association between increased intake of whey protein especially when this is diluted in milk with acne in gym goers and male adolescents.
In order to remain fit and healthy it is important to maintain a balanced diet with every food group in with including good quality protein sources.
For those choosing to take additional protein supplements, for fitness and muscle growth, it may be reasonable to select non whey proten sources. Examples include pea protein.
Fats and acne
Many studies have reported a trend for acne flaring with higher intake of fried foods and saturated fats.
While there is a possible benefit from having a higher level of essential fatty acids to reduce skin inflammation, this has not been consistently shown to help acne.
Which changes to your diet should you make to improve acne?
The bottom line is that the relatiohship between diet and acne is a complex and not fully understood.
Diet may have a role in controlling acne, but It is fair to say that it is hardly ever possible to fully control acne with dietary changes alone.
It is best to think about diet as having a supplementary role in controlling acne along with other factors such as stress control, good skin care and proper medical treatments for acne.
It is never a good idea to delay proper medical treatment for acne in the hope that a diet may clear the condition.
Of course, if you find that when you have a particular food your acne always flare, then you are best off avoiding that food altogether. For most acne sufferers this is not the case.
There is no such thing as food which can simply categorised as good or bad for acne.
If you have acne, it is much better to look at your diet as a whole and adjust your whole eating pattern towards a healthy diet.
A healthy diet for acne is probably not very different form what is considered a healthy diet for general health in preventing diabetes, obesity and heart disease.
A healthy diet for acne
Based on the data available, it a health diet for acne will have the correct amount of calories for your body, and the calories will come from all the macronutrients – these are carbohydrates, proteins and fats. In choosing these products, someone with acne may choose to:
Avoid sugary foods. – these have a high glycemic index
Avoid processed carbohydrates as these have a high glycemic index – such as white bread, white rice and white pasta
Incorporate dietary fibre, vegetables and legumes – as these have lower glycemic index
Avoid large quantities of dairy products – as dairy may aggravate acne in large quantities
Avoid large quantities of whey protein supplements
Avoid large quantities of saturated fats such as those found in red meats. Choose foods that have higher levels of unsaturated fats such as those found in avocados, nuts and fish
Ensure the total calorie intake does not exceed the daily requirements
Ensure that your calories come from a good balance of carbohydrates, proteins and fats
How long should you follow a healthy acne diet for?
It is also important to follow a healthy diet for a sustained period, such as 12 weeks or more, for it to have an impact on your body.
Sometimes it can be helpful to consult a registered dietitian to review your diet and help you reach these goals.
Further information on acne treatments
Find out more about our acne consultations and treatments available here.
References
https://www.nhs.uk/common-health-questions/food-and-diet/what-is-the-glycaemic-index-gi/
https://www.health.harvard.edu/diseases-and-conditions/glycemic-index-and-glycemic-load-for-100-foods
https://www.ncbi.nlm.nih.gov/pmc/articles/PMC3257617/#B3-nutrients-02-01060
https://pubmed.ncbi.nlm.nih.gov/3276136/
https://www.ncbi.nlm.nih.gov/pmc/articles/PMC5350548/
https://pubmed.ncbi.nlm.nih.gov/10889806/
https://www.ncbi.nlm.nih.gov/pmc/articles/PMC7847434/
https://www.sciencedirect.com/topics/medicine-and-dentistry/polycystic-ovary-syndrome
Conflict of interest and disclaimer
For more information, please see more information about Best food for acne skin
Detail: 🔗