These cinnamon sugar tortillas are a perfect snack or dessert that the entire family will love. These are so easy to make with leftover homemade flour tortillas, or even store or restaurant tortillas. Include some cream cheese glaze for drizzling or dipping to make this an extra special treat. Serve these alongside your favorite enchiladas, some birria tacos, or even a Chile Relleno as a tasty dessert.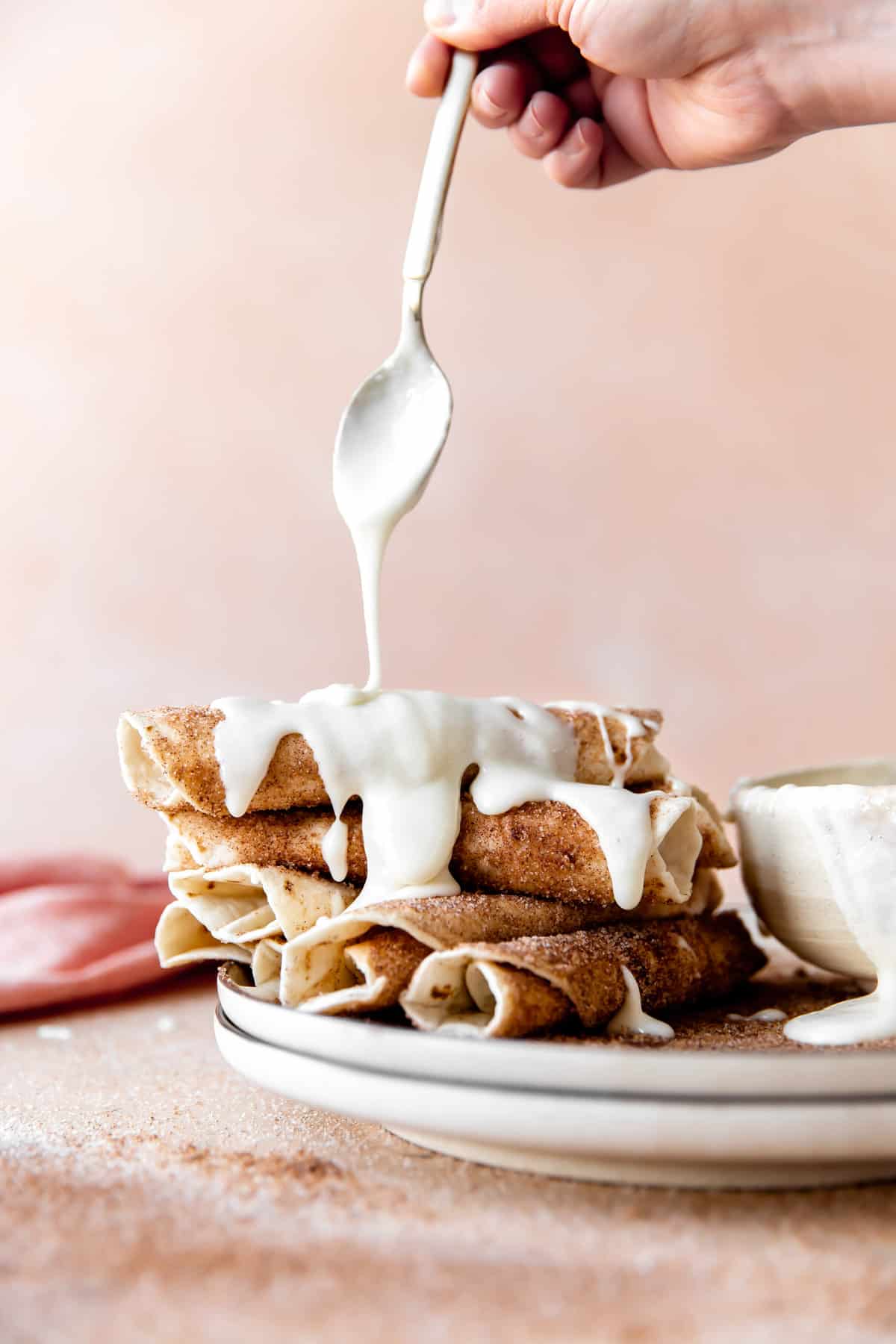 Why Make this Recipe?
Quick and easy dessert idea that takes only minutes to make!
This dessert has a very similar taste to churros. And instead of serving with cream cheese glaze, feel free to serve with some fudge sauce!
Super kid friendly recipe that can be made with leftover tortillas from dinner. You can even use tortillas from the day before if you have some still on hand.
Ingredients Needed
Notes on some Ingredients:
Flour Tortillas: use this recipe for Homemade Flour Tortillas or purchase your favorite.
Cream Cheese & Butter: soften both to room temperature to be easily spread.
How to make Cinnamon Sugar Tortillas (step by step):
Prepare the Cinnamon Sugar: combine the ground cinnamon and the white granulated sugar in a small bowl, stir to mix completely.
Warm the tortillas: if they are fresh off the skillet or comal from cooking them that's fine, but if they are cooler or room temperature warm them slightly by heating them in a skillet or on top of the burner of the oven.
Spread with butter: spread the softened butter over the top of the warm tortilla, only one side needs to be buttered.
Sprinkle the cinnamon sugar over the top of the tortilla where the butter was spread.
Roll: turn the tortilla over and gently roll it up so that the cinnamon sugar side faces out.
Prepare the glaze: add all of the ingredients into a bowl and mix with a hand mixer to combine. If needed add more milk or powdered sugar to get to a desired consistency.
Frequently Asked Questions:
More Cinnamon Dessert Recipes to Try:
If you're looking for a more challenging recipe try out these Homemade Churros.
OR if you prefer a softer more pillowy treat, these Sopapillas will hit the spot.
For a fun twist on a classic these Sopapilla Cheesecake Rolls are always a hit.
Add a sprinkle of cinnamon to the top of this Tres Leches Cake for an all time favorite!
These Authentic Bunuelos are almost like a big cinnamon tortilla chip and a fun dessert recipe to try.
If you tried this recipe please leave a comment and a ⭐️⭐️⭐️⭐️⭐️ rating below! Thank you so much!
Reading: what kind of dessert can u make with tortillas
Read more: Amish Heritage
Recipe first published on January 11, 2016. Updated on April 8, 2021 with new images, information and a video.
Beautiful photography done by the talented @familycuisine.net
Read more: how to make borek (turkish dessert)