Light, refreshing vegetarian lettuce wraps with an Indian inspired chilli paneer filling. These are absolutely delicious and take only 15 minutes to get on the table.
These chilli paneer lettuce wraps were born on a hot, hot day, in the middle of a heatwave in London. Like, reeeeeally hot. Not wanting to do anything hot.
Reading: what we can make with lettuce vegetarian dish indian
I spent most of the day in my shady backyard hammock reading. I read an entire book, front to cover, just to avoid having to get up and move, because it was too hot. I have clean laundry sitting in the dryer and clean dishes sitting in the dishwasher. Unloading either would require more physical exertion than is possible when it is so hot.
Safe to say, I did NOT want to cook anything. Oh no. I was feeling way too lazy and very close to just eating a piece of bread with a not-yet-ripe avocado for dinner.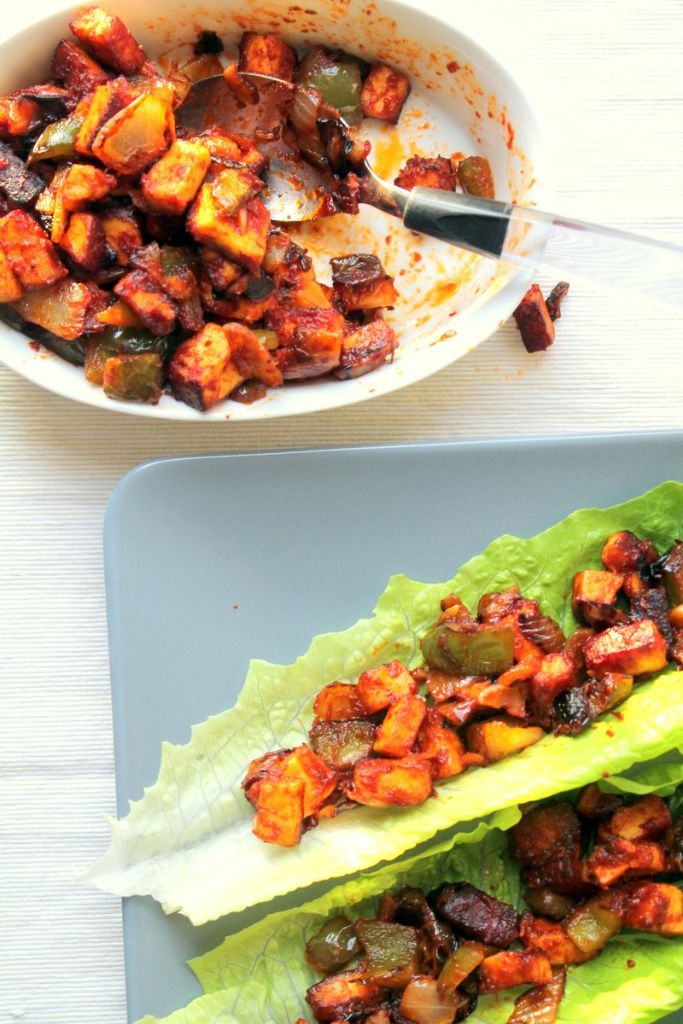 I presented my dilemma to my brother during a Facebook chat. He lives in Phoenix so I figured he'd know a thing or two about cooking and eating in hot temperatures.
Read more: 32 Delicious & Easy Vegan Potluck Recipes
And I was right. Because a little brainstorming later, these chilli paneer lettuce wraps were born.
Two heads really are better than one, especially when they are on opposite sides of the world being influenced by their own local food scene. I may need to be consulting with my family members more often.
Because seriously guys, these are amazing. The spicy filling pairs so beautifully with the lettuce wrap, which cools it right down as well as ensuring that it felt like a light and summer-friendly meal.
This is my second experience with the lettuce wrap concept. The same brother introduced me to the famous PF Chang's vegetarian tofu lettuce wraps when I was last in the US and I was so impressed. I am still so surprised at how lettuce could hold the filling in such a sturdy way, without wilting. And how using lettuce as a wrap can keep a meal from feeling too heavy and carby. I guess it's just like having a warm salad.
Read more: 12 Best Vegan Potato Recipes
Now let's have a little chat about the filling. Soooo much flavor.
Chilli paneer is a dish I discovered at an Indo-Chinese restaurant called Maida on Brick Lane. Indo-Chinese wasn't a cuisine I was familiar with before I found this place, but if you like Indian and Asian foods- you have to try this fusion! The chilli paneer stir fry was the obvious dish to go for, as a vegetarian. Paneer is a really solid cheese which goes crispy on the outside, and stays chewy in the middle. Coated in a sticky tomato and soy sauce, with onions and peppers, it is just heavenly.
To make this filling, I took the basics of chilli paneer but cut some corners. My simplified sauce has just 4 ingredients (it was adapted from this BBC Good Food recipe) and by skipping the part where the paneer is fried in a cornflour coating beforehand, it comes together very fast. (This is done to make the paneer cubes extra crispy, but since the pieces in this dish are so small, I didn't want them getting lost in the coating. Also, you know, too hot.)
You will only be standing over the hob for, like, 5-10 minutes. This is truly a 15 minute meal if you're quick off the mark.
Put on a fan, and be strong. You will be back to relaxing with a mojito again in no time at all.
Read more: 27 Healthy Vegetarian Soup Recipes