If you're looking for a protein-packed and low-carb snack, this whipped cottage cheese dip is perfect for you. With just four ingredients, you can create a delicious and healthy dip that satisfies your cravings. Each serving of this veggie dip contains only 1.6g net carbs and 3.2g of protein. It's a guilt-free treat that you can enjoy anytime!
A Perfect Protein Boost
Do you love veggies and dip? I certainly do! Whether it's for lunch or a quick snack on the go, this high-protein veggie dip with cottage cheese is a game-changer. Cottage cheese, when whipped, becomes an excellent base for a dip. By adding some Ranch mix, you can create a flavorful and nutritious lunch option that's high in protein and low in carbs.
Choosing the Right Cottage Cheese
Not all cottage cheese brands are created equal when it comes to carbs and calories. For those following a low-carb diet, it's essential to check the labels to find the best option. Personally, I prefer Daisy brand cottage cheese because it has the lowest carb content. Here are the carb and calorie values for a few different brands per 100g:
Daisy: 97 calories / 3.54g carbs / 11.5g protein
Deans: 80 calories / 5.31g carbs / 10.6g protein
Land O'Lakes: 97 calories / 4.42g carbs / 10.6g protein
Breakstone: 77 calories / 4.47g carbs / 8.55g protein
Friendly Farms (Aldi): 97 calories / 3.54g carbs / 11.5g protein
Cottage cheese is not only a great source of protein but also a healthy food choice overall. It's low in calories and rich in choline, calcium, phosphorus, and selenium, providing numerous health benefits.
Whipping Up the Perfect Dip
To make this veggie dip with cottage cheese, you only need a few simple ingredients. I used Daisy cottage cheese, dry Ranch mix, lemon juice and zest, and fresh garlic. These additions elevate the flavor and make the dip even more delicious. However, you can stick to just Ranch mix if you prefer a classic taste.
Easy Steps to Create the Dip
Making this veggie dip with cottage cheese is a breeze. Follow these easy steps:
Step 1: In a high-speed blender, combine the whole container of cottage cheese, Ranch mix, the juice of 1 lemon, lemon zest, and 1 clove of garlic.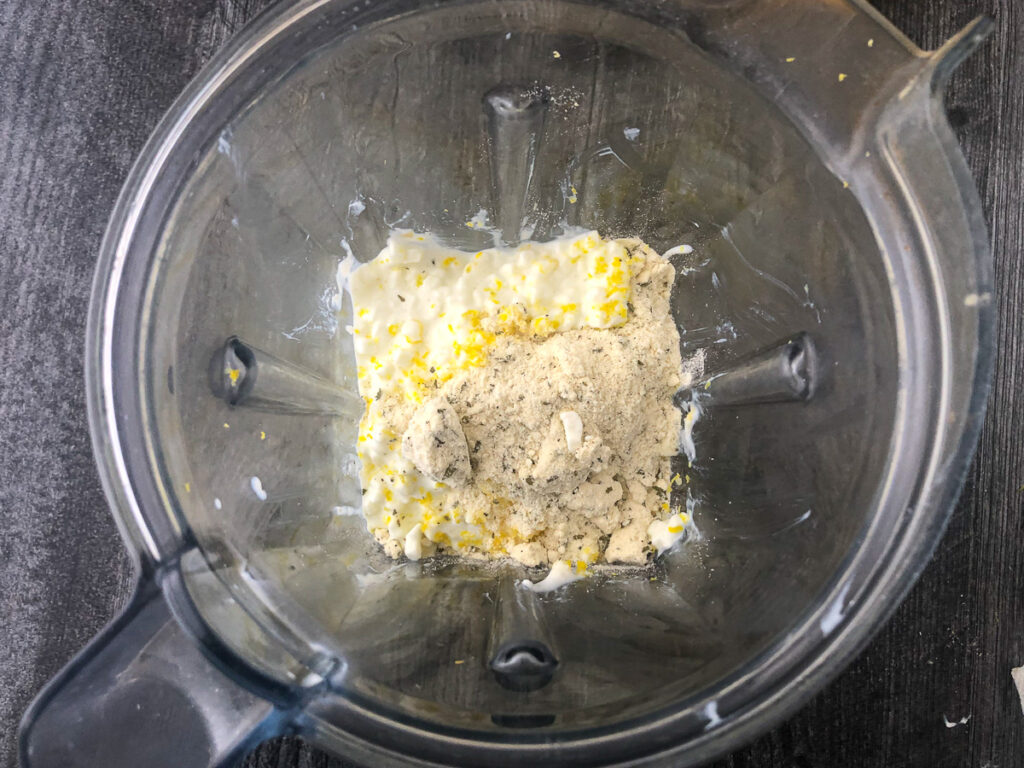 Step 2: Blend the ingredients until the cottage cheese is smooth and creamy. You can use a food processor or an immersion hand blender if you prefer, but I personally love using my Vitamix!
Step 3: Give the dip a taste and adjust the seasoning according to your preference. Feel free to add fresh herbs for an extra kick of flavor.
Step 4: Transfer the dip into an airtight container and store it in the refrigerator for up to a week.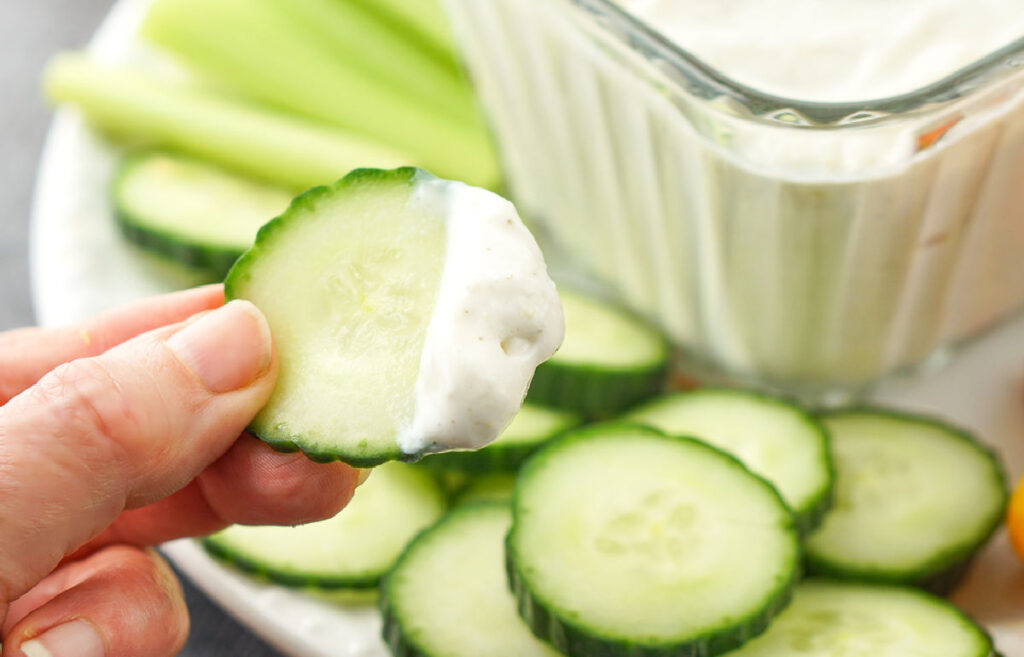 Experiment with Different Flavors
If you're feeling adventurous, try experimenting with different spice blends to create unique cottage cheese dips. Some dry mixes like Homemade Ranch Mix, Redhot, Green Goddess, and Everything Bagel Seasoning work wonders with cottage cheese. You can find these products at various stores, including Target, Trader Joe's, and Aldi.
Tips for Ultimate Veggie-Dipping Pleasure
Tip 1: Simplify your veggie and dip experience with the help of a handy container. I found these amazing containers on Amazon that allow you to enjoy both the dip and cut veggies without dirtying multiple dishes. They're also perfect for nachos, salsa, or any other dipping delight you can think of!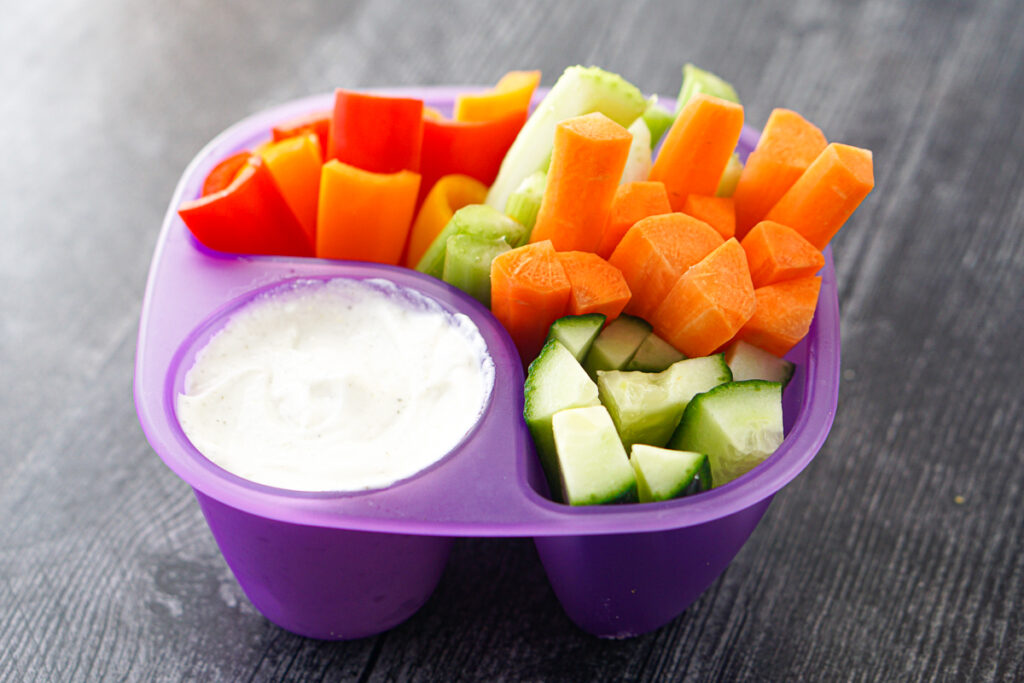 Tip 2: Keep your veggies and fruits fresh for longer by storing them in mason jars in the refrigerator. Say goodbye to soggy or dried-out produce. Simply chop up your veggies for dipping and use a mason jar to store them. It's a simple trick that keeps your snacks crisp and delicious.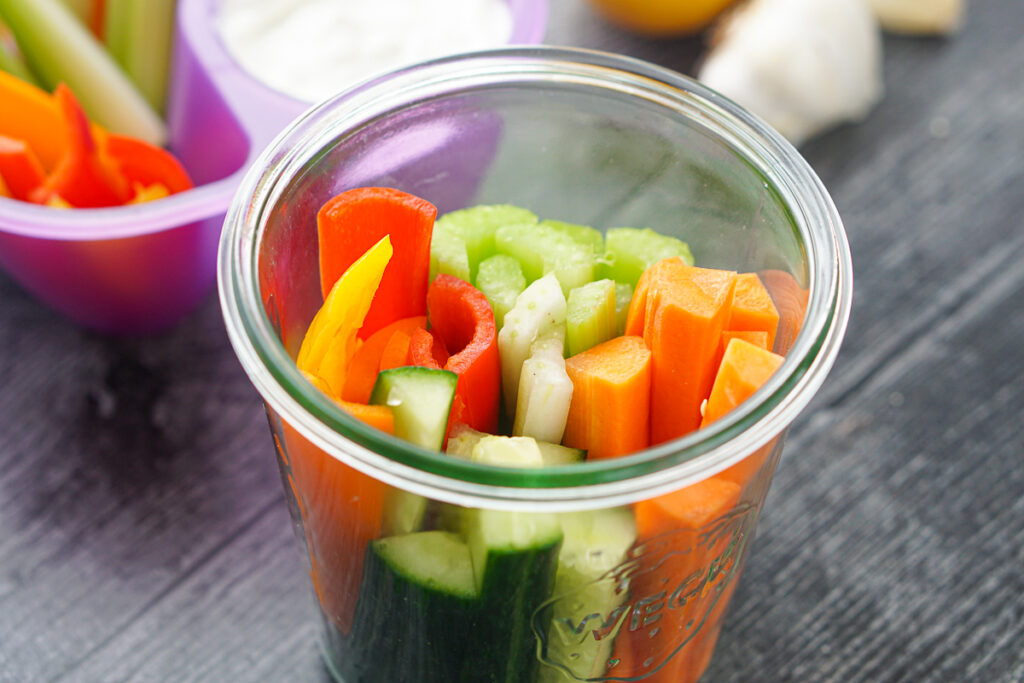 A Creamy Base Beyond Cottage Cheese
Cottage cheese might not be everyone's favorite, but when blended, it becomes a smooth and thick cream that's perfect for a dip. If you're looking to incorporate more natural protein into your diet but are put off by the texture of cottage cheese, give this easy veggie dip a try. Blend it with your favorite herbs and spices, and you'll have a thick, creamy, high-protein dip that's sure to impress!
Approximate nutrition per serving (two tablespoons out of two cups of dip): 24 calories / 0.6g fat / 1.6g carbs / 3.2g protein
Remember, for more fantastic recipes and culinary inspiration, visit Family Cuisine.