This White Balsamic Vinaigrette is a delicious homemade salad dressing you can whip up in less than 5 minutes! It tastes so much better than store-bought – make a large batch and keep it in the fridge for easy meal prep!
White Balsamic Vinaigrette was about the only dressing allowed to touch my salad as a kid. And it is actually very delicious. My own children love it so much, they basically drink it. Should I be worried about this? 🙈
We always have a jar of homemade salad dressing in the fridge, and this is one I make at least once a month. This one, my Balsamic Vinaigrette and my Lemon Poppy Seed Salad Dressing. Obsessed!
Ingredients you'll need
Here is a visual overview of the ingredients in the recipe. Scroll down to the printable recipe card at the bottom of this post for quantities!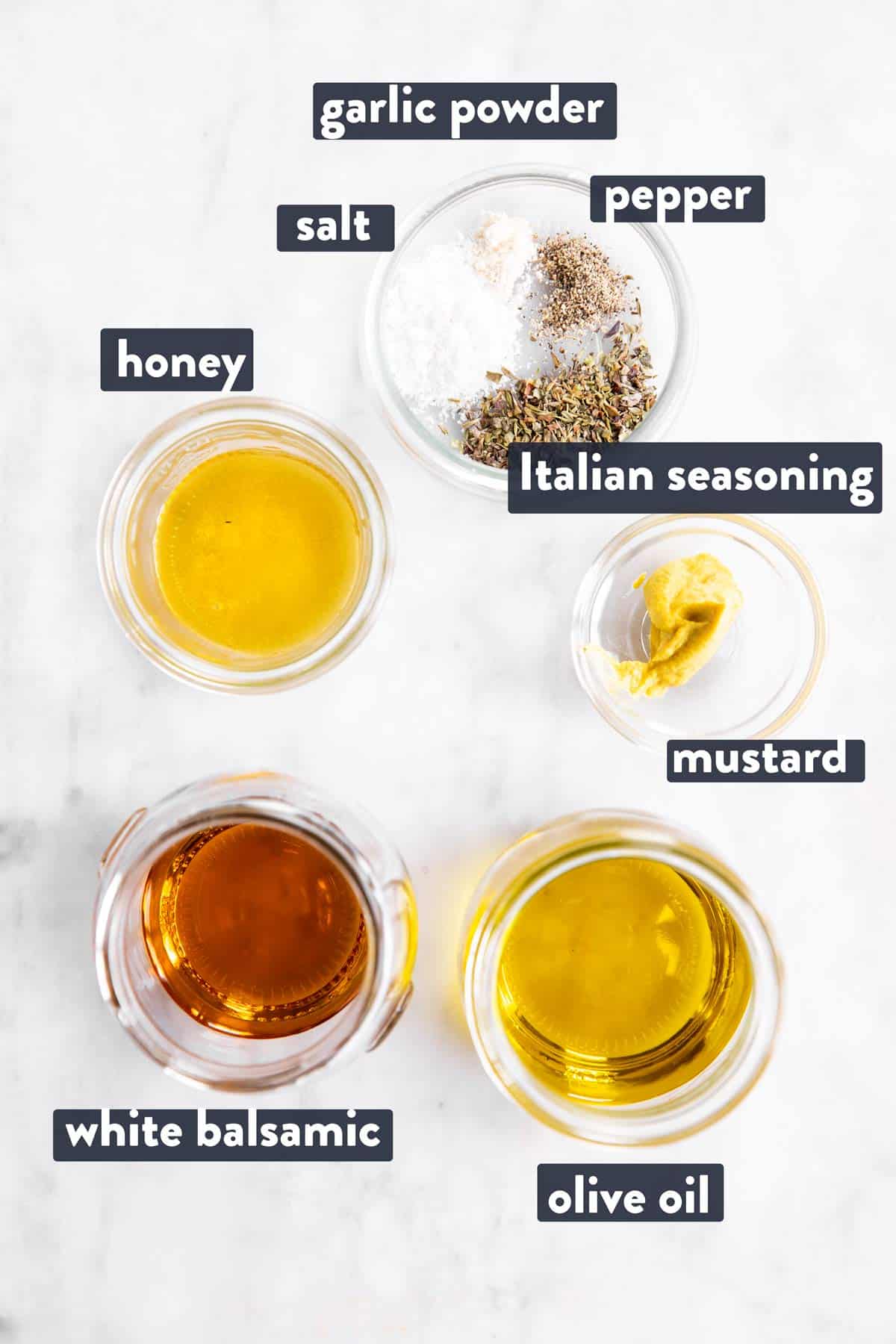 Ingredient notes
Honey: Use a mild, runny honey for best results. A very firm honey or one that has heavily crystallized is very difficult to smoothly stir into the dressing.
Mustard: I prefer a smooth Dijon mustard in this recipe, but my husband also enjoys when I make it with whole grain mustard. Yellow mustard works great, too – it does yield a slightly different taste though.
Garlic powder: I much prefer using garlic powder over fresh garlic in salad dressing. To me, the raw garlic is so hard to gauge in intensity, and it does become stronger as it sits in the fridge. If you absolutely want to use minced fresh garlic, feel free to do so at your own discretion.
I love how this turns out so creamy and delicious without using any artificial ingredients – the honey and mustard help emulsifying the oil and vinegar and really make this dressing.
How to make a White Balsamic Vinaigrette
This recipe has one step: Whisk all ingredients together.
So quick and easy! No special equipment needed, no special cooking skills required… My three year old basically makes this by herself 😉
Storage tips
How long to store in the fridge
This recipe is super make-ahead/meal prep friendly. It usually lasts us for an entire work week, we just keep it in the fridge in a clean jar and take what we need. I usually make a batch of this one and a batch of something else, like my Honey Mustard Salad Dressing for example.
My favorite storage jars
I love using small Weck jars to keep my homemade salad dressings in the fridge. Their lids are not THE most convenient ones as far as opening and closing again goes, but I prefer them over the metal lids Ball jars come with, because they get gross and rusty when in constant touch with acidic dressing very quickly.
The Weck jars have glass lids (I don't put a rubber seal when I just keep salad dressing in the fridge!) that can be washed indefinitely vs always buying new jar lids. I LOVE my Ball jars for dry ingredients like nuts, though! You can find the small Weck jars I use (FYI, I make a small commission for purchases made through that link:) here on Amazon, but there's also large ones available if you want to store a larger amount of dressing.
Note about making a single batch
Now if I'm only making one batch, I'll whisk it up straight in the salad bowl (no need to dirty another dish!). Unless I'm taking photos for the blog – because the elusive pouring shot is definitely a must 😉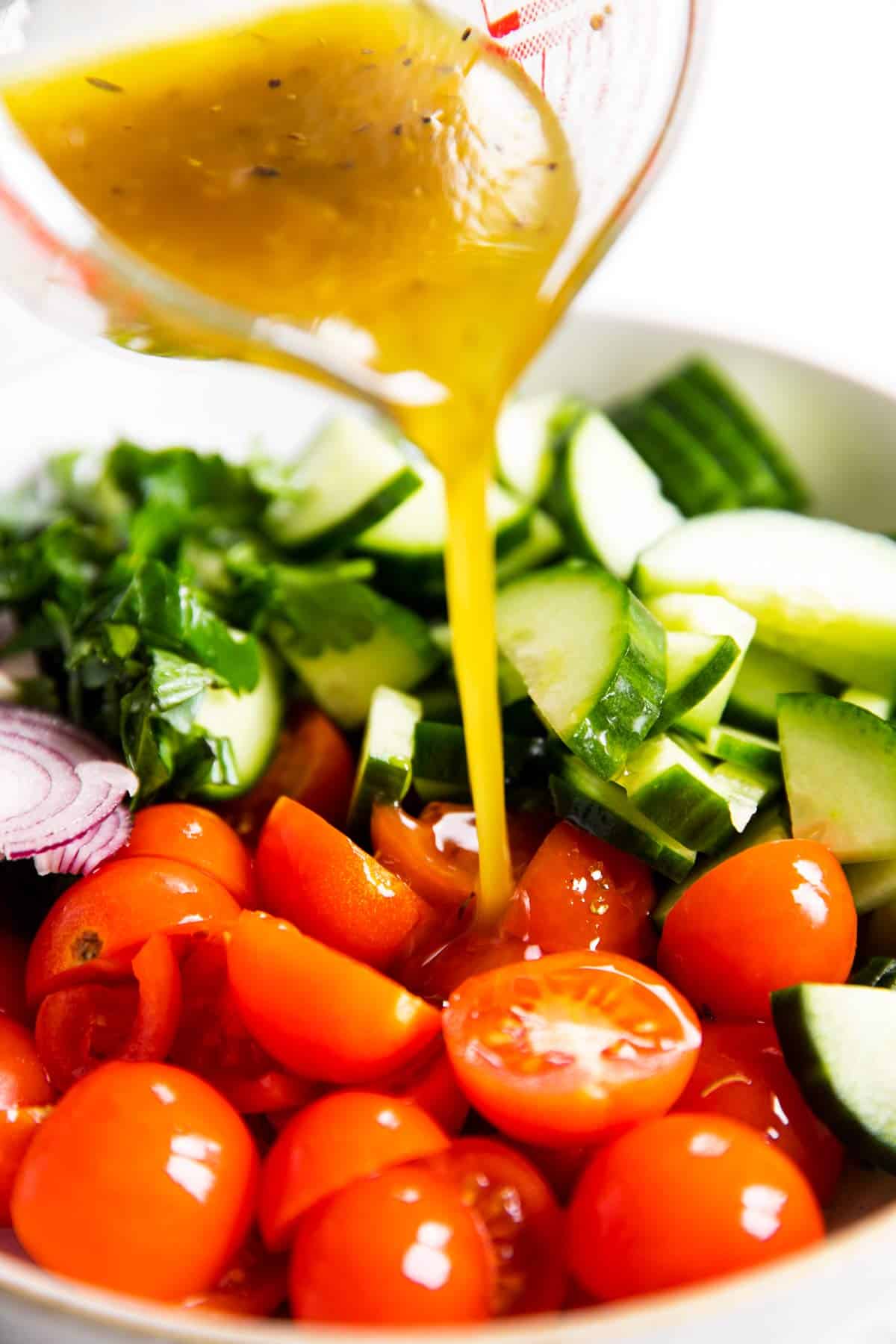 How to use your vinaigrette
This vinaigrette goes with so many different salads – spinach salad with fresh summer berries, a tossed salad, cucumber salad… So versatile, it never has to get boring.
We love it on a Tomato Cucumber Salad and on a Spinach Avocado Salad with Berries.
Make it, try it, then tell me what you think – worth the 5 minutes of effort?
PS If you try this recipe, please leave a review in the comment section and add a star rating in the recipe card – I appreciate your feedback! Follow along on Pinterest, Facebook or Instagram. Sign up for my email list, too!
Recipe first published on 03/28/2018. Updated with new photos and better text on 03/23/2021. Recipe has remained the same.
More homemade salad dressings
For more information, please see more information about How to make salad dressing with white vinegar
Detail: 🔗